Johnson Urges U.K. MPs to 'Hold Nerve' and Back New Covid Rules
(Bloomberg) -- Boris Johnson urged Parliament to approve his new pandemic restrictions for England, telling potential rebels in his Conservative Party the emergence of vaccines means "the end is in sight."
The prime minister said the government can't allow the current lockdown to end on Dec. 2 "with no replacement whatever" as he pushed for support for a three-tier regional system of regulations designed to keep the pandemic in check. He said a Pfizer Inc.-BioNTech SE vaccine could start to be administered before Christmas if it's approved by the regulator.
"All we need to do now is to hold our nerve until the vaccines are indeed in our grasp and indeed being injected into our arms," Johnson told the House of Commons. "There remains a compelling case for regional tiers in England, and indeed a compelling necessity."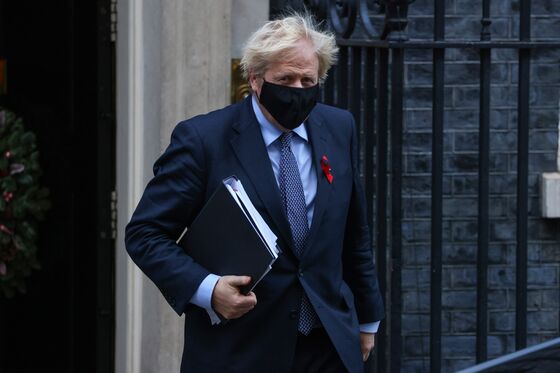 Johnson faces a damaging rebellion by dozens of Tory MPs who say his proposed new rules are too harsh and risk damaging the economy. They also complained that areas of low infection are being lumped together with those with a higher incidence in regions facing the strictest rules.
With the opposition Labour Party planning to abstain in Tuesday's vote, there's little chance of the government losing. But a sizable rebellion would lay bare the opposition to Johnson's pandemic strategy on his own side, potentially undermining his leadership.
The premier on Tuesday tried to assuage some of the concerns by announcing a program of one-time, 1,000-pound ($1,335) grants to help pubs that serve just drinks and no food, which will be required to close when the new restrictions come into force.
He also suggested he'll consider reverting back to more localized restrictions when the new rules are reviewed on Dec. 16. "We will look in granular detail at local incidence, look at the human geography and take account of exactly what is happening every two weeks," he said.
Still, a succession of Tories stood up following Johnson explaining their reasons for voting against his plan, including a demand for a more effective test-and-trace system so that local areas could be targeted for restrictions, freeing up more of their districts.
Johnson said the rules will likely be needed until spring but promised they would end by law in early February, and that they could only be extended with parliamentary approval. "There is an end in sight" because of positive results from vaccine developers, he said.
Labour Leader Keir Starmer predicted there will be another lockdown and said, while his party recognizes the need for restrictions, it won't vote for Johnson's plan because the prime minister has failed provide sufficient support for businesses or effective health measures - such as a working test and trace system - to stop the spread of the virus.
"This is plan number five and the first four haven't worked," Starmer said. "There are real risks that this plan is incapable of controlling the virus this winter."