Boris Johnson Dumps Unpopular Ministers in Shake-Up to U.K. Government
(Bloomberg) -- U.K. Prime Minister Boris Johnson overhauled his Cabinet, ditching some high-profile White males and promoting a woman as the first Conservative female foreign secretary, in a bid to invigorate his government in the wake of the Covid-19 pandemic. 
The big winner of the reshuffle was Brexit-convert Liz Truss, who displaces Dominic Raab as the country's top diplomat after running point on trade. The shake-up to Johnson's top team comes ahead of a challenging political winter.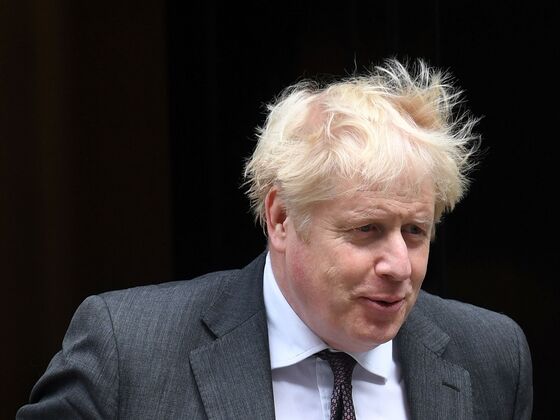 The premier, suffering a drop in support, is juggling high levels of Covid-19 cases with a tentative recovery from the worst recession in three centuries. He's also under pressure to deliver on a promise to bring the deprived north of England up to speed with the south, with London still the economic epicenter.
The Tories are traditionally seen as pro-business and the party of low taxation. All that has come under scrutiny since Johnson barrelled his way into power in 2019 on the strength of his charisma and a pledge to get Brexit done. But the divorce from the European Union remains messy and this month he broke an electoral pledge not to raise taxes in order to pay for health and social care. 
He also needs to find a way to balance the books after chaneling billions into keeping the economy afloat during the pandemic. The stakes for Johnson have risen further ahead of the Tory party conference next month. The latest YouGov survey saw his Tories losing their polling lead over Labour for the first time since January.  
While he still enjoys about an 80-strong majority in Parliament, Johnson's authority has been tested in recent months. All this demanded a reset.
The rejig saw Raab, a lawyer by training, moved to the job as justice secretary. He was also made deputy prime minister -- an apparent sweetener to soften the blow of demotion. Raab, who had stepped in for Johnson when the premier was hospitalized with Covid last year, faced unrelenting criticism for staying on holiday as the Taliban seized control of Afghanistan last month.
Of all the top ministers losing their prized jobs, his was the most striking fall from grace. Raab had served as Brexit Secretary under Theresa May. He resigned from that position and ran against Johnson for party leadership in 2019. Johnson also felt an urgency to promote more women and people of color given how Tories are still perceived as the party of privilege.
Changes to Johnson's Cabinet
Post
OUT
IN

Foreign Secretary

Cabinet Office  

Justice Secretary

Trade Secretary

Education Secretary

Housing Secretary

Culture Secretary

Party Co-Chairman

Chief Sec to Treasury

Dominic Raab 

Michael Gove

Robert Buckland

Liz Truss

Gavin Williamson

Robert Jenrick

Oliver Dowden

Amanda Milling

Steve Barclay 

Liz Truss

Steve Barclay

Dominic Raab 

Anne-Marie Trevelyan

Nadhim Zahawi

Michael Gove

Nadine Dorries

Oliver Dowden

Simon Clarke
He ejected three White men in Gavin Williamson, Robert Buckland and Robert Jenrick, the former secretaries of state for education, justice and communities. Party Co-Chairman Amanda Milling also lost her job. Chancellor of the Exchequer Rishi Sunak and Home Secretary Priti Patel remain in post.
The newcomers included two women, International Trade Secretary Anne Marie-Trevelyan and Culture Secretary Nadine Dorries, as well as the Iraqi-born Education Secretary Nadhim Zahawi, rewarded for his work in rolling out the country's coronavirus vaccination program. 
Simon Clarke, named chief secretary to the Treasury, takes over from Steve Barclay, and will now oversee the government's spending review, due to be announce on Oct. 27. Clarke represents a northern seat which he won from Labour in 2017, foreshadowing the greater gains Johnson was to make in Labour's so-called Red Wall two years later.
It's the first major shakeup of Johnson's top team since a botched reshuffle in February 2020 led to Sajid Javid quitting as Chancellor of the Exchequer just a month before the annual budget, with the premier hurriedly installing the inexperienced Sunak in his place. That proved an inspired move, and the finance chief is now a leading candidate to succeed Johnson. 
"It's the right point for Johnson to be doing this," John Curtice, professor of politics at Strathclyde University, said in an interview.  Still "it doesn't indicate a significant change in direction. It's probably not going to be a cabinet that's any more of a functioning cabinet than the previous one."
The big winner of the day is Truss, rated by Tories as most popular cabinet member, beating even Sunak, who's been widely praised for rolling out large-scale assistance programs for workers and businesses during the pandemic.
Former Tory cabinet member David Gauke said Johnson showed "astute politics" in promoting her, because it means Sunak isn't the standalone candidate to eventually succeed the prime minister.
"You don't want to be a prime minister where there is one very obvious successor, which has been the situation up until now," Gauke told Sky News. "She is very popular with the Conservative grassroots."