Climate Aid Urgency Is Tempered by New Optimism at UN Conference
(Bloomberg) -- Officials gathered at the United Nations voiced both urgency and some optimism on the chances for meeting a $100 billion target in annual climate aid to developing nations, as the U.S. envoy dangled the prospect that President Joe Biden is about to pledge more funding.
The mixed message was delivered by U.K. Prime Minister Boris Johnson, who started off telling a climate roundtable in New York Monday that "the gulf between what has been promised, what is actually being delivered, and what needs to happen -- it remains vast." 
But Johnson and UN Secretary-General Antonio Guterres, who has also been issuing dire warnings that global efforts will fall short of averting a climate disaster, were encouraged by assurances by U.S. climate envoy John Kerry that Biden will increase the U.S. commitment when he addresses the annual UN General Assembly on Tuesday.
Speaking on the sidelines of the climate roundtable, Kerry expressed confidence that world leaders will meet the target before the U.K. hosts two weeks of climate talks -- known as COP26 -- in Glasgow, Scotland, beginning Oct. 31.
"I think we're going to get it done by COP," he told reporters. "The U.S. will do its part," Kerry said. "I'm not hoping. I'm telling you to stay tuned to the president's speech."
Biden announced in April that the U.S. would double its commitment to about $5.6 billion annually by 2024, but environmental groups have said the world's biggest economy should do more and have been watching for the U.S. to announce a higher figure ahead of COP.
Johnson said the U.S. is "crucially important" to reaching the $100 billion-a-year pledge to help developing nations tackle climate change. If the U.S. pledges more money, "it will make a huge difference and send a massively important signal to the world," he added.
Guterres, who has criticized G-20 countries and developing nations for failing on emissions pledges, also sounded more upbeat on financing. 
"We're not yet there, but today there were encouraging declarations in this regard," Guterres told reporters.
Total climate finance provided and mobilized by rich countries for developing nations was $79.6 billion in 2019, an increase of just 2% from 2018, the Organisation for Economic Co-operation & Development said. It would require a more than $20 billion annual jump to meet the funding goal for 2020 alone. The rate of annual increases has only slowed over the past few years.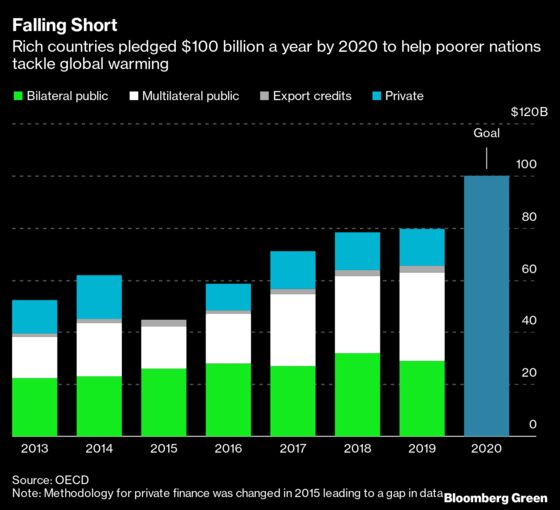 Johnson is trying to use meetings with world leaders, including Biden, over the next three days in New York and Washington to drum up support and more cash for climate efforts. He's also due to hold talks with Amazon.com Inc. co-founder Jeff Bezos during his trip, the prime minister's first outside Europe since the start of the pandemic.
The premier told the roundtable he understood that efforts to tackle climate change are "not easy" and that politicians are "answerable to our voters." The U.K.'s next step, he said, "requires a whole extra level of effort. Right now, we're grappling over how to get rid of gas-powered boilers, for example." 
Johnson also faces domestic pressure over his government's green policies as ministers prepare for a third day of crisis talks with energy companies over surging gas and electricity prices caused, in part, by calm weather reducing output from the nation's wind farms.
Johnson is trying to put Britain at the forefront of efforts to fight global warming, part of a strategy to bolster the country's standing after leaving the European Union. 
"Too many major economies –- some represented here today, some absent -- are lagging too far behind," Johnson said. "And tinkering around the edges, simply denuding the tree of its lowest fruit, simply won't achieve the change the planet needs."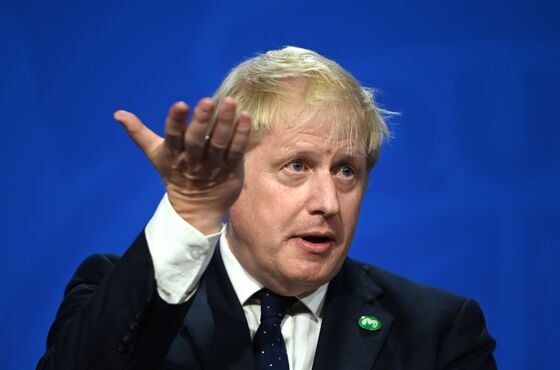 At the end of the UN General Assembly this week, the U.K. will publish a list of countries' climate finance commitments so far, and Johnson will be hoping that helps build momentum. The U.K. has committed 11.6 billion pounds ($16 billion) over the next five years.
Even so, the original UN pledge was for the climate aid to be "new and additional," leaving the U.K. government open to criticism after earlier this year slashing development aid to 0.5% of gross national income from 0.7%, citing budget pressures stemming from the coronavirus pandemic.
On Monday, Johnson announced a further 550 million pounds to support developing countries accelerate the phasing out of coal -- another goal of the COP26 meeting.