Victorious Johnson Pledges Prosperity, Growth, Hope: U.K. Votes
Boris Johnson's emphatic election victory puts the U.K. on course to leave the European Union next month, after pro-Brexit voters in Labour heartland areas swung behind his party, delivering its biggest majority since Margaret Thatcher's in 1987.
The prime minister urged people to heal the divisions over Europe and pledged to repay the trust put in him with an era of "prosperity and growth and hope."
With all seats declared, the Conservatives have 365 of the 650 seats in the House of Commons, a gain of 48, to Labour's 203 seats, down 59
Jeremy Corbyn says he will step down after Labour's worst result since World War II
The pound rose by the most in almost three years as the scale of the Tory victory became clear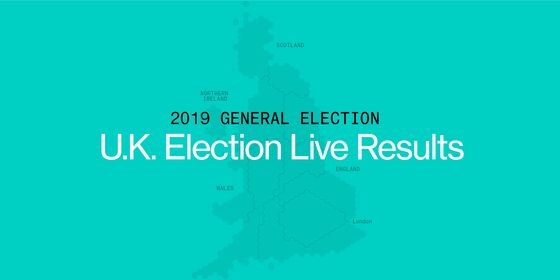 Record Number of Women Elected (5:30 p.m.)
The gender gap in the U.K. parliament is still closing even -- after a spate of female politicians quit this year saying they had been subject to abuse. After Thursday's election, a record 219 women will take up seats at Westminster, up from 208 in 2017 and 143 a decade ago, according to Randall's Monitoring.
McCluskey Blames Labour Remainers for Loss (5 p.m.)
Len McCluskey, leader of Labour's biggest labor union backer Unite, said Jeremy Corbyn's "metropolitan" world view and failure to get to grips with antisemitism contributed to the party's catastrophic election performance, but said Brexit was the key reason behind the defeat.
In what will been seen as a warning to contenders to succeed Corbyn -- given Unite has about 1.2 million members -- McCluskey criticized Labour's decision to back a second referendum on Brexit, and slammed key members of the shadow cabinet who pledged to back Remain in that vote. They included leadership front-runners Keir Starmer and Emily Thornberry.
Labour must be "heard in Stoke as well as Stoke Newington," McCluskey said in an editorial in the Huffington Post on Friday. "It is Labour's slow-motion collapse into the arms of the People's Vote movement and others who have never accepted the democratic decision of June 2016 for a single moment which has caused this defeat."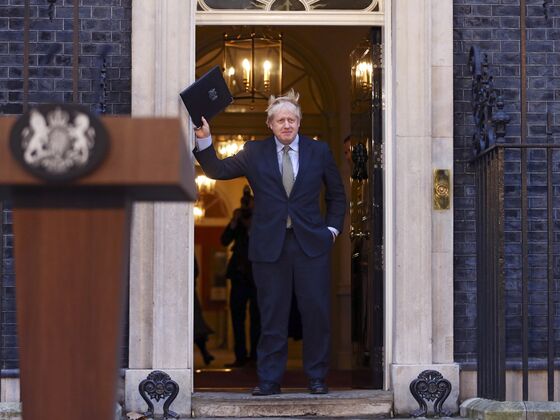 Johnson Pledges to Unite Divided U.K. (3:15 p.m.)
Speaking outside his Downing Street office, Johnson thanked voters who have never voted Tory before and promised to "work around the clock" to repay the trust they have put in him. To voters who didn't back him and want to remain in the EU, he promised to "never ignore your good and positive feelings of warmth and sympathy towards the other nations of Europe."
Urging people "to find closure and to let the healing begin," Johnson said his staff will now step up their work to "make 2020 a year of prosperity and growth and hope."
Anti-Brexit Group Abandons Fight (2:50 p.m.)
The main lobby group pushing for a second referendum on Brexit has abandoned the fight.
Swinson: No Regrets on Campaign Strategy (2:30 p.m.)
Former Liberal Democrat leader Jo Swinson -- who stepped down after she lost her seat to the SNP -- said she does not regret her party's campaign built around canceling Brexit, despite a poor performance.
"I'm proud that Liberal Democrats have been the unapologetic voice of Remain in this election," she said. "Obviously it hasn't worked, and I, like you, am devastated about that. But I don't regret trying, trying everything, because the prize was to save our future, save our children's future."
Swinson said she was proud to be the first female leader of the party but "even more more proud that I will not be the last." Seven of the 11 Liberal Democrat MPs are women, including Layla Moran, who dramatically increased her majority. As recently as the 2015 general election, their elected MPs were all male.
Macron Warns U.K. Over Straying From EU Model (2 p.m.)
French President Emmanuel Macron told reporters on Friday that the further the U.K. strays from the European Union model after Brexit, the further the country will be from the bloc's single market.
"The more ambitious the deal they want, the higher the regulatory alignment should be," Macron said. "Every time they depart from EU regulations, they will stray away from an ambitious accord."
EU to Prioritize Most Important Issues (1:25 p.m.)
The European Union will prioritize topics to be covered in trade negotiations with the U.K. to make sure the most important issues are taken care of by the time Britain leaves the bloc, Commission President Ursula Von der Leyen told reporters in Brussels.
"We'll put specific focus on those issues that are an economic cliff edge at the end of 2020 if they would not be done," Von der Leyen said. "These are issues where we have neither an international framework to fall back on nor the possibility to take unilateral contingency measures covering the period after the first of January 2021."
Merkel: Disorderly Brexit Now Off Table (1:15 p.m.)
German Chancellor Angela Merkel said Boris Johnson's decisive victory will help negotiations on the future EU-U.K. relationship and may help "reunite" Britain.
"We now have some security that the agreement we worked on will be valid," Merkel told reporters on Friday after a summit in Brussels. "That means a disorderly Brexit is really no longer a reality."
Corbyn Blames Brexit for Defeat (1 p.m.)
Jeremy Corbyn blamed Brexit for "taking over" the general election campaign and said he will talk to the Labour Party's national executive about the process to replace him as leader, which he expects to begin early next year.
"I have pride in our manifesto we put forward, and all the policies we put forward which actually have huge public support," Corbyn said in a pooled TV interview. "My whole strategy was to reach out beyond the Brexit divide to try and bring people together."
Corbyn said he suffered unprecedented personal abuse from the media during the campaign, and called for a period of "good discussion within the party" to consider the way forward.
Many Labour MPs have said Corbyn, who has described himself as a "Marmite" or divisive figure, was the reason for the party's catastrophic performance. Lucy Powell, Labour's MP for Manchester Central and a Corbyn critic, said she wanted to see more "contrition and humility" from the leadership.
Chancellor: Business Welcomes Conservative Win (12.49 a.m.)
Chancellor of the Exchequer Sajid Javid said there will be a "deal dividend" as a result of the election outcome and Johnson passing his Brexit withdrawal agreement.
"Because of the election result, there are investors who have decided to deploy money in the United Kingdom," Javid said on Sky News. "Business after business wants an end to the uncertainty." Pressed on whether there was still a threat of no-deal at the end of 2020, Javid said: "No one needs to worry about no-deal, because we now have a solid majority."
Sturgeon: Independence a Matter for Scotland (12:15 p.m.)
Scottish National Party leader Nicola Sturgeon said Scotland's semi-autonomous government will publish the "democratic case for a transfer of power" from Westminster "to enable a referendum to be put beyond legal challenge."
Under current law, Westminster must vote to allow Scotland a further independence referendum, a move Johnson has ruled out. Sturgeon argued the SNP election result gives her the mandate to put that decision to Scotland without Westminster approval, saying she'll set out her "detailed" case next week.
"I have been clear that a referendum must be the responsibility of the Scottish Parliament," she told supporters. "This is not about asking Boris Johnson or any other Westminster politician for permission. It is an assertion of the democratic right of the people of Scotland to determine their own future."
Johnson Returns to Downing Street (11.42 a.m.)
Almost an hour after he arrived at Buckingham Palace, Johnson returned to Downing Street, walking briskly up to the front door. Why was he with the Queen for so long? She may have had a lot of questions for him, but equally he could have been held up by the Changing of the Guard at the palace, which prevented him from leaving.
Cameron Offers his Praise (11.31 a.m.)
Former Prime Minister David Cameron, a long-time rival of Johnson who resigned after losing the Brexit referendum in 2016, offered "big congratulations" on the victory.
"It's an extraordinary result, a powerful result. It marks the end of Corbyn and Corbynism and that's a very good thing for the country," Cameron said in a pooled TV clip. "It gives us a very strong and decisive government, and the opportunity to build the dynamic economy and good public services we need."
What Happens to Brexit Now? (11.12 a.m.)
MPs return to Parliament on Dec. 17, followed by a Queen's Speech laying out the government's program two days later. Johnson will then look to introduce the Withdrawal Agreement Bill before Christmas, with the aim of passing it in good time before the Brexit deadline of Jan. 31.
The 11-month transition period will start from the end of January, during which time Johnson will get down to thrashing out a trade deal with the EU. He'll first need Parliament to sign off his negotiating objectives, and the EU will also need to get approval for its mandate.
If Johnson sticks to his campaign promise to not extend the transition period, the U.K. and the EU will have a tight time line to hammer out an accord. If the talks fail, the U.K. will leave the EU without a trade agreement at the end of 2020.
Johnson Sees the Queen (10.51 a.m.)
The prime minister is leaving Number 10 Downing Street in a gray Jaguar to go to Buckingham Palace, where Queen Elizabeth II will ask him to form a government. Recall that he made a similar visit just five months ago when he replaced Theresa May as Conservative Party leader. This time he's heading back with his own mandate to run the country, finally able to move from campaign mode to governing.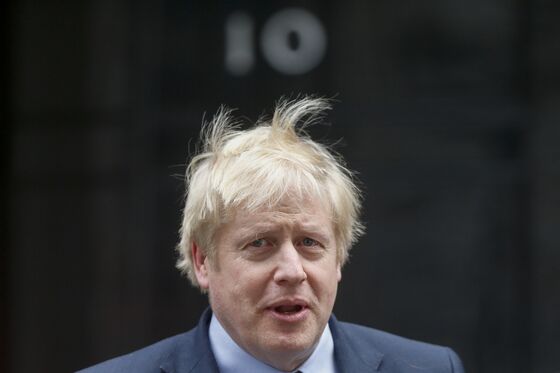 Corbyn May Stay for a While (10.18 a.m)
Corbyn may remain as leader until April because Labour Party rules dictate a minimum 12-week leadership election. The timetable must be set by the National Executive Committee which isn't meeting until January.

Electoral Questions (10:02 a.m.)
The Conservatives and the Brexit Party combined got 47% of votes, less than the 52% of support for parties in favor of a second referendum, polling guru John Curtice told the BBC.
The result is likely to prompt more debate about the U.K.'s first-past-the-post electoral system, as victory didn't come for those with the most popular idea but rather those with the better organized campaign, said Curtice, who ran the team of psephologists that delivered the exit poll last night.
Future Europe Ties (9:57 a.m.)
Irish Prime Minister Leo Varadkar said the decisive result means the EU and U.K. can move forward on completing the Brexit withdrawal agreement.
Varadkar told reporters in Brussels before a meeting with fellow EU leaders that the next steps will be to develop a future economic partnership with the U.K., "one that's going to be mighty and one that's going to be good for all of us."