Johnson's Team Hits Back at Cummings Over U.K. Pandemic Claims
(Bloomberg) -- Boris Johnson and his team launched a fightback against his former strategist Dominic Cummings who alleged ministers failed to protect the U.K. public from coronavirus and declared the premier is "unfit" for the job.
Johnson's controversial ex-aide catalogued the government's "disastrous" pandemic failures during a seven-hour parliamentary hearing on Wednesday, saying the premier's poor leadership led to thousands of unnecessary deaths.
Cummings's intervention threatens to puncture the mood of optimism around Johnson's administration flowing from the U.K.'s successful vaccination rollout and the reopening of the economy. His detailed account of the chaos around the prime minister and his errors in office also has the potential to damage Johnson's standing among Tory members of Parliament at Westminster, whose support he relies upon to stay in power.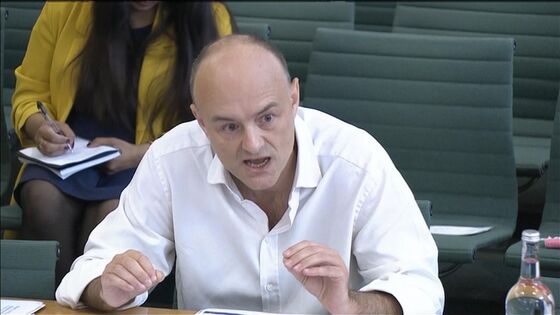 "Tens of thousands of people died who didn't need to die," Cummings said in evidence to the House of Commons inquiry on the pandemic. "There is no doubt the prime minister made some very bad misjudgments and got some very serious things wrong."
Asked directly whether Johnson is a fit and proper person to lead Britain out of the pandemic, Cummings replied: "No."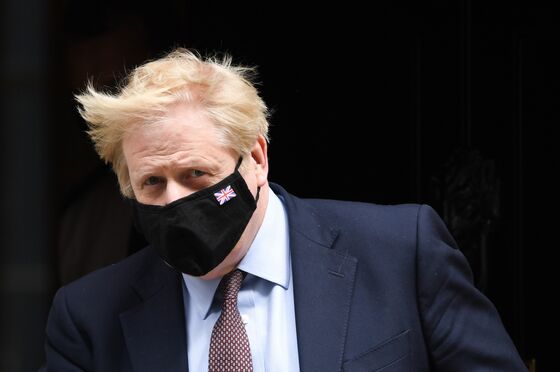 The withering judgment from Cummings is particularly dangerous for the prime minister because the two worked so closely at the heart of government and during the 2016 Brexit referendum. It was Cummings who shaped that campaign, and then devised the Conservative Party's winning general election strategy in 2019.
On Thursday, Cabinet minister Robert Jenrick insisted Johnson had done his "best" in an unprecedented crisis when the pandemic hit. Speaking to the BBC, he said Hancock had denied Cummings's allegations of lying.
To be sure, there is no immediate electoral threat to Johnson, with a general election not due until 2024. Voters only this month endorsed the premier's leadership, giving him a set of local victories, despite controversies in the weeks leading up to the polls.
Yet political fortunes are fickle in the U.K. and Johnson must continue to retain the support of his party if he is to stay in 10 Downing Street. And though his backbenchers remain supportive for now, moods can quickly shift. In the House of Commons on Wednesday, Johnson denied that any mistakes he'd made led to excess deaths from the virus.
Among his many attacks on Johnson and the wider administration, Cummings said:
Johnson regretted ordering the U.K.'s first lockdown and repeatedly said he'd wished he'd been like the mayor in the movie "Jaws" who kept the beaches open despite the threat to public safety
After finally agreeing to impose a second lockdown in October 2020, following a delay that led to needless deaths, Johnson said he'd rather let the "bodies pile high" than agree to a third in the future
Johnson is overly obsessed with media coverage and too easily swayed by newspaper headlines
The prime minister's fiancee, Carrie Symonds, has an excessive influence over the premier's decision-making
10 Downing Street is a place of "chaos," an environment that Johnson actively cultivates to reinforce his own power
One of Cummings's claims -- that more lives could have been saved if Johnson had imposed a second lockdown more quickly -- was backed up by scientist John Edmunds, who advises the British government on its pandemic response.
"We could have reduced the deaths in the autumn wave by a significant margin," Edmunds said on ITV's "Peston" program. "That autumn wave of course fueled the next wave because we allowed another variant to escape and start to spread."
A significant part of Cummings's critique focused on current problems with Britain's pandemic response, arguing that the country's border policy is woefully inadequate and the British state is not prepared to deal with future crises. He lamented Johnson's decision to delay a public inquiry into the handling of the pandemic, saying that lessons had to be learned now.
Cummings also repeatedly attacked Health Secretary Matt Hancock, saying he regularly lobbied Johnson to fire the minister for lying about the state of Britain's pandemic preparedness and interfering with the establishment of an effective testing regime.
Hancock rejected his claims on Thursday, saying Cummings' allegations on his honesty were "unsubstantiated" and "not true." Speaking in Parliament, Hancock said throughout the pandemic "we have been straight with people", and he had been right to set "ambitious targets" because it was "how you get stuff done in government."
A year ago, Cummings was at the center of his own storm, after driving his family more than 250 miles (400 kilometers) out of London, apparently ignoring his own government's lockdown orders.
On Wednesday, he explained for the first time that this was not simply for childcare reasons, as he initially claimed, but because his family had faced death threats and they needed to flee for their own safety.