Johnson's Tories Hold Seat After Rocky Month for U.K. Leader
(Bloomberg) -- The U.K.'s ruling Conservatives won the first electoral contest after an especially bruising period for Boris Johnson's government, holding a parliamentary seat in outer London but with a much-reduced majority.
The Tories won Old Bexley and Sidcup with over half the votes, even though many of their former voters stay home. The special election was prompted by the death of former Conservative cabinet minister James Brokenshire, who had a majority of 18,952 in the 2019 general election.
That was slashed to 4,478 in the vote announced early Friday, as turnout slumped to 34% -- down from 70% in 2019. Keir Starmer's main opposition Labour Party came second, with an increased vote share.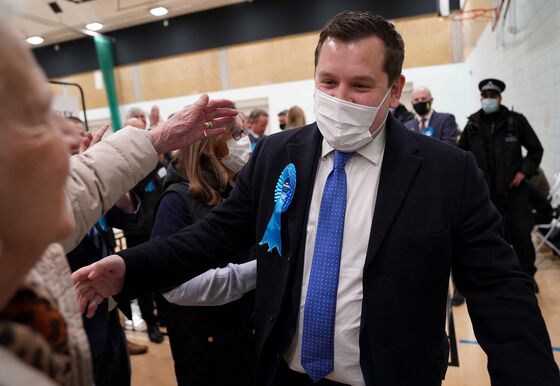 The low turnout suggested that while many voters are becoming disillusioned with Johnson, who won an emphatic general election victory in 2019, they are not so far turning to Labour.
A turbulent month in Parliament had piled the pressure on the prime minister to prove he was still an electoral winner. His personal approval rating has plummeted following a series of missteps and Tory rebellions on key government policies, and his party is now neck-and-neck with Labour in national opinion polls.
Attention in Conservative campaign headquarters will now turn to the next by-election on Dec. 16, this time in North Shropshire in the West Midlands.
That seat was vacated by Tory MP Owen Paterson after he was found guilty of paid advocacy; Johnson's initial attempt to protect him sparked weeks of negative headlines about violations of lobbying rules by Conservative members of Parliament and their second jobs.
A further by-election will also be held in Southend West, southeast England, following the killing of Tory MP David Amess, but the main opposition parties are not expected to field candidates. No date has yet been set for this poll.
In Old Bexley, the Tories won 51% of the vote, down from 65% in 2019. That compared to 31% for Labour, up from 24%. Reform UK, formerly known as the Brexit Party, came third with a first-time vote share of 7%.
"This is a good result for governing parties mid term," Conservative Party Chairman Oliver Dowden told Sky News. "This idea that Labour have made some surge ahead is really for the birds."
Labour MP Ellie Reeves said the 10% swing to her party showed that "even for Tory heartland voters, Boris Johnson's jokes aren't funny anymore." 
Taking Old Bexley -- which has been in Tory hands since the constituency was created in 1983 -- was "not a prospect" for Labour, she said. But in a general election such a swing across the U.K. "would have Labour within reach of a majority government," she added.
Amid the turmoil of recent weeks, Conservative strategists had taken nothing for granted even in the so-called safe seat. The premier campaigned in the district, as did other government big-hitters Chancellor of the Exchequer Rishi Sunak and Home Secretary Priti Patel.
Newly-elected MP Louie French said in his acceptance speech representing the district is the "greatest honor" of his life. He had pledged to give up his job as a sustainable portfolio manager for Tilney Asset Management if elected.