EU Says U.K. Has Failed to Deliver New Proposals: Brexit Update
(Bloomberg) -- U.K. Prime Minister Boris Johnson, whose Brexit strategy is in tatters, told lawmakers from his disintegrating Conservative party that he wants to get on with an election to stop his government going around in circles.
On Wednesday, members of Parliament are set to push their showdown with the premier over Britain's divorce from the European Union to its climax. After seizing control over the parliamentary agenda, Johnson's critics will aim to pass a law banning him from taking Britain out of the bloc without a deal on Oct. 31.
MPs are debating a new law to block a no-deal split from the EU, an interim vote passed by 329 to 300, with final votes expected from about 7 p.m.
Government also set to propose a motion for a general election, with a vote late tonight
Germany and Ireland say a further Brexit delay is possible
The pound rose 1%
Chancellor of the Exchequer Sajid Javid pledged to end austerity in spending plans
EU Says U.K. Still Has No Talks Proposals (6:30 p.m.)
Senior EU officials, including chief Brexit negotiator Michel Barnier, briefed the ambassadors of the bloc's 27 governments in Brussels today, reaffirming talks are at an impasse and that Johnson's envoy David Frost has promised but failed again to deliver concrete proposals, according to three participants in the closed meeting.
Following today's meeting between Frost and EU negotiators, the mood is very pessimistic, one of the officials said. EU member states and the Commission reiterated that they are unwavering in their support for Ireland's position.
The bloc only knows what U.K doesn't want, one of the diplomats said. The EU is trying to work out whether the U.K. doesn't have a plan, has a plan still in the works, or has a plan but is not ready to present it.
While monitoring developments in London, the EU27 will now focus their energy on no-deal preparations, starting with yet another technical meeting on Thursday, the first diplomat said.
Johnson Says He Wants to Get On With Election (6.15 p.m.)
Boris Johnson told a private meeting of Conservative MPs that he wants to get on with an election, according to two people present who spoke on condition of anonymity.
The prime minister said that the government can't keep going in circles without a majority, and that while he doesn't want an election, one is inevitable and necessary to break the deadlock currently surrounding Brexit.
U.K. Toughens Rules for Foreign Criminals (5:55 p.m.)
The Home Office on Wednesday said it will introduce new border controls to make it harder for "serious criminals" to enter the U.K. in the event of a no-deal Brexit. A tougher criminality threshold will be applied to European Economic Area citizens in order to deport and keep out criminals from abroad, the department said.
In a measure to allow businesses to recruit and retain staff after Brexit, the Home office also announced that EEA and Swiss citizens and their close family members who arrive in the U.K. between Brexit and the end of 2020 will be able to obtain temporary immigration status lasting three years.
Other new measures include removing the EU customs channel at entry points, introducing blue passports later this year – a totemic issue for Brexiteers – and removing the right to permanent residence for those who arrive after Brexit.
Spelman Joins the Anti No-Brexit Rebels (5:40 pm.)
Caroline Spelman, another Conservative former minister, switched sides and joined the rebels in today's vote, according to data from the House of Commons.
Having voted against Tuesday night's successful bid by MPs to seize control of the Parliamentary timetable, Spelman backed the bill to block a no-deal Brexit.
Spelman is not expected to be expelled from the party, as rebels were last night, because the vote was not being treated as an issue of confidence in the government, according to a party official speaking on condition of anonymity.
First Stage of Anti No-Deal Brexit Bill Approved (5:20 p.m.)
Members of Parliament voted by 329 votes to 300 to continue with the bill aimed at blocking a no-deal Brexit.
The bill will now be examined in detail in the House of Commons with a series of votes on amendments expected to start at 7 p.m.
Johnson Wants General Election for Oct. 15 (4:55 p.m.)
A footnote from Prime Minister's Questions earlier in the day: Boris Johnson three times set out his intended date for an early general election as Oct. 15.
That's a day later than his officials were briefing last week and addresses concerns that Oct. 14 is the start of a Jewish holiday.
Churchill's Grandson Chides Johnson for Disloyalty (4:25 p.m.)
Nicholas Soames, the grandson of Winston Churchill, appeared on the edge of tears as he confirmed he will stand down as an MP after 37 years. He was one of the Tory rebels who was expelled from the Conservative Party by Johnson on Tuesday night.
"I'm truly very sad that it should end in this way," he said. "It is my most fervent hope that this house will rediscover the spirit of compromise, humility and understanding that will enable us finally to push ahead with the vital work in the interests of the whole country that has inevitably had to be so sadly neglected whilst we have devoted so much time to wrestling with Brexit."
He did allow himself a parting shot at Johnson and Jacob Rees-Mogg, however, saying that while he had loyally voted for Theresa May's deal three times, their disloyalty to the party at that time had helped to inspire his rebellion.
Hammond: Government Isn't Negotiating With EU (4:20 p.m.)
Philip Hammond, the former chancellor of the exchequer who was thrown out of the Conservative Party for voting against Boris Johnson on Tuesday night, said Parliament voting to block a no-deal Brexit won't hinder negotiations "because actually there is no negotiation going on with the EU."
"We've had confirmation from multiple sources across the EU that nothing is happening," Hammond said. "Nothing we are doing here is going to undermine the prime minister's ability to negotiate with the EU."
Johnson has claimed said that the only obstacle to getting a deal with the EU is the belief in Brussels that Parliament will continue to block a no-deal divorce. He also claims the legislation will hand power to Jeremy Corbyn, leader of the opposition Labour Party.
Hammond countered that idea, too. "I would sooner boil my head than hand power to the leader of the opposition," he said.
Labour's Election Conundrum (3:40 pm)
Labour's members of Parliament held an extra meeting this morning to discuss strategy following its regular gathering last night. Two of the MPs present privately said the party had discussed the timing of a general election, with many voices telling Corbyn to delay until after Britain has left the EU.
The party is split, with the leadership keen to go for an election because they think it might put leader Jeremy Corbyn in government, while rank-and-file MPs -- who have doubts about his electoral appeal -- are much more reluctant.
Labour's Treasury spokesman John McDonnell tried to put a gloss on the divisions, telling reporters the debate was about finding the best strategy for avoiding a no-deal Brexit. Even getting a law passed in Parliament to prevent that scenario -- which MPs are currently debating -- didn't guarantee Boris Johnson would obey it, he said.
"We're looking at every way, having secured the legislation, of making sure that he can't wriggle out,'' McDonnell said.
MPs Begin Debate on No-Deal Brexit Law (3:40 p.m.)
In the House of Commons, MPs have begun to debate a law designed to prevent the U.K. from leaving the European Union without a deal on Oct. 31 -- something Prime Minister Boris Johnson has said he is willing to do if necessary. That's why lawmakers voted to take control of Parliament's agenda from the government late Tuesday.
Labour's Hilary Benn, one of the bill's sponsors, opened the debate, saying legislation is needed because threatening a no-deal Brexit is not a "credible" negotiating strategy.
"What unites us is a conviction that there is no mandate for no deal, and that the consequences for the economy and for our country would be highly damaging," Benn said. "No deal doesn't end anything, it will simply plunge us into greater uncertainty. No deal will not be the end of Brexit, it will only be the end of the beginning."
No-Deal Efforts Will Limit Worst-Case Brexit Hit: BOE (3 p.m.)
The U.K.'s preparations for a no-deal Brexit may help to limit the damage to the economy, though the fallout will still be considerable, according to the Bank of England. The drop in GDP from peak to trough is less than the 8% seen last November -- but still a dramatic 5.5%, the central bank said as it updated its assumptions for a worst-case scenario.
Javid Told Not to Electioneer in Statement (2:10 p.m.)
Chancellor of the Exchequer Sajid Javid was reprimanded three times by Speaker of the House of Commons John Bercow for being too political in his spending statement to Parliament.
John McDonnell, Labour's Treasury spokesman, accused Javid of using the announcement to win votes in a coming election, which Johnson wants Parliament to approve tonight.
"People will see this as the grubby electioneering that it is," McDonnell said. "It's straight out of the Lynton Crosby book of opinion poll politics," he said, referring to Johnson's elections adviser. The Tories "have calculated how little they have to spend" to meet people's concerns about key issues, he said.
Benn Confident Bill Will Pass Lords (2:05 p.m.)
Hilary Benn, one of the sponsors of the bill to extend Brexit negotiations, said he's confident it will pass its remaining stages in the House of Commons later Wednesday and survive any filibuster attempts in the House of Lords. (see 1:25 p.m.)
"The question is the speed at which we can get it through the Lords but I don't doubt there's a majority for it there," Benn told Bloomberg in an interview.
House of Lords Prepares for Filibuster Fight (1.25 p.m.)
Most of the action today is in the House of Commons, but in the upper House of Lords, where the rebel Brexit bill will go next, another battle will begin this afternoon.
The opposition will be trying to seize control of the agenda, just as happened in the Commons yesterday. But unlike yesterday, it first has to get past dozens of amendments that have been proposed in an effort to filibuster the motion so there isn't time for it to be passed.
The opposition definitely has enough votes, but it doesn't -- yet -- have control of the timetable. Expect the sitting to go through the night, at the very least.
Irish Open to Deadline Extension (1:16 p.m.)
Irish Foreign Minister Simon Coveney said his government would support another Brexit delay if it helps secure a deal. Speaking to reporters in Dublin, he said if the U.K. does seek an extension, a persuasive case on how that would help get a divorce agreement would need to be made.
He called on Johnson's administration to bring forward "alternatives that do the same job" as the contentious backstop plan for avoiding goods checks at the Irish border. "We can't do a deal unless we have proposals to work with," he added.
Merkel's Office Says Brexit Delay Possible (1:10 p.m.)
German Chancellor Angela Merkel is keeping abreast of the political developments in London. "The German government is watching the procedures in parliament with interest," her chief spokesman, Steffen Seibert, said in Berlin.
Seibert said EU member states remained willing to reach an agreement with Prime Minister Boris Johnson's government, "even now on Sept. 4." Any extension would be for the U.K. government to decide – and member states would consider it accordingly, he said.
Johnson Attacked Over Comments on Muslims (12:55 p.m.)
Johnson faced an impassioned attack from Sikh Labour MP Tanmanjeet Singh Dhesi over a 2018 newspaper article the premier wrote. In his article, Johnson compared Muslim women wearing burqas covering their faces and bodies to letterboxes and bank-robbers.
Dhesi drew applause from opposition MPs over his stance. Johnson did not reply directly, accusing Labour of anti-semitism. Liberal Democrat leader Jo Swinson admonished Johnson for his response, saying the prime minister "must be more careful'' about what he says.
Johnson and Corbyn Clash Over Brexit, Election (12:20 p.m.)
At Johnson's first weekly question and answer session in Parliament, the prime minister repeated his line that the U.K. intends to leave the EU on Oct. 31. He said the only thing that stands in the way is "the surrender bill from the opposition."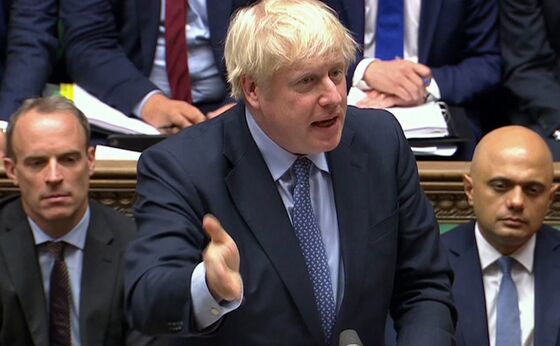 Johnson called on Corbyn to say whether Labour would vote for an election, suggesting his opponent was afraid of such a contest. "Is he frit?" Johnson asked, a term used by former Tory Prime Minister Margaret Thatcher to accuse an opponent of cowardice. Later Johnson called Corbyn "a chlorinated chicken" a joke based on concerns that Brexit will lead to lower food standards.
Corbyn repeatedly asked Johnson to set out his negotiating position with the EU, which the premier repeatedly dodged. "These negotiations are a sham, all he is doing is running down the clock," Corbyn said. "I fail to see how I can be accused of undermining negotiations because no negotiations are taking place."
EU Sees Irish Backstop as Only Solution (11:45 a.m.)
The European Commission's published a 12-page note of its preparations for no-deal and one stand-out section is what it says about the Irish border and the "backstop" that Johnson wants removed from Theresa May's deal.
The commission says the contentious "backstop" -- which would guarantee the border is kept free of infrastructure and controls until suitable alternative arrangements are agreed -- is the "only solution identified that safeguards the Good Friday agreement, ensures compliance with international law obligations and preserves the integrity of the single market."
Pointedly, it says that in the event of a no-deal Brexit, EU law requires all goods entering Ireland from U.K. to be subject to relevant checks and controls.
The Commission and Ireland "continue working together" on steps for immediate aftermath of no deal and "a more stable solution" in the longer term, the document says.
Cabinet Focused on Spending Announcement (11:35 a.m.)
Boris Johnson's cabinet discussed the spending round at their meeting this morning, according to an statement from the Prime Minister's office. The official "readout" didn't mention any discussions about Tuesday night's votes at the meeting.
The spending round, due to be announced by Chancellor of the Exchequer Sajid Javid on Wednesday afternoon, will focus on domestic priorities, including health, schools and tackling crime, according to the statement.
EU Unmoved by Johnson's Commons Defeat (11:20 a.m.)
The EU isn't moved by last night's excitement in the House of Commons, in public at least.
For European officials, Boris Johnson remains their point of contact, European Commission spokeswoman Mina Andreeva told reporters in Brussels, distancing herself from any idea that the bloc thinks he's no longer in charge.
Nothing has changed from the EU's point of view, Andreeva said.
Farage Backs Brexit Pact With Tories (10:45 a.m.)
Brexit Party leader Nigel Farage, who praised Johnson's sacking of Tory rebels as a "an act of real leadership," welcomed the appointment of Steve Baker as chairman of the Brexiteer European Research Group.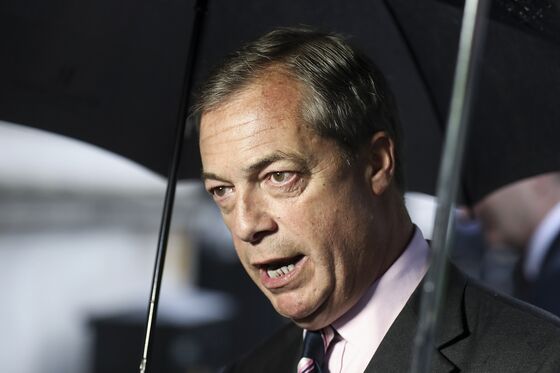 In a posting on Twitter, Farage welcomed Baker's suggestion of an election pact between the two parties and that he would oppose a Brexit deal "even if the backstop is removed."
"A positive step in the right direction to deliver a clean break Brexit," Farage said on Twitter.
A YouGov poll published on Tuesday had the Tories on 35%, Labour on 25%, Liberal Democrats on 16% and the Brexit Party on 11%, showing the potential benefit of a pact for the party.
Hands 'Uncomfortable' With Tory Purge (10:10 a.m.)
Former cabinet minister Greg Hands said he's "uncomfortable" with removing the whip from the 21 Tory MPs, but described Tuesday night's bill as a "ludicrous construction" which hands power to Brussels.
He said in an interview with Ireland's RTE radio that he doesn't think an election is a good idea as he doubts it would change the make up of the House of Commons that much.
Labour Won't Be 'Trapped,' Starmer Says (8:20 a.m.)
Labour Brexit Spokesman Keir Starmer confirmed that Labour will not back Johnson's call for a general election when it comes to Parliament on Wednesday evening.
Opposition parties -- and many Conservatives -- do not trust Johnson and want to ensure the law delaying Brexit until Jan. 31 unless Johnson can get a deal is firmly on the statute books, Starmer said.
"We're not going walk into a trap. This week it's crucial we complete the task in hand," Starmer said in interview with BBC Radio 4. "We're not shy of a general election but we're not going to be trapped into abandoning control of Parliament, abandoning this plan."
Tories Reel after Rebels Expelled (Earlier)
Conservative MPs woke Wednesday morning nursing the political equivalent of a hangover after 21 of their colleagues were expelled for defying Johnson and backing a move to take control of Parliament to block a no-deal Brexit.
Two former chancellors of the exchequer, Kenneth Clarke and Philip Hammond, alongside Winston Churchill's grandson Nicholas Soames had the whip withdrawn, meaning they are no longer Conservatives, although they remain as members of Parliament.
The move prompted astonishment from moderates. Ruth Davidson, who as leader of the party in Scotland proved a vote-winner, tweeted: "How, in the name of all that is good and holy, is there no longer room in the Conservative Party for Nicholas Soames."
However, former leader Michael Howard, on the Brexit-supporting wing of the party, said the expulsion of Clarke -- his friend of sixty years -- was inevitable and followed "the logic of events."
Irish Take Comfort From Westminster (Earlier)
Irish Social Protection Minister Regina Doherty said it was "comforting" that the House of Commons had taken the first step toward forcing Boris Johnson to delay Brexit by three months in an effort to stop a no-deal split.
"The only thing we're absolutely sure that Westminster does not want is a hard Brexit," Doherty said in an interview with state broadcaster RTE. "And I think that's comforting."
The Irish gamble to stick by the backstop has been underpinned by a consistent belief that Parliament would block a no-deal Brexit, which would accelerate many of the consequences of the U.K. leaving the EU that Ireland has been trying to avoid.