Johnson Is 'Hopeful' U.K. Can Avoid Another Pandemic Lockdown
(Bloomberg) -- Prime Minister Boris Johnson said the U.K. is on track to lift pandemic restrictions entirely over the next three months and is "hopeful" he will not need to put the country into lockdown again.
With infection rates at their lowest in six months, there is nothing in the data so far to suggest the government will need to keep restrictions in place for longer than planned, the premier said at a televised press conference Monday.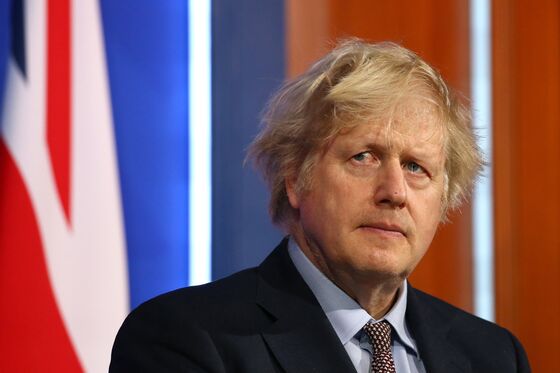 But Johnson and his chief pandemic advisers warned that the biggest threat to the U.K.'s return to normality is that new, vaccine-resistant strains of coronavirus emerge and be imported from other countries.
Under the government's "roadmap" for lifting the U.K.'s third lockdown, people can now meet in larger groups outside and resume outdoor swimming and organized sport. From April 12, non-essential retail will reopen while pubs and restaurants will be allowed to serve customers at tables outside. By June 21, ministers aim to end all curbs and social distancing guidelines.
"I'm hopeful," Johnson said. "I don't see anything in the data right now that would cause us to deviate from the roadmap. But, you know, we've got to remain humble in the face of nature, and we've got to be prepared to do whatever it takes to protect the British public -- which has been our approach throughout."
The U.K. has now vaccinated more than 30 million adults, including almost all of the most vulnerable groups. The inoculation program is far outpacing other countries in Europe. Johnson announced a plan to further boost British vaccine self-sufficiency, amid tensions with the European Union over supplies.
England's chief medical officer Chris Whitty said it is "inevitable" that infection rates would rise as more restrictions are lifted.
The return of children to England's schools on March 8 is likely behind the slowdown in the drop in cases in recent days, he said. Officials will examine the data in detail next week before deciding on whether the next stage of lockdown easing can go ahead.
Date
Measure
March 29

Two households or six people from more than two households allowed to meet outdoors
Outdoor sports such as tennis, golf, grassroots football to resume
'Stay at home' order changes to 'stay local'

April 5

Prime Minister Boris Johnson to provide an update on international travel

April 12 at earliest

Non essential retail and personal care businesses such as hairdressers, nail salons to reopen
Libraries, museums, other public buildings to reopen
Most outdoor attractions, including zoos and theme parks to reopen
Indoor leisure facilities such as gyms and pools to reopen
Hospitality to reopen for outdoor service only
Attendance at weddings, wakes rises from 6 to 15

April 15

Government target for vaccinating all over-50s

May 17 at earliest

The earliest date at which foreign travel can resume
Most outdoor social contact rules lifted, but gatherings of more than 30 people in parks and gardens remain illegal
Indoor mixing allowed for two households of any size or 6 people from more than two households
Indoor hospitality, hotels and bed and breakfasts reopen
Entertainment venues such as cinemas and children's play areas re-open
Indoor performances and sporting events can host crowds of

up to

1,000 people or be half-full, whichever is lower
Outdoor venues and sporting events can host crowds of 4,000 or be half-full, whichever is lower. The largest outdoor venues, such as the biggest soccer stadiums, can host 10,000 people or be a quarter full, whichever is lower

Up to

30 people can attend weddings, receptions, wakes, funerals and other life events such as bar mitzvahs and christenings

Before June 21

Review to report on whether Covid status certification can play a role in reducing restrictions on social contact and reopening the economy
Review to report on social distancing measures, including on use of face masks, working from home

June 21 at earliest

All limits on social contact to be lifted
Final sectors of the economy, such as night clubs, allowed to reopen
Restrictions lifted on large events and performances
Restrictions lifted on attendance to weddings and other life events