Boris Johnson Goes Big on Optimism and Skips Over U.K. Economic Chaos
Prime Minister Boris Johnson put forward his vision for a new Britain, investing in skills, narrowing social inequalities and "unleashing" a national spirit. Less clear was how he plans to deliver on that optimism as businesses warn of further disruption to the economy.
Johnson's address to wrap up the Conservative Party conference in Manchester focused hard on the government's "leveling up" of poorer regions, a post-Brexit policy that has now morphed into a catch-all plan to redefine the U.K. "You will find talent, genius, flair and enthusiasm is evenly distributed, but opportunity is not," Johnson said. There was very little on specifics.
Britain's vulnerabilities have been exposed as the pandemic has receded, and after a week of firefighting, Johnson has sought to shift the narrative. The message is that the supply chain crisis that's gripped one of the world's largest economies is a by-product of a shock therapy that's been long overdue. And it's his government, Johnson said, that's had the "guts" to do it.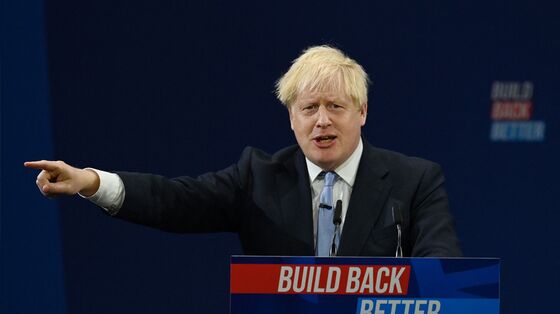 A labor shortage has forced the government to deploy soldiers to drive fuel tankers, seen empty supermarket shelves and animals being culled because of a lack of slaughterhouse staff. Johnson said this week that fewer than half the planned emergency visas for truck drivers have been issued.
But this was a speech that should have been made a year ago had it not been for the pandemic. The aim was to reassure voters who had backed the Conservatives for the first time in 2019 that they had made the right choice. Now pressure will mount to set out more detail on the flagship "leveling up" policy and prove it's more than just a slogan.
Johnson rattled through his joke-laden monologue in under 50 minutes. He attacked the opposition Labour Party as divided and out of touch with voters. His pitch to the electorate spanned the political spectrum, at once praising bankers and capitalism while also heralding the National Health Service and public services.
The only policy of any note was a commitment to a 3,000-pound ($4,070) "leveling-up premium," which would be used to send the best math and science teachers to the schools that need them most.
Indeed, Johnson barely mentioned the economic turmoil outside the conference, remaining relentlessly positive and taking credit for leading the economy toward higher wages and productivity. Britain can't return to "uncontrolled immigration to keep wages low," he said. 
The U.K. voted to leave the European Union five years ago and then ratified that decision in a general election, he said. "Yes, it will take time and yes it will sometimes be difficult, but that was the change that people voted for in 2016 and that was the change they voted for again powerfully in 2019," Johnson said.
The mantra now is that businesses need to wean themselves off cheap labor and get used to the new model. But the strategy carries plenty of risks for Johnson, and industry groups have questioned the economics of it.
The rhetoric might play well among some Conservative rank and file, particularly in poorer northern regions that defected from the opposition Labour Party at the last election. It's a stark departure for a leader of what traditionally has marketed itself as the U.K.'s pragmatic party of business.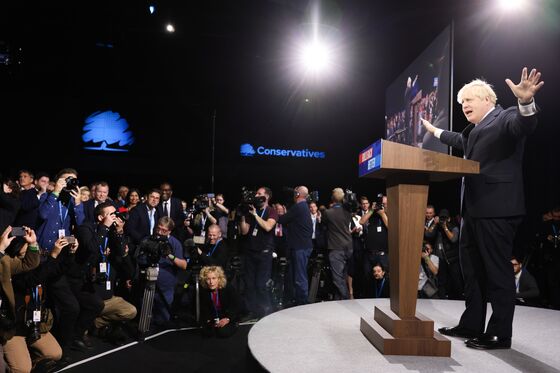 Johnson's northern focus has made Tories in the heartlands uneasy, so he sought to show how his agenda can also benefit them by taking pressure off the "overheating southeast," easing fears that "your immemorial view of chalk downland is going to be desecrated by ugly new homes."
The Confederation of British Industry, meanwhile, is warning of longer-term disruption, with shortages being two-year rather than two-month problems.
"The risk is if we don't get investment, productivity growth alongside wage growth, it's unsustainable, and it's unaffordable," Tony Danker, the CBI's director-general, said in an interview at the conference. "I don't want a high inflation and high tax economy."
U.K. companies are facing an "historic surge" in inflationary pressures and more manufacturers than ever are poised to increase their prices, according to a British Chambers of Commerce survey published on Wednesday.
But as the prime minister took center stage, his performance very much played to a different audience. 
Boosterism: How Johnson Got the Laughs
He joked about cabinet minister Michael Gove, who was dancing until late: "Let's hear it for Jon Bon Govi."
He talked about looking out of the window from his hospital bed when suffering with Covid-19 last year: "Amid the rubble of brick they seemed to be digging a hole for something or indeed someone – possibly me."
Referring to a lawyer who said the government shouldn't bother about pet theft, he said: "Well I say to Cruella de Vil QC – if you can steal a dog or a cat, then there is frankly no limit to your depravity."
Referred to detractors of the Australia-U.K.-U.S. defense pact as "a certain raucous squaukus from the anti-Aukus caucus."
Labour Party Leader Keir Starmer is "like a seriously rattled bus conductor pushed this way and that by a Corbynista mob of Sellotape-spectacled sans-culottes," before going on to call him a usual favorite, "Captain Hindsight."
Conservatives standing in line to see him before the speech were clear on what they wanted: positivity. One pensioner who had joined the line more than four hours before the speech said he was there to hear the prime minister talk up the U.K. And that's what the party got.
"I thought he had style, and charm and conviction," Robin Wight, another grassroots Conservative who was in the hall clad in a shiny purple jacket, said after the speech. "I think you don't give policy here, you give energy."