Johnson Aims to Force Brexit Law Through Commons in Three Days
(Bloomberg) -- Prime Minister Boris Johnson will seek to rush his crucial Brexit law through the U.K.'s House of Commons in just three days after he was thwarted in his latest attempt to get his divorce deal approved.
On Monday, Commons Speaker John Bercow rejected the government's bid to trigger a second parliamentary vote on the Brexit deal that the prime minister secured last week in Brussels.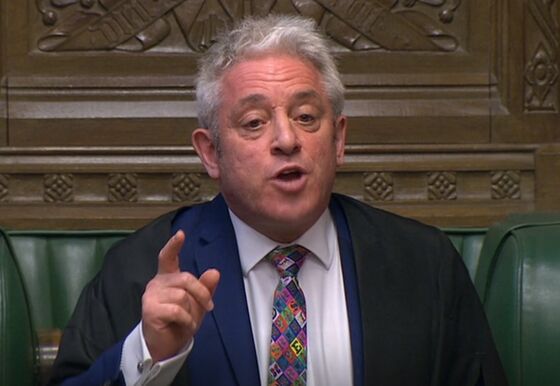 Johnson will now concentrate his efforts on fast-tracking the detailed law he needs to pass through Parliament -- starting Tuesday, and completing its passage through the Commons by Thursday. It will then go to the House of Lords, Parliament's upper chamber, in an attempt to deliver Brexit by his Oct. 31 deadline.
The express timetable for passing the Withdrawal Agreement Bill sparked an immediate backlash in the Commons. Members of Parliament attacked the government for attempting to "ram through" the bill.
The government's schedule looks like this:
| | |
| --- | --- |
| Tuesday | |
| 12.30 p.m. | Second Reading debate starts |
| 7 p.m. | Vote on Second Reading - the general principle of the bill |
| 7.15 p.m. | Vote on Program Motion - the timetable for the rest of the bill's passage |
| 7.30 p.m. | (If Program Motion passes) Committee Stage begins |
| 10.30 p.m. | First Committee Stage votes |
| Wednesday | |
| After 12.30 p.m. | Committee Stage continues, with votes every three hours. Amendments on keeping the U.K. in a customs union with the EU and calling a second referendum are likely to appear |
| After Midnight | Committee Stage finishes |
| Thursday | |
| After 11 a.m. | Report Stage begins. More amendments can still be proposed |
| After 5 p.m. | Report Stage votes |
| After 7 p.m. | Third Reading vote -- the House of Commons's final say on the bill |
Johnson is seeking to deliver on his "do or die" pledge to ensure the U.K. leaves the European Union by the end of the month. Even though there are signs that he may have enough support to win a vote on ratifying the Brexit deal he struck in Brussels last week, members of Parliament don't yet want to make that decision.
On Saturday, MPs voted to postpone a final verdict on Johnson's Brexit deal until after detailed legislation has been passed to implement it, a move designed to prevent the U.K. accidentally tumbling out of the EU with no deal.
Bercow said MPs had already debated and voted on Johnson's deal in principle in a rare sitting Saturday -- two days ago -- and they had chosen to delay taking a final decision on whether to approve or reject it.
The prime minister cannot keep asking MPs to answer the same question in an attempt to get them to change their minds, Bercow said, citing a parliamentary convention dating back to 1604.
"It is clear that the motions are in substance the same," Bercow said. "My ruling is therefore that the motion will not be debated today as it would be repetitive and disorderly to do so."
Downing Street then hit back. "We're disappointed that the Speaker has yet again denied us the chance to deliver on the will of the British people," Johnson's spokesman, James Slack, told reporters in London.
Johnson has vowed repeatedly to force the U.K. out of the EU with or without a deal by the current Oct. 31 deadline. He will now attempt to fast-track the draft law to implement his exit agreement through Parliament over the next 10 days, as he battles to deliver Brexit on time.
Around 8 p.m. on Monday, the government published that law, the 110-page Withdrawal Agreement Bill, along with 125 pages of explanatory notes. Many MPs immediately complained that three days was far too little time to scrutinize it.
That sets up the second of Tuesday's two battles. at around 7 p.m., MPs will be asked to approve the general principles of the bill. A defeat at that point kills the bill. Just after that vote comes the vote on the Program Motion, which sets the timetable for the rest of debate. A defeat there doesn't kill the bill, but makes it far more difficult for Johnson to meet his Oct. 31 deadline.
"This government proposal is frankly outrageous given the length and complexity of this bill," Green Party MP Caroline Lucas said. Former Conservative Chancellor Ken Clarke also attacked the timetable, saying there was no way the government could expect Parliament to scrutinize the exit agreement in three days. Labour's Owen Smith said Johnson was trying to "ram through" the bill.
Northern Ireland's Democratic Unionist Party, who were supporting Johnson's plans until he went back on his promise not to allow a customs border between Britain and Northern Ireland, could be tempted to back a move that would delay Brexit. Their opposition helped to defeat him Saturday.
They will be further outraged by an admission from ministers that under their plan, goods leaving Northern Ireland for Britain will require "exit summary declarations," even though they'll be staying inside the U.K.. Michael Gove, minister in charge of Brexit planning, pledged the paperwork would be "seamless."
Wednesday is likely to see opposition parties try to re-write the bill to force the U.K. to stay in the EU's customs union, or to make the Brexit deal conditional on approval from the public in another referendum.