Brexit Talks Enter Decisive Phase With Johnson Speaking to EU
(Bloomberg) -- Boris Johnson will fire the starting gun on a critical week in the U.K.'s trade talks with the European Union on Saturday when he speaks with the bloc's top official amid warnings from both sides that huge differences remain.
With just over a week left to seal an agreement, the British prime minister and European Commission President Ursula von der Leyen will attempt to plot a way forward for negotiators.
Both sides immediately played down the significance of the call, describing it as a stock-taking exercise, although it is seen as a positive sign that the two camps still believe an agreement is within their grasps. The pound rose to its highest level of the session after the news.
Privately, officials said there has been no breakthrough in the talks which paused two days ago and the early afternoon discussion is intended to help set guidance for the coming days. The EU team is scheduled to arrive in London to resume work on Sunday.
After 14 straight days of negotiations, the two sides offered a downbeat assessment earlier this week on the state of play, with each blaming the other for the lack of progress. The talks are stuck on three big issues: the so-called level playing field for business, access to British fishing waters and how any potential deal is enforced.
Both the EU and U.K. have previously indicated that Nov. 15 is the very last moment a deal can be done if it is to be ratified by their respective parliaments before the post-Brexit transition period ends on Dec. 31 and the U.K. formally leaves the European single market.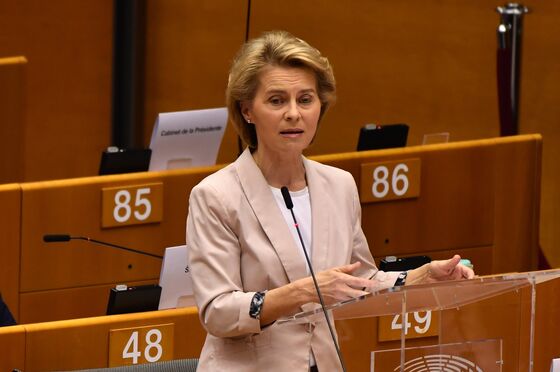 Asked by reporters on Friday whether he could get a deal in time, Johnson said: "I very much hope that we will."
"Obviously that depends on our friends and partners across the channel, I think there's a deal there to be done if they want to do it," he said. "If not, the country is of course very, very well prepared and as I've said before we can do very well on Australian terms" -- which means not having a deal with the EU -- "if that is what we have to go for."
Officials see the intervention by Johnson and von der Leyen as a positive move that could inject momentum into the faltering talks.
EU chief negotiator Michel Barnier told European ambassadors this week that Johnson will have to make a political decision to change his stance if he's to reach an agreement. Barnier said that his feeling is that London wants a deal but has yet to "internalize" the necessary compromises and concessions that are needed to reach one, according to a diplomatic note of the meeting that took place on Wednesday.
Yet the contours of a deal on one of the trickiest pieces of the puzzle are starting to come into focus, with a compromise emerging on EU access to U.K. fishing waters. The two sides have also made some progress on the issue of how Britain's state aid regime will be set out in any potential agreement.
Barnier said that the U.K. may be trying to keep the most difficult issues open until the very last moment in the hope of reaching a "grand bargain." He told the diplomats that such stalling tactics won't work and warned that member states will need to take a decision on how to proceed unless there is significant progress next week.
British officials say that they think the EU is using exactly the same ploy and one argued on Friday that Barnier's team hasn't come to terms with the compromises required on its side either.