Johnson Replaces Raab With Truss in Reboot: U.K. Politics Update
Boris Johnson demoted his Foreign Secretary Dominic Raab following criticism of the U.K.'s chaotic withdrawal from Afghanistan, as part of a wider government overhaul after his ruling Conservatives slipped in the polls.
Trade Secretary Liz Truss now replaces Raab, who takes the role of justice secretary and Johnson's deputy. 
While Johnson is seeking to move past the acute phase of the Covid-19 outbreak, he faces a potentially tricky few months with the country still facing high levels of infection. He'll also be facing the Tory faithful early next month when the party holds its annual conference in Manchester. 
Chancellor of the Exchequer Rishi Sunak and Home Secretary Priti Patel keep their roles
Anne-Marie Trevelyan becomes International Trade Secretary
Education Secretary Gavin Williamson, Justice Secretary Robert Buckland and Housing Secretary Robert Jenrick also out
Johnson's approval rating slipped to 35% from 48% in May: YouGov
Trevelyan Gets Top Trade Post (5:45 p.m.)
Anne-Marie Trevelyan has been promoted to Trade Secretary from her previous role as an energy minister.
Trevelyan previously served in Johnson's cabinet as International Development Secretary before her department was rolled into the Foreign Office and her role was eliminated a year ago. She was reported at the time to have been promised a return to cabinet -- which has now materialized.
Barclay Moved to Cabinet Office (5:30 p.m.)
Steve Barclay has been moved to the Michael Gove's old role at the Cabinet Office, leaving vacant the number two job at the U.K.'s finance ministry which he previously occupied as Chief Secretary to the Treasury.
The move comes as the Treasury gears up for a spending review on Oct. 27: Barclay's Treasury role had seen him take a lead on that -- which is due the same day as the budget.
Vaccines Minister Zahawi Moves to Education (5:05 p.m.)
Following the success of the U.K.'s Covid 19 vaccine rollout program, the minister in charge Nadhim Zahawi has been promoted to the cabinet as Education Secretary. He replaces Williamson (see 1:45 p.m.), who was criticized over the school closures and exam results during the pandemic.
Meanwhile Oliver Dowden is confirmed as the new chairman of the Conservative Party, replacing Amanda Milling (see 4:45 p.m.).
Dorries Promoted to Culture Job (4:55 p.m.)
Nadine Dorries has been promoted to Culture Secretary from her former position as a junior health minister, Boris Johnson's office said, replacing Oliver Dowden (see 4:45 p.m.).
Dorries in 2012 featured on the reality television program "I'm a Celebrity, Get me Out of Here," earning herself a suspension from the Conservative Party at the time.
Dowden Moved to Cabinet Office (4:45 p.m.)
Oliver Dowden has been moved from his post as culture secretary to a new position as minister without portfolio in the Cabinet Office.
That was Amanda Milling's old role (see 3:40 p.m.) -- suggesting he may also be made party chairman -- though that wasn't mentioned in the statement from Johnson's office.
Dowden's old post at the Ministry of Digital, Culture, Media and Sport is a coveted role, nicknamed the "Ministry of Fun."
Gove Named Housing Secretary (4:20 p.m.)
Cabinet veteran Michael Gove has been moved to the Ministry of Housing, Communities and Local Government, replacing Robert Jenrick.
Gove, the only member of the current cabinet who also served in former Prime Minister David Cameron's top team after the 2010 general election, was previously the Cabinet Office Minister with a role that included overseeing the delivery of Brexit.
The move will give him a fresh policy area to get his teeth into, after previous stints in charge of education and justice.
Truss Replaces Raab as Foreign Secretary (4 p.m)
Liz Truss, formerly secretary of international trade, is Britain's new top diplomat, replacing Dominic Raab.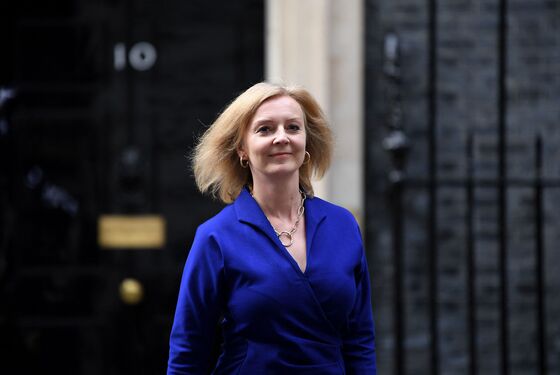 Recent polling among Conservative Party members showed Truss is the most popular cabinet minister, and she has been impressing Johnson with progress on post-Brexit trade deals with Australia and New Zealand -- though she has not completed an agreement with a country with which the U.K. didn't previously have an accord as a member of the European Union.
With Priti Patel also confirmed to be staying at the Home Office, it means women now fill half of the so-called great offices of state -- the other two are held by Prime Minister Boris Johnson and Chancellor of the Exchequer Rishi Sunak.
Patel Stays as Home Secretary (3:48 p.m.)
Priti Patel will stay on as Home Secretary, Johnson's office said in an emailed statement.
The U.K. press had speculated in recent weeks that she might be set for demotion over perceived missteps, including her handling of the migrant crisis.
Thousands of people have made their way across the English Channel from France, even after she promised 54 million pounds ($75 million) to help the French authorities tackle the problem.
Still, Johnson has repeatedly defended Patel against criticism, most noticeably last year when he overruled his ethics adviser's inquiry into bullying, which found she broke ministerial rules.
Dowden Enters No. 10 (3:45 p.m.)
Culture Secretary Oliver Dowden has now entered 10 Downing Street, suggesting a promotion may be on the cards.
Like former Housing Secretary Robert Jenrick, he was an early supporter of Johnson during his leadership campaign in 2019 -- but while Jenrick is now out of the cabinet, Dowden looks to be staying.
Tory Chief Milling Tweets Her Departure (3:40 p.m.)
Amanda Milling confirmed her departure (see 1:20 p.m.) from her role as co-chairman of the Conservative Party in a tweet saying it's been a privilege to hold the role.
Milling's sacking comes two weeks ahead of the Tory conference, the party's showpiece event of the year, which the party chairman is instrumental in organizing.
Sunak Stays as Chancellor (3:35 p.m.)
Chancellor of the Exchequer Rishi Sunak remains in his post, Prime Minister Boris Johnson's office said in an emailed statement.
It would have been a major shock had he gone -- Sunak is one of the most highly rated ministers both in surveys of Conservative Party members and in polls of the general public.
Thrust into the role just a month before the 2020 budget as a result of a botched reshuffle by Johnson, Sunak has received plaudits for the speedy roll out of a succession of assistance programs to help businesses and workers weather the coronavirus pandemic. He now faces the trickier task of completing the unwinding of that support and repairing the public finances.
Truss Seen Entering 10 Downing Street (3:30 p.m.)
It's now Trade Secretary Liz Truss's turn to go into 10 Downing Street. Truss has been tipped as a possible Foreign Secretary, a job formerly held by Dominic Raab.
She's consistently polled as one of the most popular cabinet ministers among Tory members in the ConservativeHome website's monthly survey, topping the most recent one.
U.K.'s Raab Named Justice Secretary (3:27 p.m.)
Boris Johnson's office confirmed Dominic Raab's departure as Foreign Secretary, saying he's been made justice secretary.
In a likely sweetener, Raab was also named Deputy Prime Minister. That's an upgrade from the First Secretary of State role that he'd held prior to the reshuffle, which in effect had made him Johnson's de facto deputy.
Raab Declines to Comment on Johnson Meeting (3:03 p.m.)
Foreign Secretary Dominic Raab declined to comment when asked by Bloomberg about his fate. Raab walked briskly away from Johnson's Parliament office with his advisers trailing him.
Raab's departure would be the most high-profile one yet, but his position is unclear -- especially as Sky News later showed him walking into 10 Downing Street. He was a candidate for leadership and has done stints as Brexit secretary before getting one of the most important cabinet positions, one Johnson himself once held. But he's been on the receiving end of intense criticism for being on holiday in Crete while the Taliban took control of Afghanistan.
His movements suggest he will no longer be the U.K.'s top diplomat but is being considered for another cabinet post. A lawyer by training, he'd be a natural candidate for the position of justice secretary vacated by Robert Buckland (see 2:06 p.m.).
Johnson Leaves House of Commons Office (3 p.m.)
Boris Johnson was seen leaving his House of Commons office, suggesting he's done with meetings on demotions.
White Men Early Targets in Reshuffle (2:55 p.m.)
Boris Johnson's spokesman told reporters earlier that the prime minister understands the "importance of having a diverse cabinet" -- a statement that is proving a good guide to the reshuffle. The three ministers demoted so far are middle-aged White men: Gavin Williamson, Robert Buckland and Robert Jenrick.
Of the 27 ministers attending cabinet prior to Wednesday's changes, just six were women.
Jenrick Out as Housing Secretary (2:30 p.m.)
Robert Jenrick has tweeted about his departure from the Ministry of Housing, Communities in Local Government, thanking colleagues for their hard work and promising to continue to support the prime minister "in every way I can."
Jenrick was an early supporter of Johnson's 2019 leadership bid, penning an op-ed with fellow MPs Rishi Sunak and Oliver Dowden saying only Johnson could save the Tory party. Sunak and Dowden are both in the cabinet.
But he faced criticism over the government's response to the sub-standard construction of high-rise buildings, which was thrown into the spotlight following the 2017 Grenfell Tower fire. Johnson was also forced to defend Jenrick amid a row over his contact with a real estate tycoon and an expedited development approval.
Buckland Confirms Departure (2:06 p.m.)
Justice Secretary Robert Buckland confirms on Twitter that he's out of a job, saying: "On to the next adventure."
Buckland Seen Near Johnson's Office (1:55 p.m.)
Justice Secretary Robert Buckland was seen near Boris Johnson's office in the House of Commons, suggesting he may also be losing his position. Sackings tend to take place in the premier's office behind the chamber, with appointments taking place at his main office in 10 Downing Street.
Sky News reported Buckland has been removed from his post, citing people familiar with the matter it didn't identify.
Williamson Leaves Education Role (1:45 p.m.)
Gavin Williamson, who was education secretary, is the first casualty of the reshuffle. He said on Twitter he is proud of "transformational reforms" he brought in and that he looked forward to continuing to support the prime minister. He didn't say if he's been given a new role.
It comes after months of speculation in the British press over Williamson's job. He's been criticized over his handling of school exams during the pandemic, as well as preparations for the return of children to schools after the first lockdown last year. He also ranked last in the influential Tory website ConservativeHome's most recent survey of party members' satisfaction with cabinet ministers.
Milling Seen Approaching Johnson's Office (1:20 p.m.) 
Conservative Party Chairman Amanda Milling and Communities Secretary Robert Jenrick were both seen heading toward Johnson's House of Commons office shortly after Prime Minister's Questions on Wednesday, suggesting they may be losing their roles.