Johnson Keeps Option Open of Suspending Commons: Brexit Update
(Bloomberg) -- Boris Johnson continues to pitch for the support of both moderate Conservatives and Brexiteers, refusing to rule out suspending Parliament to force a no-deal Brexit, even as he says the chances of getting to such a scenario are "a million-to-one against." His efforts to appeal to pro-Brexit Tory voters risk fueling parliamentary opposition to a Johnson premiership.
Johnson reiterates suspending Parliament should be an option for new prime minister to keep no-deal Brexit on table
Johnson says he hasn't offered anyone a job in his future government
Johnson doesn't deny he called the French "turds" while filming a BBC documentary
Pound rises

Johnson's Vote 'Magic' No Longer There: YouGov (2:40 p.m.)
Boris Johnson wouldn't necessarily give the Conservatives a better election result than Jeremy Hunt, according to a new YouGov poll.
One of Johnson's key campaign messages is that he has a track record of beating Labour in elections, but the poll of of 1,686 adults found delivering Brexit was a more important factor. Once the U.K. has left the EU, the poll showed those intending to vote Tory would be the same whichever candidate was leader.
While Johnson remains the favorite among Tory voters by a margin of 48% to 39% -- the wider electorate prefer Hunt by 41% to 29%, according to the poll.
"If the Conservatives are looking towards Boris Johnson as a magic election winner, the evidence is simply no longer there," said Anthony Wells, YouGov's director of political and social research. "Our latest polling does not suggest he offers any innate electoral advantage over Jeremy Hunt."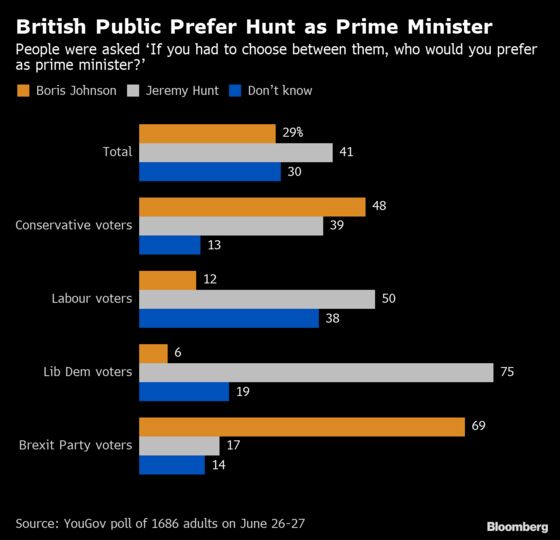 Hunt: Farmers Could Be 'Wiped Out' by Tariffs (1:15 p.m.)
Jeremy Hunt said some farmers would be "wiped out'' by tariffs after a no-deal split from the European Union, a risk that adds to the significant importance of reaching an agreement with the bloc.
"The fact is that the farming sector would be one of the most adversely affected by the tariffs that would be introduced in a no-deal situation,'' Hunt told a meeting of Conservative Party members in Exeter. A no-deal divorce would be "challenging," he said, and "that's why it's so important to work hard for a deal. That's what I'll do.''
Hunt Calls on Johnson to Rule Out Pre-Brexit Election (1 p.m.)
Hunt called on Johnson to join him in ruling out a general election before Brexit. Johnson has said the idea would be "crazy," but hasn't said categorically that he wouldn't call on.
"I think that's something the Conservative Party needs to know where both candidates stand," Hunt said at the leadership event with grassroots Tories in Exeter on Friday. "I've said I won't call an election, because I think that would be a mistake."
Hunt Offers Better, Not Trumpian Social Media (12:50 p.m.)
Jeremy Hunt said he learned from his battle with junior doctors when he was health secretary that government needs to be better on social media, though said he wouldn't "go Trump" in his approach.
"What I learned from that is that we, I and all of us as Conservatives, have to be better on social media," Hunt said. "If you're not present in all those social media groups you're not getting our message across."
Johnson Says No Early Election (12:05 p.m.)
Johnson said he doesn't want to have an early election, as he told a 17 year-old at a campaign event that he hoped he'd be able to vote in the next poll.
The front-runner said he first wants to deliver Brexit, and then work on a "progressive" Conservative agenda to win the next election.
"In the fullness and richness of time we are going to wallop Jeremy Corbyn for six," he told the event.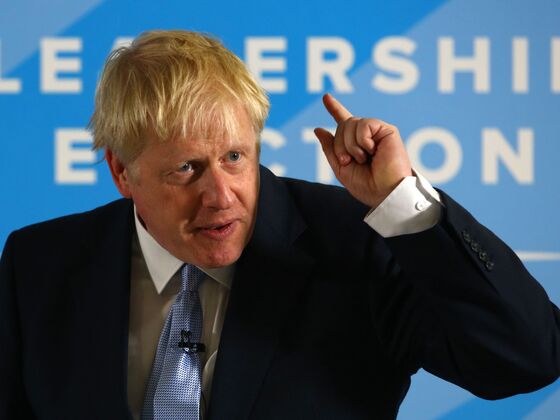 Johnson Won't Accept Hard Border in Ireland (12 p.m.)
Johnson said he won't allow a hard border to emerge between Northern Ireland and the Republic of Ireland, saying that's "non-negotiable."
He would find a solution that works for all sides, and he's sensitive to the concerns of Irish Prime Minister Leo Varadkar.
Johnson Doesn't Deny Calling French Turds (11:40 a.m.)
Johnson didn't deny a report in the Daily Mail that he referred to the French as "turds" while filming a BBC documentary.
He said he had "no recollection," and said the report was "not very well sourced."
Johnson Keeps Proroguing Parliament on Table (11:30 a.m.)
Johnson said he wouldn't rule out suspending Parliament to push through a no-deal exit, but he's not "remotely attracted to that kind of device, that kind of fiat by the executive."
"There are all sorts of things that remain on the table, but it's a very big and capacious table," he told an event on Friday.
Food Industry Warns No-Deal Could Ruin Christmas (11 a.m.)

After Boris Johnson dismissed as "nonsense" fears of food and drink shortages in a no-deal Brexit, companies hit back. They warned that supply shocks could be worse in November than they would have been in April because of the run-up to the Christmas period.
At a campaign event on Thursday, Johnson said: "There will be drinking water whatever happens on Nov. 1 in this country, and there will be milk solids and glucose and whey for our Mars Bars." He repeated it on Friday.
But a spokeswoman for the Food and Drink Federation said a no-deal exit would be "disastrous" for their members, and that shoppers would notice shortages within weeks. Manufacturers are struggling to secure frozen and chilled warehousing space, as Christmas preparations mean facilities are already booked.
"Manufacturers will therefore have no spare production capacity or ability to store ingredients and finished products. U.K. food imports will climb from autumn onward as fresh food stocks decline, so any 'no-deal' disruption will have a major impact on availability," it said in a statement.
Leadsom: Johnson Shouldn't Be Taken Literally (Earlier)
Andrea Leadsom, the former leader of the House of Commons, said Boris Johnson's claim that there's only a "million to one chance" of a no-deal Brexit should not be taken literally but as a sign of his intent.
"Boris uses language to try to illustrate his determination to get us a deal," Leadsom told BBC Radio. "There is a way through to depart at the end of October and Boris is the person to do it because he will get cut-through."
Leadsom said the new European Commission, due to take over the EU in the fall, would be ready to talk with Johnson because they don't want their "legacy" to be continued uncertainty over Brexit.
Duncan Calls on Johnson to Debate (Earlier)
Alan Duncan, who was a minister under Boris Johnson in the Foreign Office, added his voice to calls for the front-runner to join a TV debate.
Johnson must face scrutiny for his claims on Brexit, Duncan said, adding that it is "irresponsible" for him not to agree to have his claims challenged in a TV debate with Hunt.
"You can have a circus act or you can have a really serious person who does do detail and is respected in other countries,'' Duncan told BBC radio. Johnson "is saying what people want to hear, but he will have to face the fact that what he has promised he won't have the power to deliver."
Duncan said he wasn't aware of an incident, reported in the Daily Mail newspaper, in which Johnson accused the French of being "turds" over Brexit.