Jobless Claims at Five-Decade Low Exclude U.S. Shutdown Workers
(Bloomberg) -- If you're trying to figure out why filings for unemployment benefits are so low amid a government shutdown, don't look to the headline data.
That's because federal workers aren't factored into the overall number, which tracks filings at the state level. While jobless claims dropped to 199,000 last week, the fewest since 1969 and below all estimates in Bloomberg's survey, it doesn't include claims from federal workers, which more than doubled in the week prior to the headline data.
Even so, as the partial U.S. government shutdown impacting 800,000 Americans rolls on toward a fifth week and the economy is probably cooling, economists thought there'd be some jump in filings. The data show the job market is, in fact, even tighter than before. Seasonal volatility also may be a factor: it's a new year and a month with multiple holidays, which analysts always caution can distort the figures.
"You'd assume claims should be rising because of the stories we've been hearing about the economy and government shutdown," said Joseph Song, a senior U.S. economist at Bank of America Corp. "But the fall in claims just shows the economy is still strong and growing."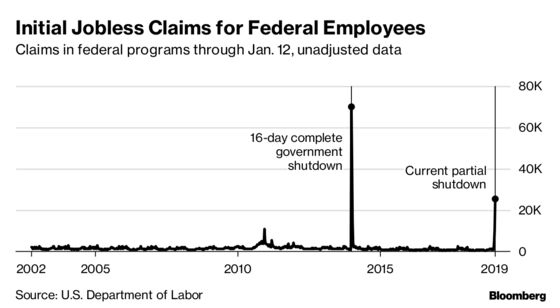 Claims aren't likely to spike the same way they did during the prior impasse in 2013, when the tally for federal-worker filings in one week hit about 70,000, because the current shutdown is partial and doesn't affect as many furloughed workers, who are eligible to apply for unemployment benefits.
Here's what other economists say about the surprising drop in claims:
High Frequency Economics Chief U.S. Economist Jim O'Sullivan: "While federal workers are not eligible for regular unemployment benefits, employees of private-sector contractors working for the government who were laid off because of the shutdown are eligible. We suspect there has been at least a small boost to regular claims from that source in the last couple of weeks, so if anything the trend is even lower than suggested by the reported data."
JPMorgan Chase & Co. economist Jesse Edgerton: "Many indicators of business and consumer sentiment have fallen sharply amid market volatility, trade policy uncertainty, and the federal government shutdown, pushing our models of recession risk to new expansion highs. But the initial claims numbers suggest that this spreading gloom has not yet affected business hiring decisions, providing one encouraging sign after a recent run of generally disappointing data."
Amherst Pierpont Securities Chief Economist Stephen Stanley: "It is entirely possible that ripple effects of the shutdown, for example layoffs by firms that are heavily, but not exclusively, dependent on federal government contracts, could bleed into the regular claims figures. However, the dive in the number of new filers over the past few weeks suggests that we are not seeing very much of that, at least not yet."
Nick Bunker, an economist at hiring website Indeed.com: "It's a continuation of the broad trend we've seen in the labor market, and an indication of just how strong the private sector market is. We're not seeing many layoffs."