Jimmy Lai's Next Digital to Shut Down Amid Chinese Pressure
(Bloomberg) -- Next Digital Ltd, which is owned by now-jailed media tycoon and activist Jimmy Lai, will cease operations on July 1, according to an internal memo seen by Bloomberg.
The listed Hong Kong company is the publisher of the now-shuttered pro-democracy newspaper Apple Daily, which closed last week after Hong Kong authorities used a China-imposed national security law to arrest top editors and executives.
A representative from Next Digital and Lai adviser Mark Simon didn't immediately respond to requests for comment on Wednesday.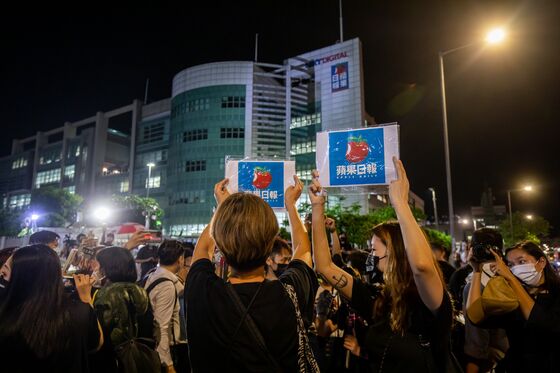 The popular newspaper's demise generated renewed concerns about declining press freedom in Asia's main financial center. China's actions were condemned by U.S. President Joe Biden, who said it was a "sad day for media freedom in Hong Kong and around the world," adding that "Beijing has insisted on wielding its power to suppress independent media and silence dissenting views."
Under Hong Kong trading rules, the city's exchange operator can cancel a listing if a company goes into liquidation or if a firm's business "is no longer suitable for listing," among other reasons. In such a scenario, a firm's outstanding shares can move onto an over-the-counter system which allows shareholders to dispose of their stock typically at a steep discount -- should they find any buyers at all. Next Digital shares have been suspended since June 17.
The Hong Kong stock exchange kicked out at least 12 stocks from its main board this year, with another five companies in the queue as of May 31, according to its website. That excludes voluntary delistings or companies that were taken private. Some 2,186 firms traded on the city's main board.
The Apple Daily was raided earlier this month by roughly 500 police officers, who descended on the newspaper's Hong Kong headquarters. They arrested the paper's three top editors, as well as the chief executive officer and chief operating officer of Next Digital.
Following the raid, the company said authorities were using the security law to block its access to its bank accounts, denying the media company the ability to pay staff and suppliers.
The Next Digital memo on Wednesday said the media company's bank accounts still haven't been unfrozen by authorities and that human resources would follow labor rules in terms of settling compensation and payroll issues.
In a stock exchange filing late Wednesday, Next Digital said it plans to sell the offices of Taiwan Apple Daily to an undisclosed buyer. On Tuesday, the company said it had accepted a non-binding proposal to purchase Amazing Sino International, publisher of Taiwan Apple Daily. It didn't name the buyer.
Authorities have accused Apple Daily of publishing articles that violated the city's sweeping new security legislation, which bars subversion, terrorism, secession and foreign collusion.
Hong Kong's Secretary for Security John Lee, who has since been promoted to the No. 2 spot in the city's government, said on June 17 that Apple Daily had published print and online articles that "invite foreign countries or external elements to impose sanctions or take hostile activities against Hong Kong," as well as China.
Lai, 73, is serving prison time for his roles in unauthorized protests in 2019 and is separately facing national security charges on allegations that he colluded with foreign powers -- accusations based partly on his social media posts and comments to foreign media outlets.
On Sunday, an Apple Daily journalist was arrested at the airport while trying to leave the city, according to local media, while another pro-democracy news outlet called Stand News announced that it was pulling down online articles and ending reader donations in order to help "protect all supporters, authors and editors."