Jihadists Nobody Wants Imperil Syria Pullout
Donald Trump's plan to pull U.S. forces out of Syria leaves a critical global security question unanswered: What to do with Islamic State fighters held by Kurdish forces in makeshift jails?
Margaret Talev, Donna Abu-Nasr and Glen Carey write that there are more than 800 prisoners — including Europeans and Americans — across northern Syria, while the number of family members of captured fighters may top 4,000. And "no one wants to take them," says Ilham Ahmed, a senior Kurdish official.
As Trump tries to meet his pledge to get America out of Mideast wars, the prisoners have become a stumbling block. The concern is that the Kurds, facing the bigger threat of a Turkish attack after their U.S. allies leave, would be unable or unwilling to keep them behind bars.
So what are the options? Western officials say they could stay where they are, with extra aid for their Kurdish captors; get sent home, or to countries willing to jail them. The U.S. is considering transferring hardened fighters to Guantanamo Bay, Cuba, where the alleged perpetrators of the Sept. 11 attacks are still held.
Any solution will take time given Syria's enduring instability and disagreement among the powers who'd have to approve it – one reason the administration has been walking back the president's December promise of a quick withdrawal.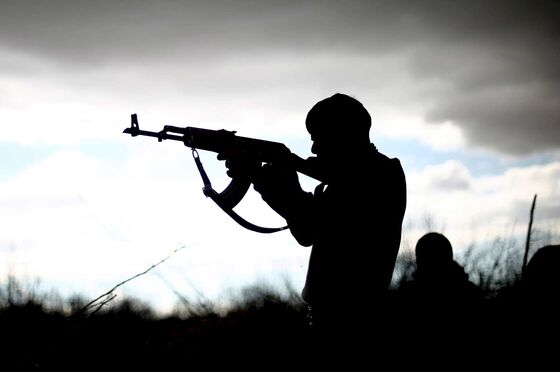 Digging in | Theresa May is heading back to Brussels armed with a mandate to renegotiate the most contentious part of the Brexit deal she reached with the European Union — the border arrangements in Ireland — despite the bloc's insistence it can't be done. The prime minister indicated she's not expecting the EU to play ball, which means she'll likely return to parliament empty-handed in two weeks. Regardless of where Brexit goes from here, it's already come at a cost.
Going off message | Trump's own national security team has undercut his biggest claims on key foreign policy issues. The president's spy chief joined top officials from the CIA, Defense Intelligence Agency and FBI to tell senators yesterday that North Korea and Islamic State remain critical security threats, even as Trump contends the U.S. has made progress in getting Kim Jong Un to disarm and eradicating the extremist group in Syria.
Reality bites | Two months after newly elected Representative Alexandria Ocasio-Cortez inspired hundreds of young activists to storm Nancy Pelosi's office demanding that the fellow Democrat and incoming speaker pass a radical plan to fight climate change, political reality is setting in. The so-called Green New Deal — a loosely defined legislative wish list to slow global warming by drastically reducing greenhouse gas emissions — lacks the support needed to advance.
Disillusioned with democracy | Venezuela is far from the only country in Latin America where the military has had a revival. After decades of democratization, with soldiers largely confined to barracks and borders, governments from Brazil to Mexico are turning to the military to run ministries, oversee state projects and fight crime in an echo of an authoritarian past, Juan Pablo Spinetto and Bruce Douglas report.
Big brother | Step into a cinema in Uganda's capital and you could watch an action-packed film on President Yoweri Museveni's rise to power. Step outside and Museveni could be watching you. Critics say a new surveillance system and the glitzy biopic made by the president's daughter are part of a push to glorify his 30 years of iron rule and tighten control of public space before elections in 2021.
When China's trade negotiators sit down with U.S. officials today in Washington to try to hammer out a trade deal, they may look to borrow a tactic from the Democrats' shutdown playbook: calling Trump's bluff.
Facing a Feb. 15 deadline to avoid another government funding lapse, Congress begins a new round of formal border security talks today amid concerns the last funding lapse could affect the U.S. air traffic control system for years.
Georgia's Stacey Abrams — a rising Democratic star who in November narrowly lost her bid to become the first black woman governor of a U.S. state — will deliver her party's response to Trump's State of the Union address next week.
And finally... Yuri Deychakiwsky has written so many checks to help support the Ukrainian war effort that he can't even recall where he was when he first saw the video of a drone he helped fund drop bombs on Russian-backed separatists. The 61-year-old cardiologist is part of a network of private donors who are footing the bill for weapons, medical treatment and other costs as supporters of cash-strapped Ukraine turn to crowdfunding the conflict in the nation's restive eastern regions.