Britain's Javid Must Decide Who Gets Assange: Sweden or Trump
(Bloomberg) -- A Swedish prosecutor's plan to reopen a rape probe against Wikileaks founder Julian Assange puts the British home secretary -- and his political aspirations -- in the spotlight.
Sajid Javid will be forced to choose between a U.S. extradition demand at a politically-sensitive moment and a far more time-pressing one from within the European Union.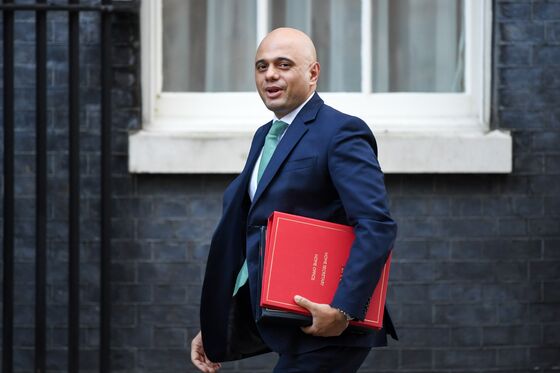 The decision may come in the run-up to President Donald Trump's arrival in the U.K. for a formal state visit next month and at a time when U.S. officials have publicly scolded the British government over its approach to national security. Opposition lawmakers, however, are pushing for Javid to defer the American request in favor of any Swedish bid.
"Vital that U.K. makes speedy decision on extraditing Assange to Sweden given time limits of rape case," Stella Creasy, a Labour member of parliament, said in a tweet Monday. "It's up to Sajid Javid to choose between American and Swedish requests. Let's hope commitment to treating allegations of sexual violence seriously trumps trump visit..."
Javid is one of several potential candidates to succeed Prime Minister Theresa May, who is under increasing pressure because of her failure to resolve Brexit. The 49-year-old Javid, a former banker, was among ministers who objected to plans to allow Huawei Technologies Co. to build parts of the U.K.'s telecom networks.
"The crimes he is accused of in Sweden should be the priority," Labour lawmaker Jess Phillips said in an interview. "If they are not we send a very clear message that when we talk about the safety and security of our country, we are excluding women's safety."
But for the U.S. it's a national security issue.
The American charge is related to hacking a Department of Defense computer and carries a maximum five-year jail sentence. Immediately after Assange was hauled out of the Ecuadorean embassy, where he had been hiding from the Swedish allegations for seven years, American prosecutors filed a single charge that he conspired with ex-U.S. Army analyst Chelsea Manning to illegally download classified government material.
The U.S. extradition request was unveiled within hours of Assange's arrest inside the Ecuadorean embassy. It was a notable contrast to the response of Swedish prosecutors, who said they hadn't been informed by British authorities in advance.
When deciding which charge should takes precedence, Javid must consider the seriousness of the allegations. It may be hard for him not to find the Swedish accusations persuasive. A rape charge would be serious and has a time limit of August 2020 when the statute of limitation would bar prosecution.
"They've already had one investigation thwarted," said Thomas Garner, an extradition lawyer at Gherson in London. "The big factor in favor of Sweden is they would have to prosecute him before the statute of limitations expires."
The American government has increased the pressure on Britain -- a key member of the "Five Eyes" intelligence sharing alliance -- and its approach to security.
U.S. Secretary of State Michael Pompeo warned the U.K. not to go "wobbly" as he issued a stinging warning over Prime Minister Theresa May's apparent reluctance to ban Chinese equipment maker Huawei.
Until a formal request arrives from Sweden, Javid, who faced a storm of criticism for revoking a jihadi bride's British citizenship without consultation, will likely hold off weighing in. The Home Office declined to comment Monday.
The Swedish request was a surprise to Assange's lawyer in Sweden, Per E Samuelson. "It's wrong of the prosecutor to torment him with this once more," he said.
Sweden issued an arrest warrant for Assange in 2010. He fought the extradition up to the U.K. Supreme Court, where he lost in 2012. While he was out on bail in that case, Assange sought asylum in Ecuador's embassy. As the years dragged on, Swedish prosecutors dropped the investigation because it had become impossible to pursue the probe in his absence.
The Swedish prosecutor Eva-Marie Persson said: "I hope that there will be a quicker decision this time."
The case has dragged on so long that the last U.K. Home Secretary who dealt with the original Swedish extradition request for Assange was Theresa May.