Japan to Ease Off Its Covid Curbs With Care, Top Spokesman Says
(Bloomberg) -- Japan will lift its virus restrictions gradually, in a process that will require the cooperation of businesses and the understanding of the public, the government's top spokesman said.
Chief Cabinet Secretary Katsunobu Kato, in an interview with Bloomberg at the prime minister's offices in Tokyo on Tuesday, said efforts to restart the economy would start from low-risk areas. The plans for a step-by-step approach are in contrast with the U.K. where the government lifted almost all restrictions in July on what was dubbed Freedom Day, and the U.S. where President Joe Biden had envisioned making July 4 an Independence Day from the virus.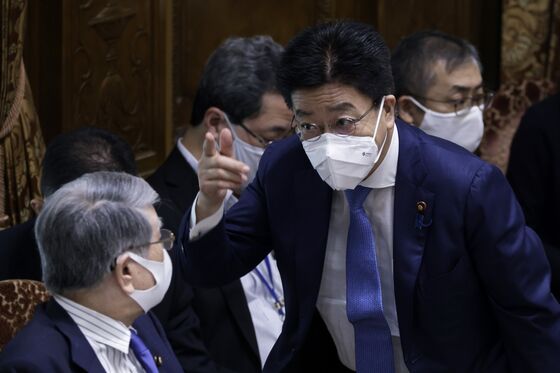 "We're not going to suddenly say there's no need to hold back at all," Kato said. "Infections can happen even if you're vaccinated. So we will be asking people to take precautions as we move to show a roadmap toward loosening restrictions."
Kato was speaking in the final weeks in his current position after Prime Minister Yoshihide Suga announced earlier this month he was abandoning a plan to seek re-election as leader of the ruling Liberal Democratic Party, and thus prime minister. Suga's handling of the virus has been widely criticized, and his support fell to record lows in opinion polls over recent months. 
Suga is leaving office with a plan to help the economy recover from the virus, saying last week the government would use vaccination certificates and test results to help ease restrictions. Suga said the certification systems would help pave the way for a normalization of economic activities, helping eateries and other establishments hurt by the current curbs. 
A former health minister, Kato warned that Suga's successor would face a raft of problems, some of them made all the more obvious by the effects of Covid-19.
"Infections are falling temporarily, but it would be well within expectations for them to rise again," he said. "I hope they will take our experiences -- and we have some regrets -- into account when dealing with the coronavirus," he said. 
Japan's daily Covid-19 infections fell to 4,161 on Monday, compared with more than 25,000 in mid-August. More than half the population is fully vaccinated, and Suga has said that all those who are eligible will be offered the immunization by November. 
The following are some of Kato's other comments in the interview:
Green policies are an important step for growth; want to pass them on to next administration
Expect the Bank of Japan to maintain its 2% inflation target under the new administration
Opening the economy likely to help persuade more people to get vaccinated