Japan's Public Isn't Buying Carlos Ghosn's Arguments, Poll Shows
(Bloomberg) -- Japan doesn't believe auto executive Carlos Ghosn is a victim, according to the first poll published since he fled to Lebanon last month.
More than 90% of respondents said they weren't convinced by Ghosn's criticisms of Japan's criminal justice system, a survey by Tokyo-based broadcaster Fuji News Network showed. Just 4% found the former head of Nissan Motor Co. and Renault SA convincing, FNN reported. FNN didn't provide a margin of error for the poll of 1,040 people, which it carried out Jan. 11-12.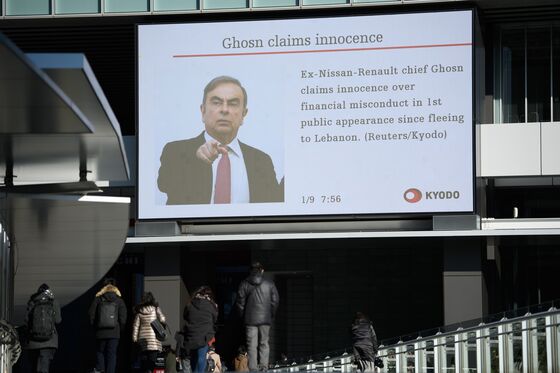 In a widely broadcast press conference held in Beirut Jan. 8, Ghosn blasted Japan for breaching his human rights and said that he lost any hope of a fair trial on charges of financial crimes.
His accusations prompted Japanese Justice Minister Masako Mori to defend the system in a series of five press conferences last week.
Some 61% of respondents in the poll approved of using GPS devices to prevent defendants from skipping bail, while 28% disagreed. Ghosn wasn't fitted with such a device at the time of his escape.