Japan's Premier Faces Fresh Blow as Ally Loses Election
(Bloomberg) -- Japanese Prime Minister Yoshihide Suga suffered a fresh blow amid criticism of his pandemic management, when his favored candidate lost an election for mayor in the city where he began his political career.
Hachiro Okonogi was defeated by Takeharu Yamanaka, a former university professor supported by the main opposition Constitutional Democratic Party of Japan, in the race for mayor of Yokohama, according to results posted by the city government. LDP votes in Japan's second most-populous city were divided between Okonogi and the incumbent mayor, which also hampered his campaign.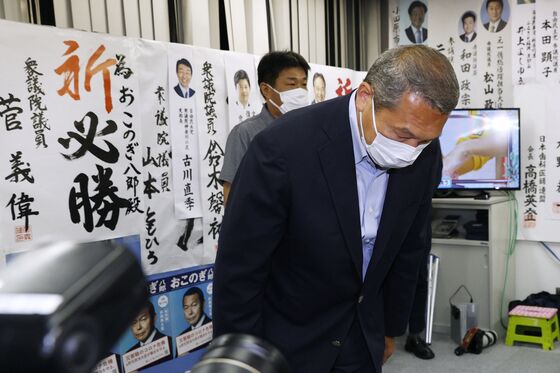 Okonogi's loss bodes ill for Suga's prospects in a looming party leadership poll and a general election that must be held by the end of November. It comes with support for Suga slumping to record lows in recent media polls, as the number of Covid-19 cases surged to levels never seen before in Japan. 
"It's a most regrettable result, but the citizens made a judgment about the various problems facing the city, so I want to accept that humbly," Suga told reporters Monday. He added there was no change to his intention to run for re-election as leader of the ruling Liberal Democratic Party.
The election result is also likely to weigh on Suga's long-held ambition of opening one of Japan's first casinos in Yokohama, given Yamanaka's opposition to the idea. Suga, who started as a local assemblyman in the city, sees gaming resorts as a way to expand foreign tourism, despite local opposition to the plan. 
"This became more than just a mayoral election," said Tomoaki Iwai, a political science professor at Nihon University, after the premier threw his weight behind his former minister -- also the son of the politician who gave Suga his first leg-up into national politics. Following a series of special election defeats for his ruling Liberal Democratic Party earlier in the year, Suga is beginning to look incapable of winning, Iwai added. 
Adding to the bad news for Suga, a survey Monday from broadcaster ANN showed support for the cabinet dropped to 25.8% -- below the 30% that's regarded in local politics as a make-or-break level for a leader. 
While the death toll from Covid-19 so far remains low by comparison with other developed nations, surveys show many people are anxious about the shortage of hospital beds as the number of serious cases swells. With many people forced to recuperate at home, almost three-quarters of respondents to the ANN poll said the government should change the law to put more pressure on hospitals to accept virus patients. 
As surveys by public broadcaster NHK and some other media also show Suga's support sliding to less than 30%, rivals are beginning to jostle for position. This raises the prospect the ruling party could add him to the long list of short-serving Japanese prime ministers.
"A defeat in his own backyard is a major shock" that could spur younger LDP lawmakers to start trying to oust Suga, political consultant Takuma Ohamazaki said ahead of the vote. The severity of the current virus outbreak will in any case make it difficult for Suga to call a general election next month, he added. 
Former Foreign Minister Fumio Kishida, former Internal Affairs Minister Sanae Takaichi and Hakubun Shimomura, policy chief for the LDP, are among those aiming to throw their hats in the ring. Public opinion polls have also shown support for Taro Kono, the government's vaccine czar and a former foreign minister, to become premier. The leadership vote may come on Sept. 29, Kyodo News reported. 
If Suga holds on as party leader, he may call the general election in early October, the Yomiuri newspaper reported Monday, although the virus situation could scupper such plans and see the lower house serve out its full term to Oct. 21, with the election to be held after that. 
While the markets in early Monday trade were mainly focused on Friday's U.S moves, weakening support for the ruling coalition would have a negative impact, according to Ayako Sera at Sumitomo Mitsui Trust Bank Ltd. in Tokyo. 
"The ruling party can't perform well if virus case numbers continue to increase," she said. "The  coalition will lose some seats, and that will weigh on Japanese stocks."