Japan's Suga Kicks Off Leadership Race as the Heavy Favorite
(Bloomberg) -- Japan's ruling Liberal Democratic Party officially started its campaign for a new leader, with the man all but assured to take over from Prime Minister Shinzo Abe praising the democracy that allowed his political rise.
Chief Cabinet Secretary Yoshihide Suga, who already has enough backing from the LDP's powerful factions to win the party vote next week, formally filed on Tuesday for the race to replace Abe, who's stepping down for hetalth reasons. Two other contenders -- former Defense Minister Shigeru Ishiba and ex-Foreign Minister Fumio Kishida -- also filed for the race.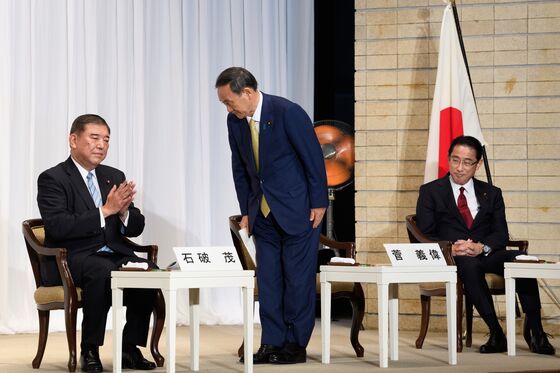 Suga, who comes from a family that farmed strawberries, is set to take over from Abe in mid-September. At the first formal speeches for the three candidates, Suga pledged to continue the premier's ultra-easy monetary policy known as "Abenomics." Any sign of a departure from it could send the yen surging and stocks sliding, triggering a re-evaluation of the outlook for the nation.
"When I came to Tokyo more than 50 years ago, I could never have imagined where I'd be now," Suga, 71, said. "Even an ordinary person like me, if they work hard, can aim to be prime minister. That's real democracy."
He added that he wants to continue his push to reduce mobile phone rates and will seek to create a government agency for digital matters.
In contrast with his boss's rarefied political pedigree, Suga hails from the rural northern prefecture of Akita and took a job in a cardboard box factory when he first moved to Tokyo. He worked his way through university, before starting his political career as a secretary to a politician. He was first elected to parliament in 1996.
The LDP is set to vote on its new leader on Sept. 14 and then use its majority in parliament to elect that person as the next prime minister on Sept. 16. Last week, the LDP opted for a party voting process that gives more power to lawmakers, favoring Suga. Five of the LDP's seven factions have lined up behind Suga, who served as the back-room enforcer during Abe's record-breaking run as prime minister.
The LDP vote is among 394 lawmakers and 141 representatives -- three each from the country's 47 prefectures. The factions led by Kishida, with 47 members, and Ishiba, with 19 members, are the only ones not lining up behind Suga, who also leads a non-aligned group of about a dozen lawmakers.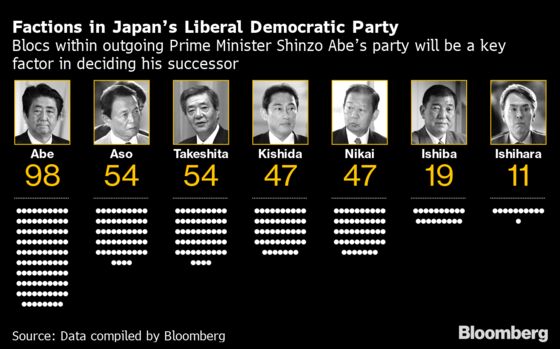 The new prime minister will have no more than a year to try and revive Japan's economy from a pandemic-induced contraction before calling a general election against a recently unified opposition. In an indication of the difficulties in digging out from the slump, data released Tuesday showed Japan's record economic contraction last quarter was slightly worse than initially estimated, shrinking an annualized 28.1% from the previous quarter in the three months through June.
While Suga had recently trailed in opinion surveys about Japan's next leader, the public appears to be coming around to him. Support for Abe's government soared 27 percentage points to 62.4% in a survey released Monday by news network JNN, with 48% of respondents saying Suga was the most appropriate choice to take over.
Abe's abrupt decision in late August to step down due to a chronic digestive condition after almost eight years on the job left the party scrambling to find a new leader in about two weeks.