Japan Extends Virus Emergency for Tokyo Region by Two Weeks
(Bloomberg) -- Japanese Prime Minister Yoshihide Suga extended by two weeks a virus state of emergency for the Tokyo region that had been set to expire Sunday, trying to maintain a declining trend in infections as the country looks to host the Olympics in about four months.
The move to prolong a nearly two month emergency already in place for the region was needed to prevent a fresh wave of infections from emerging, Suga said in a briefing Friday. The measure applies to Tokyo and the prefectures of Kanagawa, Chiba and Saitama, which have a combined population of about 36 million people.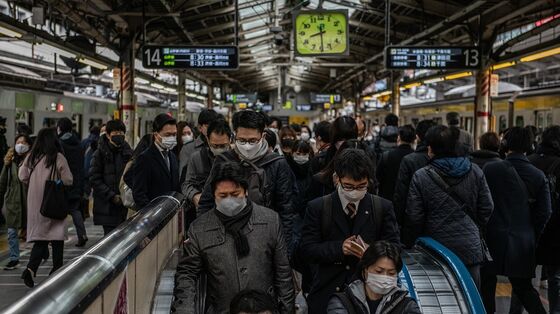 Under the emergency, local governments have instructed bars and restaurants to close at 8 p.m., and advised people to avoid going out unnecessarily. The measures, while limited, have helped much of the country bring infections under control, but have proved damaging for many retail and restaurant businesses.
"While the number of infections is on a downward trend, the speed of the fall is slowing, there are areas where more people are going out, and there are increasing concerns of a rebound," Suga told reporters. "These two weeks will be needed not just for reducing the number of cases, but seriously examining the situation."
The January virus emergency that at first covered the Tokyo region was later expanded to 11 regions that accounted for about 60% of the economy and included all major metro areas. By this week, only the Tokyo area was still on the list, underscoring progress against a Covid-19 surge that has battered the economy and Suga's approval rating.
Suga has tried to move the economy forward while keeping cases in check to appease voters, many of whom see him as being slow in imposing measures to stem infections and as putting the economy ahead of public health concerns.
Suppressing activity for a little longer won't add too much extra damage to an economy already showing some signs of recovery, even under existing restrictions, economists said. At the same time, ensuring there is no rebound in virus infections will help maintain the case for staging the Olympics set to start in July, they added.
Suga imposed a state of emergency in early January as cases hit a record high of 2,520 in the capital on Jan. 7. Infections have dropped in Tokyo since then -- falling to 121 on March 1, the lowest since November. The seven-day average of new infections in Tokyo was at 274 on Friday, well below a 500 threshold cited by the government as one of several requirements for lifting the emergency, but higher than the previous day.
Japan has also posted the fewest confirmed Covid-19 infections of all the Group of Seven leading economies but has been a laggard in vaccinations, only beginning its program to administer shots in February.