Japan Seeks to Extend Virus Emergency Covering Tokyo to May 31
(Bloomberg) -- Japanese Prime Minister Yoshihide Suga extended a state of emergency that covers Tokyo and expanded it to two more regions hit by rising virus cases, in an attempt to stem infections ahead of the capital's hosting of the Olympics in less than three months.
The move announced Friday adds the industrial region of Aichi and the southern prefecture of Fukuoka to areas subject to restrictions. It also extends the state of emergency already in place for Tokyo, Osaka, Hyogo and Kyoto until the end of May.
"The movement of people in Osaka and Tokyo has fallen considerably and the measures are beginning to have an effect," Suga told his virus task force. "However, the number of new infections is high, particularly in the major cities and there is a shortage of hospital beds."
The expanded measure would cover about 40% of the economy and most major urban areas -- increasing the risk of triggering a double-dip recession. A slow vaccine rollout has left the premier few tools to control the pace of infections, with the Olympics set to open July 23.
Suga later told a news conference he wanted to put Japan on a path to administer 1 million vaccination doses a day and reiterated that he had agreed on tens of millions of extra doses from Pfizer Inc. Suga added he was in talks to secure more doses from Moderna Inc. and Novavax Inc for next year.
"Whether we can gain back a normal life without worries depends on how many people we can get vaccinated," he said. "I myself will take the lead on accelerating the vaccine program." He added that immunizations would get into full swing starting next week and that shots for those under 65 could begin in some areas as soon as next month.
Japanese Olympics Minister Seiko Hashimoto told reporters that nothing had been decided on reported plans for a visit by International Olympic Committee President Thomas Bach in mid-May, but that it would be "difficult" during a state of emergency.
Worries are simmering in Japan that the Olympics could become a superspreader event. While opinion polls have shown the majority of Japanese voters want the games postponed or canceled, Suga has repeatedly said he wants to press ahead to prove humanity has defeated the virus.
A successful Olympics, despite the difficulties of the pandemic, could support Suga's case for staying on as premier to fight a general election later in the year. He told the news conference he was aware of the public concern and vaccinating athletes would be a major contribution toward a safe games.
Japan's third state of emergency started April 25 and was initially scheduled to end May 11 after a series of public holidays known as "Golden Week" to limit movements during a peak travel period. While economists have expressed fears it could drag on consumption, virus cases have remained high since the restrictions came into effect.
"It's difficult to evaluate the effectiveness with the Golden Week holidays making it hard to correctly interpret the figures," said Masaki Kuwahara, senior economist at Nomura Securities. "While lower movements of people are having some effect, the real point is how much progress can be made with the vaccination rollout."
The extended emergency will inevitably limit consumer spending on services, but it's still unclear if it will result in a second straight quarterly economic contraction as manufacturers and exporters are benefiting from recoveries in the U.S. and China, he added.
The lost consumption could amount to as much as 4 trillion yen ($36.6 billion), slicing 0.8% off the economy, according to Junichi Makino at SMBC Nikko Securities.
For now, the more immediate concern for the government is the issue of health. Economy Minister Yasutoshi Nishimura, the cabinet's point main for pandemic policy, said the strain on the health care system in Osaka, which saw 1,005 new cases Friday, had reached a crisis point.
With many clusters occurring at workplaces, he urged businesses to comply with a government guideline of reducing the number of commuters by 70%, and said companies should publish data on how far they've introduced remote working.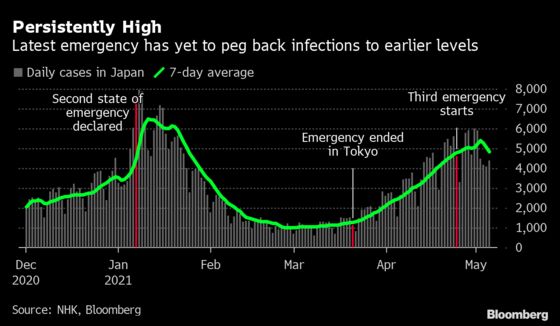 Alongside the extension, the government is revising restrictions that are being applied under the emergency. Bars and restaurants will continue to be banned from selling alcohol, and a new rule will forbid customers bringing their own alcoholic drinks.
Major events such as sports matches and concerts will be limited to 5,000 people, and will have to end by 9 p.m., Suga said. Large commercial facilities such as department stores that had been asked to close will be allowed to open until 8 p.m.