Japan Gender Bias Report Deals New Blow to Abe Women's Agenda
(Bloomberg) -- Japanese Prime Minister Shinzo Abe's pledge to empower women hit a fresh obstacle this week as more evidence was released of sexist admissions policies at the nation's medical schools.
Three of Japan's 81 medical schools manipulated their admissions systems to exclude women, while another is suspected of doing so, according to an Education Ministry report. Another six were cited for unfair practices such as discriminating against repeat applicants or favoring the children of alumni.
The findings highlight complications facing a campaign by Prime Minister Shinzo Abe to get more women into management as part of a solution to the "national crisis" of Japan's rapidly aging population and shrinking labor force. While more women are working outside the home in Japan, they are struggling to gain promotion to senior positions in companies and other organizations.
"It's extremely regrettable that these inappropriate admissions policies have been discovered," Education Minister Masahiko Shibayama told reporters. "I want the universities concerned to deal with applicants swiftly and carefully." He added that there was a need to examine admissions procedures at other university departments as well.
The report came four months after a scandal emerged over Tokyo Medical University's rejection of female applicants in favor of less qualified men.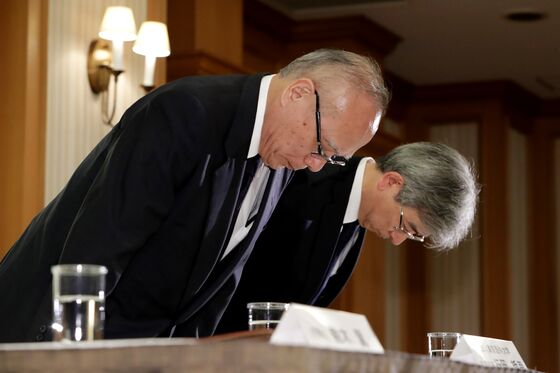 Other universities already had come forward to acknowledge unfair policies following third-party investigations. Juntendo University, attached to a Tokyo hospital known for treating politicians and celebrities, was the latest to hold a press conference this week. It followed an investigation of admissions procedures that showed rigging of results against women and older students had unfairly excluded 165 candidates over the past two years.
The university had received an award from the Tokyo Metropolitan Government for empowering women in January.
Only about 20 percent of Japan's medical doctors are women, compared with an average of 46 percent for member countries of the Organisation for Economic Cooperation and Development, 34 percent in the U.S. and more than 70 percent in Latvia, for example.
Government data in Japan has long indicated that male applicants tacitly receive priority for entry to some medical schools. The proportion of female medical students in Japan swelled between the 1970s and the 1990s, only to level off at about one-third -- where it has remained for two decades. That's despite the fact that female applicants are more likely than men to have successful college applications in general.
The cultural expectation in Japan that women should look after the home means they face discrimination at work in many fields -- not only health care -- and disproportionately work in low-paid, part-time jobs. Only 4 percent of managerial positions in Japan are held by women, up from 1 percent in 2012. Women hold 9 percent of managerial posts in China and 17 percent in the U.S.
The victims of medical school discrimination have mostly avoided publicity out of concern about reprisals in Japan's tightly knit and male-dominated medical community, said Yumi Itakura, a lawyer representing 24 women seeking compensation from Tokyo Medical University. They are awaiting a full response from the college though may consider a lawsuit, she said.
The ministry's report risks clouding the issues, Itakura said.
"The problems of sex discrimination and of repeat applicants are obviously different," Itakura said. "Sex discrimination is an infringement of human rights that's expressly forbidden by law. Mixing these problems is dangerous because it creates confusion about the seriousness of sex discrimination."
Juntendo University said in a statement on its website it had manipulated results to make up for the fact that women tend to be more mature and better communicators than men at university entrance age. It also discriminated against candidates who took the entrance test repeatedly, according to the statement.
Kitasato University's medical school in Tokyo, which also acknowledged unfairness in admissions in a statement on its website this week, nonetheless added that it admitted a larger proportion of women and repeat applicants than other private medical schools.
"The fundamental reason why so many universities have openly discriminated against women for a long period of time is that there are no penalties," Itakura said. "The inadequate law turns a blind eye to discrimination."