Japan Plans to Buy New F-35 Stealth Fighters 
(Bloomberg) -- Given the choice between pacifying U.S. President Donald Trump's administration and bolstering its domestic defense industry, Japan is promising to do both.
In a five-year defense plan approved by Prime Minister Shinzo Abe's cabinet Tuesday, the government unveiled plans for additional purchases of Lockheed Martin Corp.'s F-35 stealth fighter. At the same time, Japan is pledging to play a leading role in development of another military jet to replace the F-2, built by Mitsubishi Heavy Industries Ltd. and Lockheed.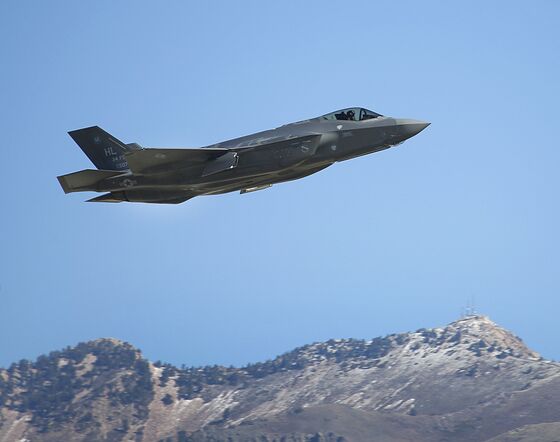 Japan is seeking ways of countering Trump's criticism over its hefty trade surplus with the U.S. without damaging the car industry that forms a major pillar of its economy. The announcement on increasing defense imports from its only treaty ally -- something Trump himself has called for -- comes amid preparations for two-way trade talks that could start as soon as next month.
The strategy could prove expensive. The so-called Medium Term Defense Program outlines spending of 27.5 trillion yen ($244 billion) for the period from 2019-2023, up almost 3 trillion yen on the previous five years. The program is based on broader defense guidelines, which were also approved by the cabinet Tuesday.
With 42 F-35s already in hand or on order, Japan wants to build its fleet up to a total of 147, although it has set no timetable for that target, according to defense ministry officials. The government is considering switching from completing the assembly domestically to importing completed planes from the U.S.
That will bring the unit price down to about 11 billion yen from about 15 billion yen, according to a Defense Ministry budget document distributed to reporters by the ruling Liberal Democratic Party. Prioritizing costs by importing F-35s directly would, however, be damaging for the domestic defense industry Abe has previously sought to defend.
In 2014, Abe loosened restrictions on defense exports, hoping to increase opportunities and reduce costs for home-grown military contractors previously limited to the domestic market. None of Japan's defense contractors features in the world's top 20, according to the Stockholm International Peace Research Institute.
To address the imbalance, Japan will take the lead in development of a replacement for the aging F-2 fighter jets under the defense plan, albeit with international cooperation in mind.
"Losing the technology would be a major problem," said Yasukazu Hamada, an LDP lawmaker and a former defense minister, who wants the plane's development to start by April 2020. Concerns about cost remain, even among members of the ruling coalition, given the expense associated with the aging population.
"We must make sure we have funds for things like social security, which affect people's everyday lives," said Shigeki Sato, a member of the junior coalition Komeito party, who worked on the defense guidelines. "Given the fiscal situation, we can't allow defense spending to increase without checks."
Other elements of the Mid-Term Defense Plan
Japan's two helicopter destroyers to be adapted for use with the short-takeoff, vertical-landing version of the F-35, making them effectively small aircraft carriers. Japan has shunned aircraft carriers since World War II under its pacifist constitution.
Japan to strengthen its capabilities in space, cyberspace and the electromagnetic environment, including research and development aimed at introducing electromagnetic pulse weapons