Abe Says Japan Wants Apology for South Korean Remarks on Emperor
(Bloomberg) -- Prime Minister Shinzo Abe denounced a top South Korean lawmaker's comments about the Japanese emperor as "extremely inappropriate," ratcheting up already-high tensions between the two neighbors.
Abe told parliament Tuesday that Japan asked South Korea to apologize for National Assembly Speaker Moon Hee-sang's remarks last week describing Emperor Akihito as "the son of the main culprit of war crimes." Moon made the statement in a Bloomberg interview Thursday in which he urged an imperial apology to resolve a dispute over the colonial-era trafficking of Korean women to work in Japanese military brothels.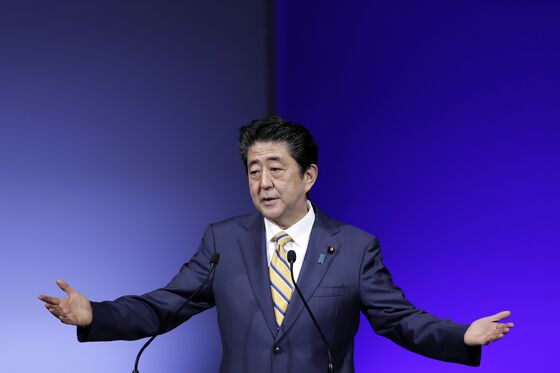 "When I read these remarks, I was really surprised," Abe told lawmakers in Tokyo. "Our country immediately conveyed to South Korea via the diplomatic route that Speaker Moon's comments were extremely inappropriate and most regrettable. We protested strongly and called for an apology and a retraction."
The two countries, who are each other's third-largest trading partners, have been sparring over issues arising from Japan's 1910-45 occupation of the Korean Peninsula. The friction between the two U.S. allies raises new questions about Washington's efforts to build tighter bonds between its regional partners to counter North Korea and a rising China.
Asked about Abe's comments, the South Korean Ministry of Foreign Affairs repeated its earlier response that Moon's remarks were intended to emphasize the suffering of the victims and that the country was committed to "future-oriented" ties. "Japan needs to show sincerity for honor, dignity and to heal the emotional pain of the victims based on a victim-centered approach," the ministry's spokesman said at a briefing.
On Sunday, Japanese Foreign Minister Taro Kono had cautioned Moon against making divisive remarks, without publicly demanding an apology. "We don't yet know how South Korea will deal with this, but we expect a sincere response," Kono told parliament Tuesday.
Most South Koreans believe Japan hasn't sufficiently apologized for its actions during the 1910-45 occupation, while many Japanese argue past statements of regret should've been sufficient. While Akihito has expressed remorse over Japan's colonization of Korea, his revered position makes any attempt to involve him in disputes unacceptable to many Japanese.
The debate has reemerged since Moon Jae-in was elected president in 2017 and moved to undo the comfort women pact his predecessor reached with Abe. After the death of comfort woman-turned-campaigner Kim Bok-dong last month, Moon vowed to do everything in his power to "correct the history" for the 23 surviving victims.
"It only takes one word from the prime minister, who represents Japan -- I wish the emperor would do it since he will step down soon," Moon Hee-sang, the South Korean speaker, who's not related to the president, said last week. "Isn't he the son of the main culprit of war crimes?"
Meanwhile, Seoul hasn't responded to Tokyo's demand last month for government-to-government talks to discuss South Korean court rulings against Japanese companies over claims they used forced labor during the colonial era. The South Korean foreign ministry said it was still reviewing the request, even though Japan had set a Feb. 8 deadline.
On Monday, Moon Hee-sang was in Washington, where he met with Deputy U.S. Secretary of State John Sullivan. They pledged to strengthen trilateral cooperation with Japan, the State Department said.