China Frees Former Rio Executive Jailed in 2010 for Bribery
(Bloomberg) -- Stern Hu, a former head of Rio Tinto Group's iron ore unit in China, was freed from prison on Wednesday after his sentencing in 2010 on charges of taking bribes and obtaining commercial secrets.
Hu, an Australian citizen, and three Chinese colleagues convicted on the same charges were fired by Rio following a trial that was held partially behind closed doors. The ex-mining executive had been held at Qingpu Prison near Shanghai. He was released Wednesday, China's foreign ministry spokesman Lu Kang said at a regular briefing in Beijing, according to a transcript on the ministry's website.
Australia's Foreign Minister Julie Bishop welcomed Hu's release in an emailed statement. "Australian consular officials in China will continue to provide consular assistance to Mr Hu and his family for as long as it is needed," she said. Rio Tinto declined to comment.
Hu's sentence was due to end Wednesday, according to a May 2015 ruling by the Shanghai No. 1 Intermediate People's Court, which reduced his original 10-year prison term.
The mining executive's trial strained relations between Australia and China, its biggest trading partner, and Hu's release comes at a sensitive juncture after Prime Minister Malcolm Turnbull's government introduced new laws aimed at curbing perceived Chinese meddling in national affairs. China's Ambassador, Cheng Jingye, has urged an end to a "Cold War mentality."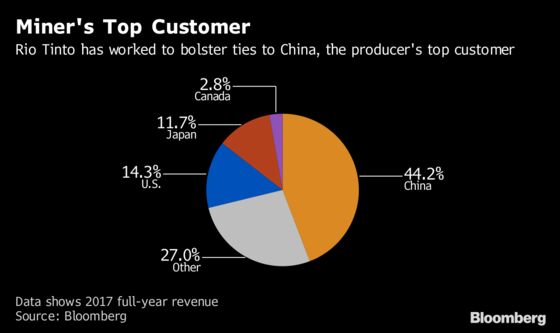 London-based Rio has advanced efforts this year to strengthen ties with a nation that's both its largest customer and a top shareholder, offering training to leaders of state-run enterprises and forming a joint venture to explore for materials inside the country with China Minmetals Corp.
Talks are also continuing with China's government and others over the planned sale to Chinalco of Rio's stake in the Simandou iron ore project in Guinea for as much as $1.3 billion, Rio's Chief Executive Officer Jean-Sebastien Jacques said in a London speech last week.