Ivory Coast's Gbagbo Seeks Pre-Vote Talks to Avoid Instability
(Bloomberg) -- Ivorian President Alassane Ouattara's predecessor has joined the main opposition's call for talks before Oct. 31 elections and warned that the West African nation is headed for "catastrophe" if its political leaders don't settle their differences before the vote.
"Negotiation is a must in time of crisis," former President Laurent Gbagbo, who expects to take part in any talks, told TV5Monde in an interview aired Thursday. "It's not too late."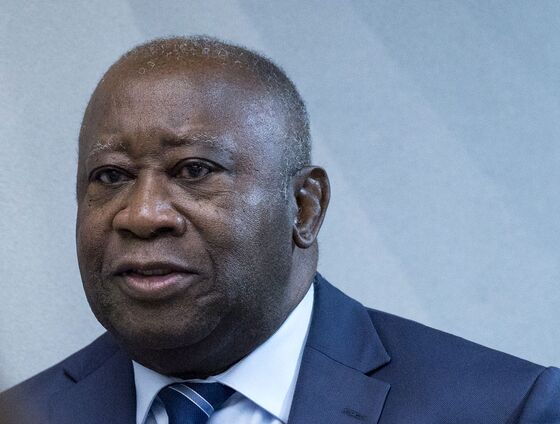 The rare statement from the former leader comes a day after ex-Credit Suisse Chief Executive Officer Tidjane Thiam said he was backing the opposition against Ouattara's bid.
Ouattara, 78, will seek a third term after the Constitutional Council ruled on Sept. 14 that he could run even though presidents are restricted to serving two consecutive terms. While the court didn't explain its decision, Ouattara had previously said a new constitution adopted in 2016 wiped his slate clean.
Gbagbo's own candidacy was denied among 40 rejected applications, leaving only four contestants in the race, including the incumbent. Two of them -- the leader of the biggest opposition party, Henri Konan Bedie, and the Ivorian Popular Front's Pascal Affi N'Guessan -- have called for a boycott of the vote on the basis that Ouattara's third-term bid remains unconstitutional.
"Ouattara is wrong. He isn't respecting the constitution," Gbagbo said. "This needs to be stated clearly."
Gbagbo, 75, triggered a five-month conflict when he refused to concede defeat to Ouattara in 2010 elections. That civil war left more than 3,000 people dead or missing and crippled the economy. Ouattara eventually assumed the presidency in May 2011, and presided over annual economic growth of at least 7% in the world's top cocoa producer since 2012.
Gbagbo has been living in Belgium since his acquittal by the Hague's International Criminal Court of charges linked to the post-electoral conflict. He's mainly stayed away from his home country to avoid reviving tensions, he told TV5Monde, even as Ivorian authorities continue to deny him a passport to travel.
An Ivorian court handed Gbagbo a 20-year prison sentence last year after finding him guilty of looting a local branch of the Central Bank of the West African States during the crisis. He has denied any wrongdoing.
"I have been acquitted but as long as I am not home, this acquittal is incomplete," Gbagbo said.
Ouattara told the Paris-based Journal du Dimanche Gbagbo would have his passport returned after an appeal against his acquittal in The Hague is heard.