Ivory Coast Leader's Third-Term Plans Hinge on Opponents' Moves
(Bloomberg) -- A final decision by Ivory Coast President Alassane Ouattara to seek a third term in next year's elections will depend on whether the vote is contested by two former allies.
The world's biggest cocoa producer is heading for tense elections after the ruling alliance lost its biggest coalition partner because of bickering over who should be its candidate in 2020. Ouattara's rise to the presidency in 2011 ended years of division and conflict. He's overseen one of Africa's highest economic growth rates, achieving more than 7% expansion every year since 2012. An election defeat for the ruling party could put that stability at risk.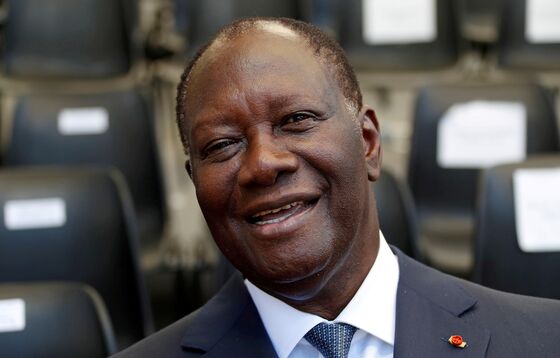 Ouattara, 77, is keen to hand over power, but fears that his preferred successor, Prime Minister Amadou Gon Coulibaly, could be defeated by an alliance between former rebel leader Guillaume Soro and opposition chief Henri Konan Bedie, according to people familiar with the matter.
Bedie backed Ouattara in two previous elections but withdrew his Democratic Party of Ivory Coast, or PDCI, from the ruling coalition last year. Soro's rebel group hailed from the north, where Ouattara, a so-called northerner, derives most of his support.
Ouattara may abandon plans for a handover if the PDCI nominates 85-year-old Bedie as its candidate, said the people, who asked not to be identified because the matter is private. While many Ivorians celebrated when Bedie was removed as president in a bloodless 1999 coup, his party has strong backing in the southeast and is the country's biggest opposition force.
Soro, 47, last week became the first high-profile politician to declare his candidacy. Soro has had several key posts in government since leading a group of disgruntled soldiers that tried to oust then-President Laurent Gbagbo in 2002, and he's popular with young people because of his age and a style of leadership that sets him apart from the older generation.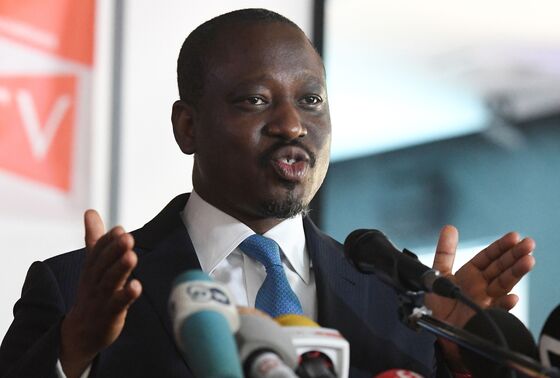 Ouattara is confident that Gon Coulibaly will win enough votes for the ruling Rally of Houphouetists for Democracy and Peace, or RHDP, in the first round, but fears he may lose the second round if faced with an alliance between Bedie and Soro, according to the people.
The RHDP will choose its presidential candidate at a convention in the first quarter of 2020, the party's executive director, Adama Bictogo, said in response to questions.
Ouattara initially said he'd step down after two mandates but then floated the idea of seeking re-election, something he says is legally possible because of a constitutional change in 2016.
Backed by Bedie in the second round, Ouattara defeated Gbagbo in 2010 elections but was sworn in as president only five months later, after Gbagbo's refusal to step down stoked a crisis that left more than 3,000 people dead.
Ouattara has been working to raise both the domestic and international profile of Gon Coulibaly, a 60-year-old who rarely speaks to the media and hails from the same northern region as Ouattara. Gon Coulibaly served as the general-secretary in the presidency before his appointment as prime minister in 2017.
Gon Coulibaly is leading the country's delegation at International Monetary Fund meetings in Washington this week. He has also been touring the country to launch projects such as police stations, roads and other functions that are typically presided over by the head of state.