Ivory Coast Leader's Legitimacy at Stake in Vote He's Set to Win
Ivory Coast President Alassane Ouattara sheltered in a hotel for months after he won 2010 elections, protected by United Nations troops from hostile fighters. A decade on, he's facing a new challenge: convincing an increasingly skeptical population he can stay on for five more years.
Three months after the sudden death of Ouattara's protégé and designated successor, then-Prime Minister Amadou Gon Coulibaly, decades-old rivalries between big-man personalities are threatening to shake up Ivory Coast once again. A country torn apart by succession disputes, war and mutinies since the demise of long-time ruler Felix Houphouet-Boigny in 1993, Gon Coulibaly was meant to be the first of a new generation of leaders.
Instead, his death prompted Ouattara to renege on a promise to step down, a decision that spurred the main opposition to boycott the vote and triggered protests that claimed dozens of lives. While Ouattara now appears assured of retaining power in Saturday's presidential elections, he risks losing the legitimacy he fought for years to get and undermining the stability he's maintained in the world's largest cocoa producer.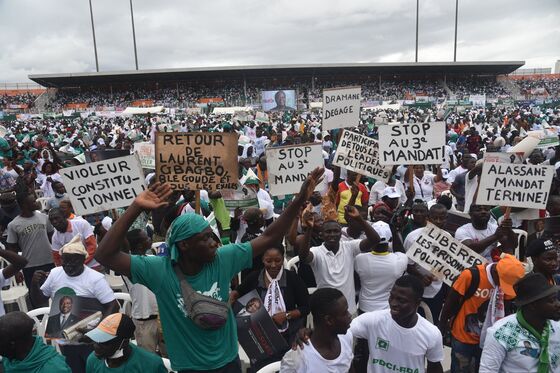 "You could make the fair argument that he's the best candidate in terms of experience and continuity," said Kobi Annan, an analyst at U.K. and Ghana-based Songhai Advisory. "But it's questionable whether he should have been included in the first place."
The Constitutional Council ruled last month that Ouattara, 78, could seek re-election, even though presidents are limited to serving two consecutive terms. Ouattara says that a new constitution adopted in 2016 wiped his slate clean -- an argument the opposition has rejected.
After taking office in 2011, Ouattara set about reviving an economy that had stagnated for almost a decade and restoring the country to its position as a regional hub in French-speaking West Africa. His administration built bridges, highways, universities and a thermal power station and transformed the main city, Abidjan, into a bustling metropolis that's attracted companies from Morocco to China. The economy has expanded by an average of more than 7% annually since 2012.
Despite the gains, the government's focus on large infrastructure projects has frustrated those who feel excluded from the building bonanza. That, in turn, has led to allegations of nepotism and graft and complaints that Ouattara's rule has primarily benefited members of his Dioula ethnic group, which hails from the country's north.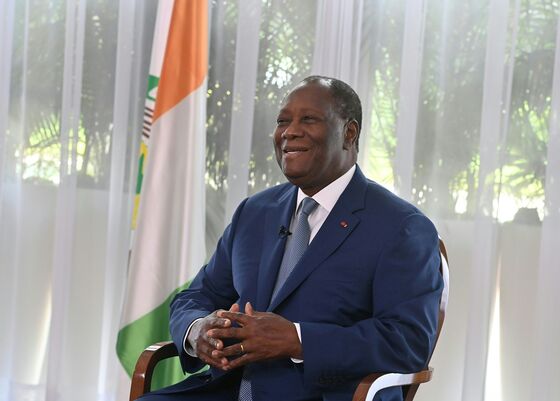 Ouattara has named relatives to senior positions in the presidency and ruling party officials have won state contracts that never went out to public tender. The ruling party says the complaints are unfair.
A former deputy managing director of the International Monetary Fund, Ouattara entered politics in the 1990s after he was appointed prime minister. He was barred from running in 1995 and 2000 presidential elections after rivals questioned his citizenship because his father was born in the French colony that's now Burkina Faso.
When he was finally able to participate in a 2010 vote, then-President Laurent Gbagbo refused to concede defeat and ordered heavily armed troops to attack the hotel Ouattara used as his campaign headquarters. The standoff, which killed at least 3,000 people and prompted military intervention from UN and French troops, ended five months later with Gbagbo's arrest. Gbagbo, who was sentenced in absentia to 20 years in prison for looting the central bank during the standoff, lives in Belgium and was excluded from running.
Ouattara's ruling coalition, which included former President Henri Konan Bedie's Democratic Party of Ivory Coast from 2010, fell apart last year over internal rivalry over Ouattara's succession. The 86-year-old Bedie, who commands strong support among his fellow Baoule, the nation's other main ethnic group that's concentrated in the southeast region, insisted his party should nominate the alliance's candidate this year in return for his support for Ouattara in 2010 and 2015.
"Over the years Ouattara has proven himself to be a skilled politician with a sense of tactics –- he's often a few steps ahead of his opponents," said Flan Moquet Cesar, political scientist and director of the Abidjan Political Research Center. "He will need to tread carefully or he'll risk both economic and social instability."