Ivory Coast's Top Legal Body Confirms Ouattara Election Win
(Bloomberg) -- Ivory Coast's top judicial body confirmed President Alassane Ouattara's re-election for another five years in office.
Ouattara, 78, secured a third term after garnering 94.3% of ballots cast in an Oct. 31 vote. His nearest rival obtained 2%, after the main opposition boycotted the election, arguing that the constitution barred Ouattara from serving more than two terms.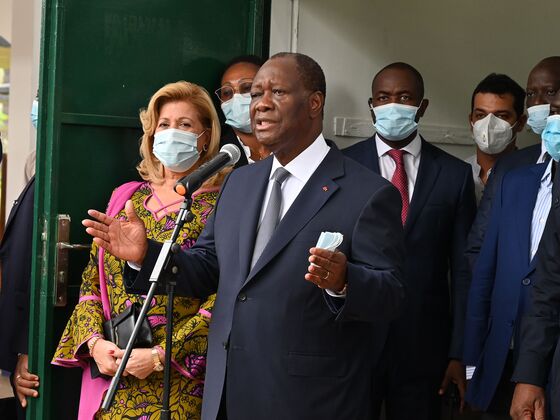 "It was a fair vote," Consitutional Council President Mamadou Kone said at a hearing Monday in the commercial capital, Abidjan.
The election has inflamed tensions in the world's top cocoa grower, where the opposition and the government have been in a dispute. Opposition leader Henri Konan Bedie and his ally Pascal Affi N'Guessan had urged their supporters to join a civil disobedience campaign ahead of the vote. They also called last week for a transitional government to prepare fresh elections -- a move that led to the arrest of Affi N'Guessan and several other of Ouattara's opponents.
The U.S., European Union and former colonial ruler France have urged both sides to begin talks to help end the impasse. Ouattara said Monday he's prepared to hold talks with the opposition, as he pledged his administration would work for unity during his third term.
"I reiterate my willingness to dialogue constructively with the opposition within the confines of the constitutional order," Ouattara said Monday in a televised address. "I would like to invite my elder Henri Konan Bédie to a meeting in the next few days for a necessary dialogue in order to restore confidence."