Italy Markets Gain as Populist Government Signals Budget Detente
(Bloomberg) -- Italian assets rallied after the populist government said it was looking to change its deficit target that is in breach of the European Union's spending rules.
Local stocks surged the most since June, while the yield on two-year debt securities touched the lowest level in almost two months as an unidentified official said the administration was looking at changes to the targeted 2.4 percent funding shortfall for 2019. Still, some skepticism in markets remained, after weeks of headlines from the country's leaders that they would not back down.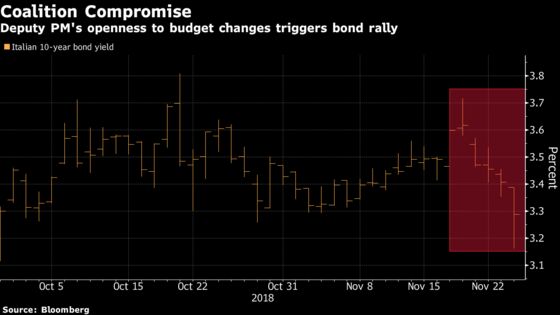 The detente suggests the Five Star-League coalition is keen to curb market volatility as it looks to make the next move in the budget standoff with the EU. The administration's statement comes close on the heels of lukewarm investor reception to an auction of four-year inflation-linked bonds last week.
"Markets will hope this is a first sign that the government is blinking in the staring contest" with investors and the European Commission, said Aila Mihr, an analyst at Danske Bank A/S. "Eventually, the government will have to back up their conciliatory remarks with actions, or the current positive market sentiment risks being reversed."
The yield on two-year bonds fell as much as 31 basis points to 0.63 percent, the lowest level since Sept. 19. The rate on 10-year securities dropped 12 basis points to 3.29 percent, narrowing the yield premium over German bunds to 292 basis points as of 2:30 p.m. in London.
The euro rose 0.2 percent to $1.1355 amid broad dollar weakness, while the FTSE-MIB Index of stocks jumped as much as 3.2 percent, the most since June 11. Shares of Intesa Sanpaolo SpA and UniCredit SpA rallied more than 5 percent each. The cost to insure the country's debt against default fell 11 basis points to 252 basis points, according to CMAQ data.
Italy's offering last week of inflation-linked bonds targeted at the retail segment garnered the lowest amount of orders for a BTP Italia issue since they were introduced in 2012. European Central Bank Chief Economist Peter Praet said that the current financial conditions can't last very long and the situation is probably already affecting investments.
Earlier, Deputy Premier Matteo Salvini told AdnKronos that next year's shortfall in finances could be lower than the government's target. Asked about the 2.4 percent target, Salvini reportedly told the newswire: "I think nobody is fixated on this, if there is a budget which makes the country grow, it could be 2.2 percent or 2.6 percent."
"Today's news should be treated with caution," said Antoine Bouvet, a strategist at Mizuho International. "The reports that the budget target would be lowered to 2-2.1 percent is emanating from League officials. It is far from sure Five-Star ministers would agree to such a cut, as it would likely compromise their flagship policy: the citizen's income. So, in the short term, the optimism might be disappointed but the trend is still toward lower Italian yields."
Premier Giuseppe Conte, his deputies Luigi Di Maio and Salvini, Finance Minister Giovanni Tria will weigh various budget goals at a meeting at 7:30 p.m. Monday in Rome, according to a government official who declined to be named discussing confidential talks.