Di Maio says Italy won't move a 'Millimeter' on Spending Plans
(Bloomberg) -- Italy will hold firm on targets laid out in its 2019 budget plan despite the skepticism of fellow euro-area governments, Deputy Prime Minister Luigi Di Maio said.
"A 2.4 percent deficit has been tolerated in the past, but this time we are not using it to save banks and oil businessmen but to help people to retire, to find jobs and to lower taxes," Di Maio said at an event in Rome Tuesday.
Earlier in the day, Di Maio said the Italian government will not retreat by even a "millimeter" from its proposal, including the 2.4 percent deficit target.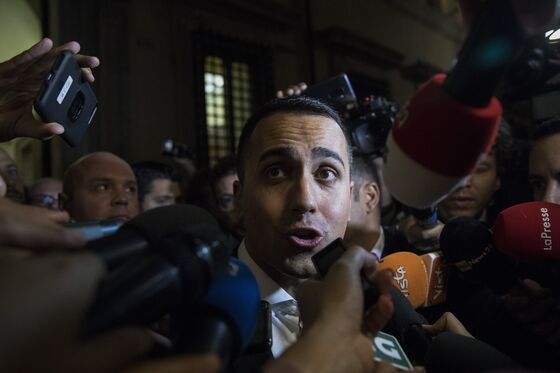 Di Maio's comments followed a chilly reception for Finance Minister Giovanni Tria from his euro-area colleagues at a meeting in Luxembourg on Monday, putting Italian assets under further pressure.
Bonds and stocks slumped again on Tuesday, with yields on Italy's 10-year bonds approaching the highest in more than four years. Stocks dropped to the lowest in 17 months after Claudio Borghi, head of the lower house budget committee, said on Italian radio that the euro was "not sufficient" to solve Italy's fiscal issues.
Di Maio sought to repair the damage, saying that the government isn't willing to exit the euro or the European Union.
"We said that we will not go above 3 percent of deficit and we held to our word," he added, reiterating that the government is planning to keep the number at 2.4 percent until 2021.
Tria has now returned to Rome to complete the budget program, but "not for any emergency," Di Maio said. The deputy prime minister said the spending plan will be presented to Parliament on Wednesday.