Italy Virus Deaths Fall for Second Day as Germany Weighs Help
Italy reported 601 new deaths from the coronavirus on Monday, posting a decline for a second day, as the country enters its third week of lockdown measures designed to keep the spread of the disease in check.
Total cases in the country rose to 63,927, civil protection officials said, while the hard-hit Lombardy region around Milan, which accounts for about half of the nation's infections, registered a decrease in the number of hospitalized virus patients, top health official Giulio Gallera said Monday.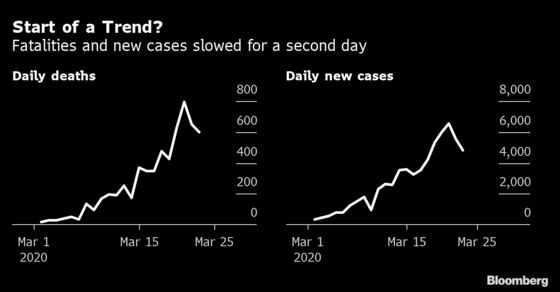 German officials are ready to help Italy get through the pandemic and are prepared to support an emergency loan from the euro area's bailout fund.
The preferred option in Berlin would see Italy granted an enhanced credit line by the European Stability Mechanism with minimal conditionality, according to a German official with knowledge of the government's thinking. While Chancellor Angela Merkel has said she's happy to discuss Italy's request for jointly issued coronavirus bonds to shore up euro members' finances, the official said Germany isn't ready to move forward with that idea.