Italian Premier Wins Populist Support for Budget Offer to EU
(Bloomberg) -- Prime Minister Giuseppe Conte forged a deal with populist leaders to submit a revised budget proposal to the European Commission, in a bid to avert fines against Italy.
Conte's euroskeptic deputies Matteo Salvini and Luigi Di Maio, who hold most of the political power in the administration, set aside their opposition to concessions at talks running late into Sunday night and agreed on a new package to send to Brussels, government officials said.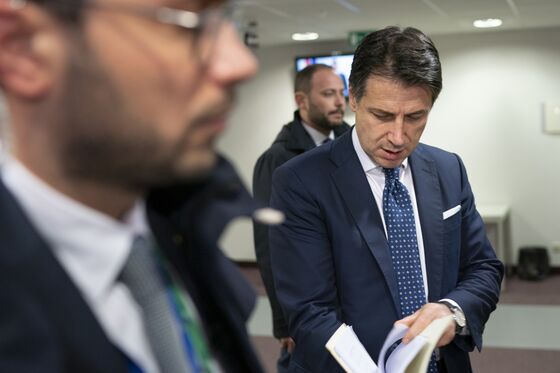 Investors aren't pricing in a deal just yet though. Italian bonds were little changed in early trading with the 10-year yield spread over German bunds at 269 basis points. That's down from a five-year high of 327 basis points last month, but its still more than twice the level it was before the coalition took office.
The new plan confirms the 2019 deficit target will be lowered to 2.04 percent of GDP from 2.4 percent as Conte flagged to Brussels last week. The government identified about 3 billion euros ($3.4 billion) of additional funds -- without specifying where they'll come from -- and lowered the projected cost of new welfare payments to 7.1 billion euros from 9 billion euros.
"We've reached agreement on everything," Salvini said, adding the budget would be "within limits that should please the EU." Di Maio said there was no change or delay to a citizen's income for the poor, nor to a lower retirement age -- the pledges he and Salvini have fought hardest for -- in the new budget, according to a report from Ansa news wire. He said tax cuts were also included.
The European Commission could possibly accept a deficit of 2.04 percent, so long as the policy details are rigorous enough and the economic assumptions are reasonable, a European Union official said. Italy has signaled that going below 2 percent is a red line for the coalition, the official added, asking not to be named, as the matter is sensitive.
"Headlines and sentiment have improved and in the last few days this figure of 2.04 percent has emerged without push-back from the European Commission," said James Athey, a money manager at Aberdeen Standard Investments in London. "The problems France is having reduce the potential for the EC to be too aggressive towards Italy without it creating the appearance of favoritism."
Giovanni Tria, the more conciliatory finance minister, was also at the Sunday meeting which produced an agreement to limit a so-called ecotax on auto purchases to Porsches, luxury models and SUVs, according to an official from Salvini's League party who asked not to be named.
The government also agreed on cuts to so-called "golden pensions," the largest pension packages, and on speeding up payments owed by the public administration to businesses, according to Conte's office.
Di Maio and Salvini, who've in the past locked horns on budget details, are in total accord on the figures now, the League official said, denying tensions in the government and a report in newspaper Corriere della Sera that Conte could resign.
The showdown over spending in the euro area's second-most-indebted nation was triggered by March elections that brought the government to power on promises to provide a "citizen's income" for the poor, tax cuts and a lower retirement age. The clock is ticking for Italy with senior commission officials set to meet Wednesday, when they could decide whether the budget merits the start of a disciplinary process leading to possible fines.
Conte wants to submit changes to the existing budget legislation to the Italian Senate on Tuesday or Wednesday, so he can obtain final approval by parliament by the end of the year.