Italy Sees Deficit Above 10% of Economy in 2020, Officials Say
Italy's government expects the budget deficit to rise to more than 10% of economic output this year, as it struggles to cope with the impact of a nationwide lockdown, according to officials who declined to be named in line with policy.
Prime Minister Giuseppe Conte's administration is drawing up an an economic and financial plan, to be approved by cabinet at a meeting expected as early as Wednesday evening.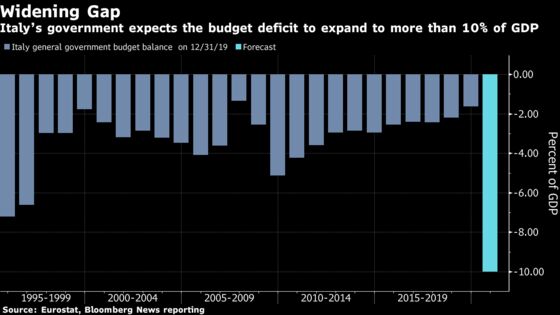 The government is set to ask parliament for authorization to broaden the budget deficit by about 55 billion euros ($60 billion) to finance a new stimulus package in the wake of the coronavirus outbreak, the officials said.
The country's gross domestic product is expected to contract by about 8% this year, the officials said. The government's plan will probably indicate a debt-to-GDP ratio at 150-155%, they said. The ratio is currently 135%. Newspaper Il Sole 24 Ore reported earlier Wednesday on the government's plans.
Conte Tuesday pledged to senators in Rome that he would deliver a new economic stimulus package worth at least 50 billion euros, following an initial 25-billion euro package approved by his government last month.
Bank of Italy said that economy shrank about 5% in the first quarter and Bloomberg Economics expects the country's GDP to shrink more than 13% over the full year.