Italy Likely to Keep State Firm CEOs in Another Defeat for Five Star
(Bloomberg) -- Italy's government is leaning toward renewing the mandates of chief executive officers at three state-controlled firms, in another sign of growing influence for the business-friendly League party over its anti-establishment coalition partner, the Five Star Movement.
With terms for the top jobs at Fincantieri SpA, Snam SpA and Italgas SpA near their end, CEOs at all three companies are expected to be reconfirmed, according to people familiar with the matter, who asked not to be named because the decision isn't public yet.
The coalition partners reached a deal late Wednesday after days of back-and-forth negotiations, two of the people said. The decision will come at a board meeting of state lender Cassa Depositi & Prestiti SpA on March 6. Units of CDP, as the state lender is known, are the main shareholders in the firms.
Five Star, led by Deputy Prime Minister Luigi Di Maio, had been pressing for a change at the top of shipbuilder Fincantieri, which has been led by 74-year-old Giuseppe Bono since 2002.
The 2 billion-euro ($2.3 billion) company has been in the spotlight since a proposed takeover of France's Chantiers de l'Atlantique was challenged by French and German regulators. League leader Matteo Salvini has recently come down on the side of Bono.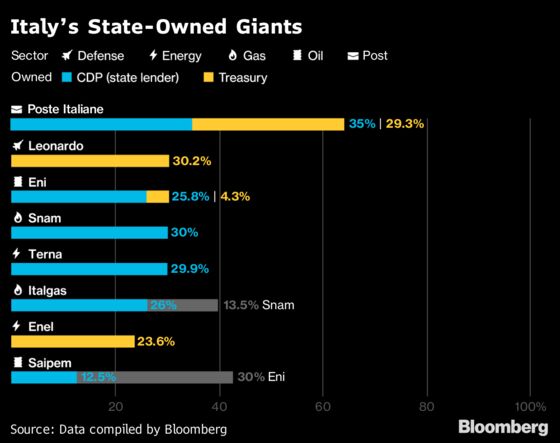 The insurgent Five Star made change and accountability at state firms a core part of its national election campaign a year ago, as it rode to an unlikely victory as the biggest single vote-getter and became the senior coalition member.
Giving in on all three jobs now would mark the latest defeat for the party at the hands of the League, its populist partner and sometime rival. Salvini's party has been surging in opinion polls and Five Star's drubbing in two straight regional elections has weakened Di Maio's group even more.
Attempts by Five Star officials to challenge the leadership of Marco Alvera at the helm of gas pipeline operator Snam, and of Paolo Gallo, who runs gas distribution network Italgas, have also failed, largely due to solid performances by the managers, two of the people said.
Since taking over as CEO in 2016, Alvera has led an expansion campaign, with deals in Greece and in the renewables business. Earlier this month, Snam raised its financial targets after 2018 net income topped 1 billion euros for the first time.
Italgas has also performed strongly under Gallo. The company said last week its revenue rose about 5 percent in 2018 as the CEO slashed costs.
While Five Star appears to have backed down on ousting CEOs, there could be a change in one or more of the chairman positions at the three companies, with Italgas the most likely candidate, one of the people said.
A Treasury spokeswoman declined to comment. A spokesman for Cassa Depositi did not immediately reply to a request for comment. Spokesmen for Snam and Italgas declined to comment. A spokesman for Fincantieri was not immediately available to comment.