Italy's Tria Faces Off Against Opposition Lawmakers on Plans
(Bloomberg) -- Italian Finance Minister Giovanni Tria will defend his government's fiscal targets in parliament, with opposition lawmakers set to grill him on a plan that's spooked both the European Union and financial markets -- and that he had resisted.
Tria's hearing will be the first in a series on Tuesday, with speakers also due from the Bank of Italy, the national statistics institute and the audit court. Some of those have already been critical of the decision to borrow more, and Tria himself reportedly pressed for a tighter deficit before giving ground.
So far, coalition leaders Luigi Di Maio of the anti-establishment Five Star Movement and Matteo Salvini of the anti-migrant League are sticking by their promises to voters despite market turbulence. They've set the deficit at 2.4 percent of GDP next year, allowing them to start paying for a "citizen's income" for the poor, tax cuts and a lower retirement age.
Overnight, the International Monetary Fund said countries such as Italy with high debt should focus on improving their fiscal position. It also pushed back against the populist government's plan to roll back a key pension reform that raised the retirement age.
The IMF sees the economy growing just 1 percent next year, though that doesn't take into account any stimulus in the upcoming budget. Italy is targeting 1.5 percent expansion, when its measures are taken into account.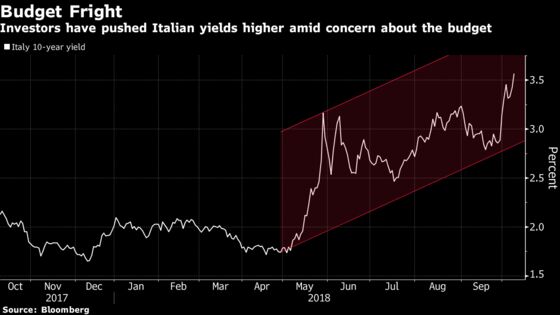 Tria's hearing before the joint budget committees of the lower house and the Senate, is scheduled for 10 a.m. in Rome. He'll be followed by representatives from other key institutions including the nation's central bank, statistics office and the Parliamentary Budget Office.
The fiscal watchdog intends to question the government program, including its growth target, Il Sole 24 Ore reported Tuesday. Should it reject the plan, the parliament committee could ask the government to review the targets or provide a new explanation for them, the newspaper said.
The populist government, which has a comfortable majority in parliament, is due to present a draft budget to the European Commission by Oct. 15.
So far, it's only released its fiscal targets, but the market reaction has been clear, with the premium investors are charging to hold Italy's 10-year debt over Germany's at a five-year high. Yields fell on Tuesday, though remained above 3.5 percent.
EU authorities have also made a blunt assessment, with European Commissioners Valdis Dombrovskis and Pierre Moscovici saying the targets point to a "significant deviation" from the fiscal path agreed by governments.
Both Di Maio and Salvini have blamed European commissioners for talking down their budget plan and sending Italian bonds and shares tumbling. Salvini said at a Rome event Monday that his message to potential speculators was that "they are wasting time and wasting money because we will not go back."
Central bankers are also expressing reservations. Salvatore Rossi, deputy governor of the Bank of Italy, warned that borrowing and debt isn't the solution to social inequity and poverty.
Klaas Knot, a member of the European Central Bank's Governing Council, told German newspaper Boersen-Zeitung that the budget program won't solve deeper structural issues.
"The plans contain very few measures that would address some of Italy's longer-term challenges," Knot said. "Italy must unlock its growth potential and I fail to see how these plans would contribute to that."