Salvini Says Terrorists Are Sipping Champagne in Macron's Paris
(Bloomberg) -- Matteo Salvini fired a new broadside at Emmanuel Macron as he seeks to knock the French president off balance ahead of May's European parliamentary elections.
The Italian populist leader on Monday accused Macron of protecting fugitives and portrayed them enjoying a decadent lifestyle in Paris.
"We're completing a list of terrorists who for decades have gone around France drinking Champagne and visiting the Eiffel Tower," Deputy Prime Minister Salvini told RTL 102.5 radio on Monday. "Beyond Macron's personal attacks, which I won't respond to, let him reply to Italians, not Salvini, by sending back to jail terrorists condemned to life sentences."
The deputy premier was referring to fugitives wanted by Italian authorities, including convicted members of the far-left Red Brigades group. "Let's see if the French president decides to be a friend of Italy, or continues to protect criminals," he said.
With the EU elections shaping up as a battle between nationalists like Salvini and pro-Europeans like Macron, the 41-year-old French leader was drawn into the fracas on Sunday after Salvini called him a bad president and urged him to resign. Macron sarcastically wished Italy's governing coalition "good luck" in agitating against him and France.
"The Italian people are friends and they deserve a government worthy of their history," Macron told reporters in Cairo. "Let the Italian people decide about that," shot back Luigi di Maio, Italy's other deputy prime minister, who's fighting with Salvini for the populist vote.
That's just the sort of scrap that has fired up populist supporters both in Italy and abroad.
To hear his adviser Guglielmo Picchi tell it, the election is ultimately a campaign to see Salvini replace Germany's Angela Merkel as the cornerstone of Europe's political order.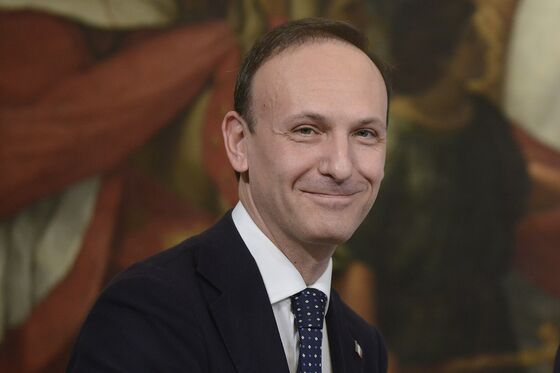 Salvini is calculating that if populists do well across the EU and his party, the League, secures 30 percent in Italy, he'll have leverage to bend the establishment to his agenda, according to Picchi, a former Barclays Plc investment banker. That would require almost doubling the League's vote in last March's general election and polls suggest he's on track to do it.
"Then, just as Merkel was Europe's guide for many years, now it will be Salvini," Picchi, now an undersecretary at the Italian foreign ministry, said in an interview. "Everyone will have to talk to Salvini. His leadership will no longer be just Italian, but European too."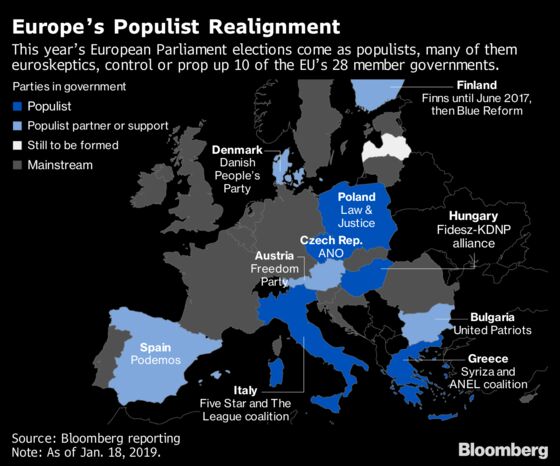 Salvini has found some common ground with French nationalist Marine Le Pen, met Jaroslaw Kaczynski of Poland's governing party and is reaching out to Alternative for Germany co-leader Alice Weidel, Sweden Democrats chief Jimmie Akesson and Geert Wilders in the Netherlands.
Polls suggest support for Salvini's party has surged to more than 32 percent, which compares with 17.4 percent in last year's election and is above the threshold set by Picchi.
While EU government leaders wield broad powers, the new crop of European lawmakers will have a say in shaping the European Commission, the bloc's executive arm, and thus an influence over policy.
Obstacles include divergent interests among Europe's populist parties and Germany's formidable economic clout. Surveys also indicate that populist across the EU will probably win less than a third of the European Parliament's seats, JPMorgan economist David Mackie said in a note.
"Due to the disparate nature of political parties, the lack of a common agenda, and the nature of the European Parliament's power, there is a limit to what populists can achieve," Mackie said.