Italy's Salvini Hints at Time Limit for Draghi as Premier
(Bloomberg) -- Italy's Matteo Salvini hinted at an early end to Mario Draghi's term in office and indicated the prime minister could be a candidate for head of state when that job becomes available early next year.
Draghi should remain premier for "the time needed to come out of the emergency," Salvini said in an interview with Bloomberg on Wednesday, adding he didn't know how long that would be. He was referring to the coronavirus pandemic.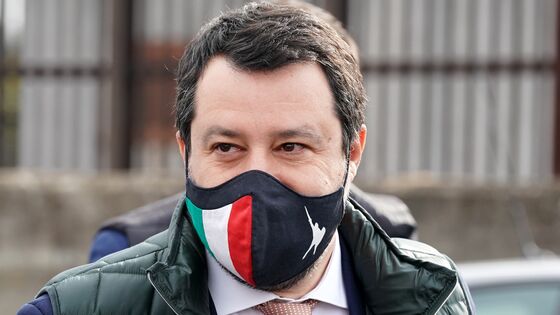 If Draghi were selected as President Sergio Mattarella's successor, that would give Salvini, 48, a chance to seize the premiership. His party, the League, is the second-biggest force in Draghi's broad coalition and has been leading in the polls consistently over the past three years.
Salvini dodged a question on whether he'd like to see Draghi as head of state. The contest is due in early 2022, followed by general elections set for early 2023.
"I'm sure, as far as I've understood, that he wants to do the best and the maximum as prime minister," Salvini said. "And then, it's clear that a figure of his standing can aspire to any position, but I don't know whether he wants to serve as president of the republic or not."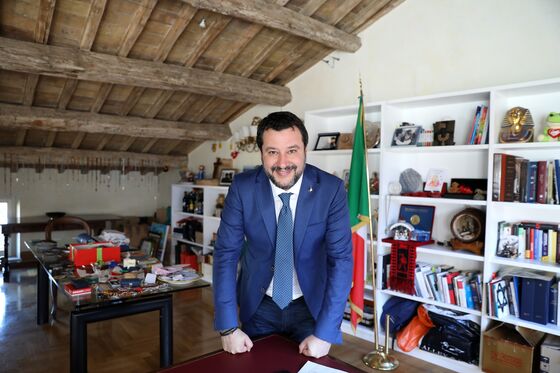 Politicians on the left, right and center rallied behind Draghi's attempt to form a national unity government to confront Italy's worst health and economic crisis since World War II, but lawmakers in Rome are already speculating about how long the administration -- sworn in on Feb. 13 -- will stay in power.
Draghi has run into cabinet divisions by pushing ahead with plans for tighter restrictions to contain the pandemic, newspaper Corriere della Sera reported Thursday. Both the League and Silvio Berlusconi's center-right Forza Italia want to reopen business activities in at least some areas, the paper said.
In the interview in his office in Rome, Salvini said Draghi's government has his full support. "I am working for it to last, of course."
Salvini had urged snap elections in the turmoil that preceded Draghi being selected as premier. The League is Italy's most popular party, with support at about 24% of the vote, ahead of the center-left Democratic Party at around 20%. A bloc led by the League with Forza Italia and the far-right Brothers of Italy would win a general election.
Salvini said his previously euroskeptic party now firmly favors both the single currency and European Union membership.
"We're working so that a foreign investor can again have confidence" in Italy, Salvini said. "That means obviously that our political and geopolitical positioning is clearly in Europe and Atlanticist."
He added: "We're not fascinated by debates on currencies."
But he took the EU to task over its slow vaccine roll out. "We're all late on everything," he said. "They promised us vaccines which aren't arriving," and "that is because of the incompetence of someone who should be fired for that, in Brussels obviously."
Salvini urged countries to accept inoculations from anywhere as long as they were effective, though he was cool on taking any from China.