Italy's Renzi Taunts Premier in Coalition Quarrel on Justice
(Bloomberg) -- Former Prime Minister Matteo Renzi ratcheted up the tension in Italy's coalition government, taunting his successor to pull the plug on the alliance in a clash on legal reform.
Toying with the fractious coalition led by Premier Giuseppe Conte, Renzi of the small Italy Alive party insisted he doesn't plan to bring the government down while escalating the dispute over scrapping time limits on trials.
"Premier Conte, the ball is in your court," Renzi said in a Facebook video. "You can change your majority. You know how to do it, because you've already done it" -- a reference to Conte switching partners after Matteo Salvini of the anti-migrant League ditched his first coalition government. "If you want to change the majority, do it, we'll give you a hand."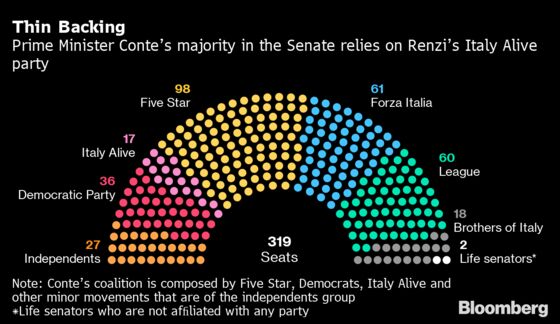 The ex-prime minister may seek a vote of no-confidence in Justice Minister Alfonso Bonafede, a Five Star Movement lawmaker, by mid-March, daily la Repubblica reported. Renzi may also favor replacing Conte as premier with either Finance Minister Roberto Gualtieri or an institutional figure such as former European Central Bank President Mario Draghi, Repubblica said.
Renzi's coalition allies, the anti-establishment Five Star and the center-left Democratic Party, have dismissed his attacks on them as posturing given his low standing in opinion polls, and are skeptical he wants the administration to fall. Early elections would usher in Salvini at the head of a center-right bloc, according to surveys.
The tensions have so far thwarted Conte's plan to map out a new agenda for his government. Renzi's party opposes a campaign by Five Star to abolish time limits on trials following an initial verdict. Italy's notoriously slow justice system means trials often run out of time before a final sentence. Italy Alive says the Five Star plan would keep trials going on forever.
Italian bonds edged lower, with the yield on benchmark 10-year government debt rising 1 basis point to 0.92%.
After weeks of suffering in silence in the face of repeated attacks from Renzi, Conte voiced his frustration on Thursday night after a cabinet meeting on the judicial reform was deserted by Renzi's two ministers. "A minister always has a duty to take part in cabinet," Conte told reporters. "We must always play in the same team. If a player stops or starts thinking about himself or commits fouls, we're destined to lose the match."
Conte took Italy Alive to task for sticking to its initial position on judicial reform despite a series of meetings, saying the priority for Italians was measures to relaunch economic growth and environmentally-friendly measures.
"There are various possibilities," Renzi told Rete 4 television earlier. The government "gets to work and keeps going," the executive is replaced by another one, and "the third is that we have elections." Renzi said he's "available for all three."