Italy's Populists Try to Put to Rest Rumors Government Is Doomed
(Bloomberg) -- Italy's populist government is demonstrating a united front, but behind the scenes it's a different story as secret overtures to other parties make rumors of divisions harder to quell.
Premier Giuseppe Conte and deputy premiers Luigi Di Maio of the Five Star Movement and Matteo Salvini of the League stood triumphant on identical podiums surrounded by Italian and European Union flags at a late-night news conference in Rome to declare they were all on the same page.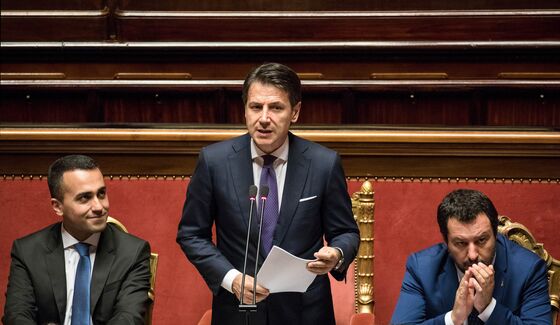 The pomp seemed overdone for the occasion, even if they were presenting a decree that showed they'd kept their election promises made in the 2018 campaign to provide a "citizens' income" for the poor and lower the retirement age.
"In seven months we have managed to pass the two most important measures in our government contract," Di Maio told reporters. "This is the answer to all who said this contract was science fiction."
Their audience was primarily the Italian media, which feature a daily diet of rifts between the ill-matched coalition partners. Investors and political observers are equally skeptical and are poised for a snap election as soon as this year.
Even former premier Silvio Berlusconi is back in the mix as questions swirl about the government's staying power. It's unclear whether the coalition partners can afford their economic promises amid a moribund economy and a wobbly banking system that's testing their anti-capitalist rhetoric. Salvini's base is in the north, where most of Italy's banks are based.
Bloomberg reported that Salvini is considering dumping Five Star and returning to a coalition with the center-right, which could include the right-wing Brothers of Italy party and Berlusconi's Forza Italia.
As it happens, Berlusconi announced his candidacy for European Parliament elections in May on Thursday and immediately took a swipe at the Five Star, saying the party's leaders are incompetent.
The four-time ex-premier, who's staged many a comeback, was clear he's not done with politics at age 82.
For now, the job of papering over the cracks is left to Conte, flanked by the two men who carried the most votes.
The prime minister told reporters it's too early to tell if Italy would need to pass a revised budget to take a slowing economy into account.
"We know the general economic situation isn't very favorable," he said.
It's likely that anti-immigration campaigner Salvini and di Maio, whose voters are primarily in Italy's poorer south, will remain divided over whether and how to step in to help the country's struggling banks.
Salvini was asked whether Five Star would oppose putting money aside to protect lender Monte Paschi di Siena SpA, which was taken over by the state and faces renewed concern about its capital and profitability.
"I'm sure that we are all in favor of protecting savers, not bankers," Salvini said.