Italy's Populists Make France Their Nemesis in Fight for Europe's Votes
(Bloomberg) -- Italy's populists looking for an arch enemy to concentrate their nationalist rhetoric ahead of European Parliamentary elections in May have found one: France and its Europhile president Emmanuel Macron.
France summoned the Italian ambassador over comments by Deputy Premier and Five Star Movement leader Luigi di Maio that France "never stopped colonizing Africa" and is contributing to the waves of migration towards Europe by holding back its former colonies economically.
Unwilling to let Di Maio take center stage alone, Salvini stepped into the fray on Tuesday taking a swipe at Macron by calling on the French to defeat his party in EU elections. "I hope the French will get rid of a terrible President," he said on Facebook. "The opportunity will be on May 26 when the French people will be able to take back their future, their destiny and their pride, which are badly represented by a person like Macron."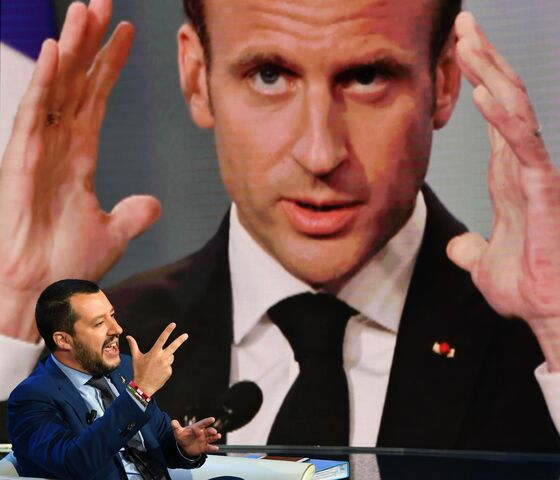 This is "part of the debate that will accompany us to the European elections," Italian Foreign Minister Enzo Moavero Milanesi told reporters in Brussels on Tuesday. "It's the birth of a political Europe," he said."We are used to hard-hitting debate in pre-electoral periods within states" but now it's happening at a European level.
In a battle that pits old guard defenders of European integration against populists trying to rebuild a Europe of nations, Macron is the perfect enemy. League leader Matteo Salvini had the French ambassador summoned in June over accusations that French border guards were "dumping" migrants back into Italy. Macron, who has spoken of "populist leprosy"in reference to the Italian government, has accused Salvini of insensitivity for shutting Italy's ports to refugee boats.
After sparring with the Italians over past incidents, the French have changed track and tried to avoid reacting to every provocation. A French official said Di Maio's comments about France impoverishing Africa, however, went too far, leading to the summoning of ambassador Teresa Castaldo. The meeting lasted just under 45 minutes, and Castaldo said she noted French objections and would convey them to her government, the French official said.
Di Maio refused to back down even after the French summons, saying "we have ignited a beacon of truth" on how the French are preventing development of 14 African countries.
The most recent spat is also a sign of internal tensions in Italy, with Di Maio and Salvini positioning themselves not just for the EU vote, but also for possible early elections in Italy. So far, Salvini is winning. He has successfully made the migrant issue his own and outpaced Di Maio by a wide margin in opinion polls, even though Five Star won more votes than the League in the March elections that brought the duo to power.
"Both parties are looking for votes ahead of the European elections and each of them is playing its very own populist game," said Sofia Ventura, a professor of political science at the University of Bologna. "The League is about social order, and harnessing the worst kind of basic instincts. For Five Star it's pure populism and conspiracy theories."
While Di Maio tries to recover consensus, Salvini is reportedly already looking for allies to form a new government without Five Star. A senior official of the League met Brothers of Italy leader Giorgia Meloni to discuss bolstering the parliamentary majority behind the government, according to a person familiar with the matter.
A poll by Ipsos published Sunday found that support for the League had risen to 35.8 percent while backing for Five Star had declined to 25.4 percent.
The decline in polls may explain Di Maio's attack on France. "It is clear that this is a strategy by Five Star to polarize the media debate against an enemy," said Lorenzo Pregliasco, a political analyst at pollster YouTrend. "It's also an attempt to stem the League's dominance" in Italy ahead of the European vote.