Italy's Populist Rivalry Goes to Web Vote on Migrant Ship Case
(Bloomberg) -- Italy's anti-establishment Five Star Movement is putting its rivalry-ridden ruling coalition to a test -- with an online vote.
At stake in Monday's web poll is whether Five Star should support immunity from prosecution for the anti-immigrant League party leader Matteo Salvini, who faces possible charges for refusing to let a migrant ship dock last summer in his role as interior minister in the coalition government.
Five Star said on its blog Sunday that it would put the question to a vote among registered members on its online, direct-democracy site, Rousseau.
"I'm very unperturbed," Salvini said Saturday of the potential case according to the Ansa newswire. "The Italians know that I have acted for their own good and their safety."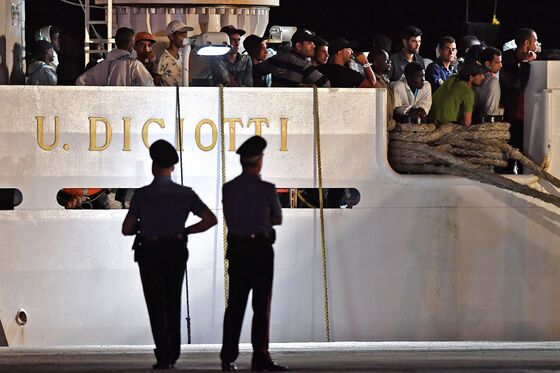 Legislators are weighing whether Salvini's parliamentary immunity should be lifted, allowing him to stand trial on a kidnapping charge from the episode involving the Coast Guard ship Diciotti. Salvini denies any wrongdoing.
Buoyed by soaring poll numbers for the League, Salvini has been seen as calling the shots in Rome, even though he and Five Star leader Luigi Di Maio each hold the title of deputy prime minister in their shaky, populist coalition.
By holding the online vote, Di Maio can show himself faithful to the Five Star's love of direct democracy at a moment when party dissidents are criticizing him over the decline in polls. At the same time, Five Star members are wary of any moves that could bring the government down and risk early elections.
Salvini insists the refusal to allow 177 migrants aboard the Diciotti to disembark in Sicily in August was a government decision, not a move he made unilaterally. He submitted a document to the Senate earlier this month saying he acted in the public interest and in line with European Union decisions on resettlement of migrants.
Di Maio, Prime Minister Giuseppe Conte and Transportation Minister Danilo Toninelli filed separate statements to the Senate supporting Salvini's position that the Diciotti decision was taken collectively by the government.
On Saturday, a prosecutor in the Sicilian city of Catania confirmed having received the government leaders' self-reported statements of involvement in the episode, Ansa said. The prosecutor declined to comment on news reports that the three men will be placed under investigation as the next procedural step.