Italy's Populist Government Faces First Big Test of Unity
(Bloomberg) -- Italy's government is bracing for the first major test of its unity as the coalition partners seek to agree on a fiscal framework that will determine just how much money they'll have to spend on expensive electoral promises.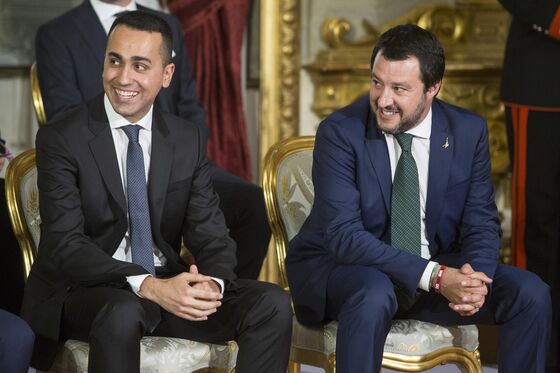 Weeks of tensions have set the two populist deputy-premiers -- Luigi Di Maio of the Five Star Movement, and Matteo Salvini of the League -- against Finance Minister Giovanni Tria in a fight over how far the public finances can be stretched next year.
A final decision on targets for the budget deficit, debt and growth has been stalled until premier Giuseppe Conte returns from New York on Thursday morning. Conte is due to hold a cabinet meeting to agree the targets before a midnight deadline. But that meeting could be postponed due to last-minute disagreement between the sides, newspaper Corriere della Sera reported.
A press officer at the finance ministry said they had no news of any delay while officials at the prime minister's office didn't immediately respond to requests for comment.
Di Maio, of the anti-establishment Five Star, has been calling for a deficit over 2 percent of output to pay for the party's flagship promise, a basic income for the poor at 780 euros a month. Ansa reported Wednesday that his latest bid was for 2.4 percent. Corriere reported that the League has decided to support Di Maio's demand.
"Five Star are very nervous now because in the last months they've lost ground to the League," said Roberto D'Alimonte, a political science professor at Rome's Luiss university. "Five Star needs to stabilize relations with the League and it needs a strong result. The fiscal outline is a test of the government's unity and of its resilience."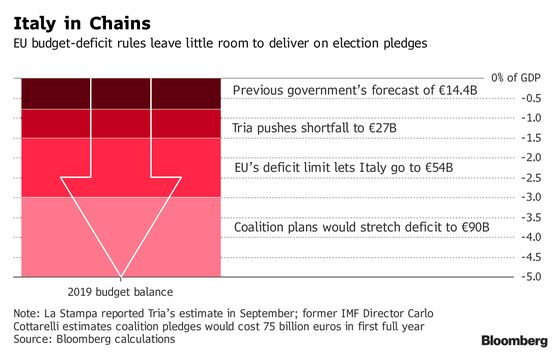 Salvini has taken a more discreet stand in public, although in ministerial meetings he is also pushing for a wider deficit, to fund tax breaks and roll back a 2011 pension reform that raised the retirement age, according to a government official close to the League. Tria and his entourage are resisting the League's efforts especially to cut taxes, he added.
"The League wants pension reform which is expensive, but it's out-maneuvered Five Star to make it look as if it's Five Star's citizen's income which is claiming too much funding," said Erik Jones, professor of international political economy at the Johns Hopkins University in Bologna. "I think the League is really setting up Five Star as the fall guy if the market reaction is worse than expected."
The arguing unnerved investors all summer. The spread between Italian and German 10-year bonds was 233 basis points on Wednesday down from a five-year high at 323 at the end of May.
What our economists say...

"The bottom line is this: whatever numbers emerge from the finance ministry today, Italy will remain over indebted and vulnerable to swings in investor sentiment."

--David Powell, Bloomberg Economics. Read the full ITALY PREVIEW
The arm-wrestling endured even on the eve of the fiscal outline on Wednesday, with Di Maio insisting on a "courageous" budget, "meaning a budget that keeps our promises," in an interview on Radio Capital.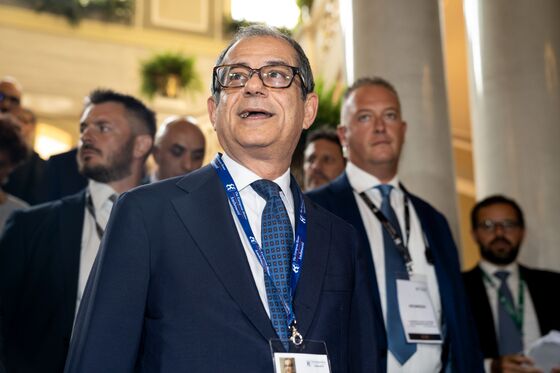 Shortly afterwards, Tria sounded a note of caution, warning on debt sustainability and even reminding his government colleagues that the administration pledged to reduce the debt-to-GDP ratio when it sought a vote of confidence in parliament back in June.
"Tria at least knows what he's doing," said Nathalie Tocci, director of the Rome-based Istituto Affari Internazionali. "This constant spewing nonsense to win support is discouraging and Di Maio is particularly bad. Salvini is more clear about what he wants to communicate and it shows in the polls."
Fueling the contrasts, Salvini responds to a power-base chiefly in the rich industrial north of Italy, while Di Maio's appeal is strongest in the depressed south of the country. Both leaders want reforms to show voters ahead of European Parliament elections in May.
At over 2.34 trillion euros ($2.75 trillion), Italy has the second-highest debt-to-output ratio in the euro region after Greece and the biggest debt in absolute terms. The nation's economy last year recorded its best performance in seven years, though it hasn't yet regained the ground lost since during the record-long, double-dip recession that followed the 2008 financial crisis.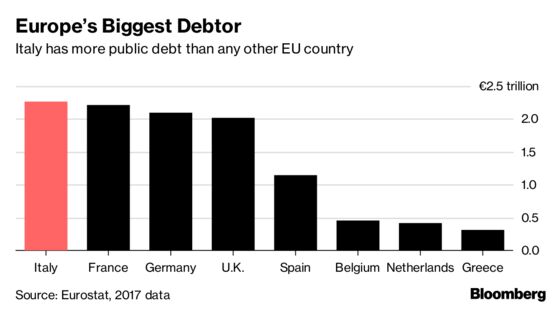 Efforts by the previous governments to reduce the deficit and bring down the debt have made little impact. This month the country's statistics office revised up the 2017 deficit level to 2.4 percent of gross domestic product from 2.3 percent previously reported due to lower tax revenue and higher spending. The debt edged lower last year to 131.2 percent of GDP from 131.4 percent in 2016, the report showed.
More clashes lie ahead because the fiscal targets are only the prelude to the full 2019 budgeting process. A draft must be submitted to the European Commission in Brussels by mid-October for approval.
European Union chiefs, whom both Di Maio and Salvini have blamed for crippling the Italian economy, are already watching closely. Newspaper La Stampa quoted EU economy head Pierre Moscovici as saying in New York that Italy's future depends on being "a credible nation within the euro area."
Moscovici said he'd had a long phone conversation with Tria. The minister, he added, "is aware of the situation and is doing his best."