Italy's Populist Budget Has Leaders Worried at Brussels Summit
(Bloomberg) -- European Union leaders voiced concerns over Italy's spending plans, putting pressure on the populist government in Rome to rethink its budget and avert a potential standoff with Brussels.
The premiers, speaking ahead of a summit in the Belgian capital, suggested they would broach the subject on the margins of a lunch discussion on the future of the euro area. With Italian bond yields close to a four-year high, the prospects for the country's public finances have become a prime focus in the bloc.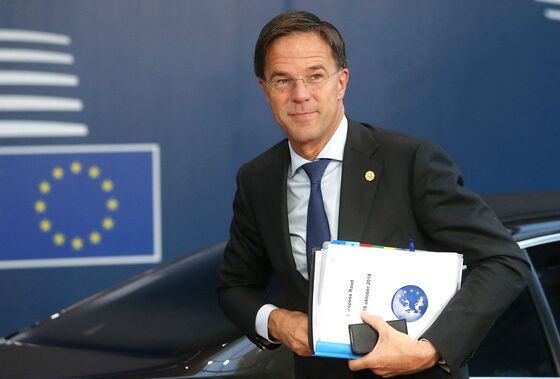 Prime Minister Mark Rutte said in a tweet that he expressed Dutch "concerns regarding Italy's budget plans for 2019" to his Italian counterpart Giuseppe Conte in a bilateral meeting ahead of the summit. Following that discussion, Conte said he wouldn't accept "prejudices" regarding the Italian budget.
Meanwhile, Austrian Chancellor Sebastian Kurz reminded Italy of its fiscal commitments, saying that he is a "strong advocate" of the EU's debt and deficit rules. "They have to apply to all members" he told reporters, when asked about Italy's budget. "I have been very critical in the past if exceptions were made for bigger countries."