Conte Signals End to Italy's Rampant Spending on Debt Risks
(Bloomberg) -- Prime Minister Giuseppe Conte warned that Italy is reaching the limits on how much debt the government can take on, even as the European Union opens the door to further borrowing.
While Italy is pushing ahead with a 38 billion-euro ($47 billion) budget for next year, the growing deficit is becoming unsustainable, Conte said during his year-end press conference in Rome on Wednesday. The Senate gave the final approval to the spending package while he was speaking.
"We cannot use all the loans that we're given" by the EU, Conte said on Wednesday during his year-end press conference in Rome. "There is a limit, we have to be credible and offer a sustainable curve for public debt."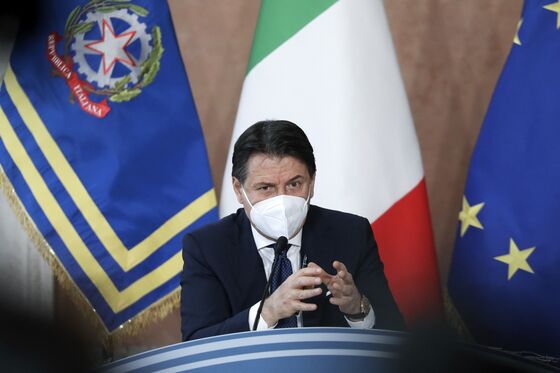 Italy's deficit is expected to near 160% of gross domestic product at end of this year, according to the latest government estimates.
The 2021 budget finances measures to help businesses hit by the fallout of the coronavirus pandemic. It also introduces new measures to promote energy-efficient investments, including an extension of a tax break for green home renovations to 2022.
These funds, which will be financed by new debt, are set to be dwarfed by Italy's share of EU pandemic reconstruction funds, which will start to be disbursed from 2021. Italy is entitled to grants for as much as 81 billion euros and to loans for up to 127 billion euros.
Conte, who had lobbied for a generous package from the EU, also said that using all of the money over the next few years would be "impossible" because Italy "lacks the administrative capacity" to spend them. Italy already doesn't use a large part of the funds it receives from the bloc.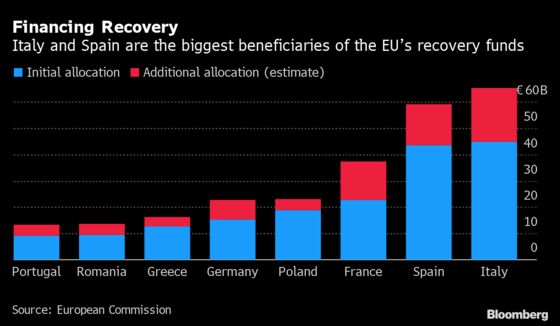 The euro area's third-largest economy was already struggling before the pandemic, and the government has already deployed over 100 billion euros to prevent further damage. The stimulus spending has fueled tensions within the coalition led by Conte.
In recent days, Matteo Renzi -- leader of Italy Alive party -- has threatened to pull his small group out of Conte's coalition as soon as early January if the premier doesn't make concessions over how the funds will be deployed.
Conte said Wednesday that he'll accelerate talks with all parties to be able to agree on a final plan by February, meeting the EU deadline.
Finance Minister Roberto Gualtieri has also been been warning recently that the clash within the coalition could delay funds, which need to be unlocked to maintain debt sustainability.
Keeping the debt curve low is "a duty," Gualtieri said earlier Wednesday in an interview with Repubblica, adding that Italy can't afford a deficit at 155% of output for an extended period.