Italy's New Finance Minister Is a Peace Offering to Europe
(Bloomberg) -- If Italian Prime Minister-designate Giuseppe Conte wanted to prove his government is one Europe can now do business with, his choice of finance minister might be exhibit A.
Roberto Gualtieri was appointed to the new cabinet on Wednesday after the premier returned to power following the collapse of his previous government. Gualtieri, 53, is a veteran European lawmaker known more in the political bubble in Brussels than in Rome, and that might be crucial in repairing Italian relations with the European Union after a fractious year.
Conte now fronts a coalition that includes the mainstream Democratic Party and the populist Five Star Movement after they outmaneuvered the anti-immigrant League party led by Matteo Salvini, the former deputy prime minister. Salvini is one of the nationalist ringleaders trying to unite opposition to the EU over everything from budget rules to refugees.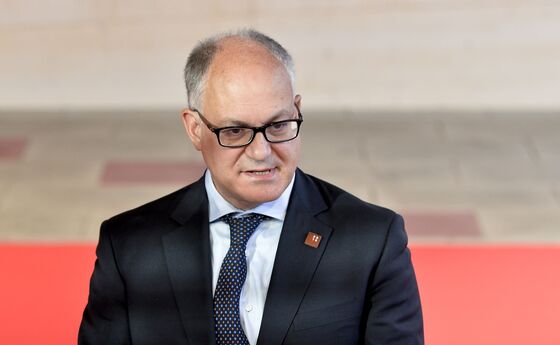 Gualtieri is an insider. During his second term in the European Parliament, he became head of the Economic and Monetary Affairs Committee, where he has played a leading role in steering the European Union's financial integration agenda.
He will succeed Giovanni Tria in managing one of the continent's largest debt burdens and an economy that has failed to grow consistently for more than two decades. His first challenge will be negotiating a compromise with Brussels over Italy's 2020 budget.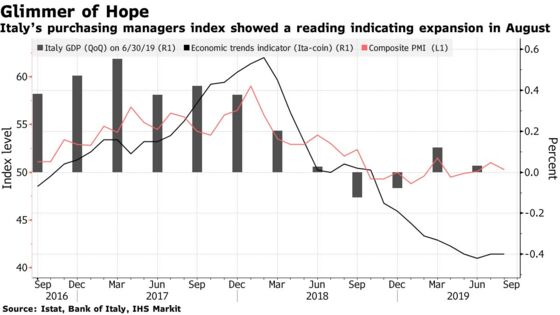 "The euro zone now has a more reliable partner in Italy," said Sven Giegold, a European lawmaker from the Green party who worked with the Italian on the economic committee. "With Gualtieri, Germany and Italy can open a new chapter in euro policy."
That's good news for Conte, a Florence law professor and himself a relative unknown just a year ago. His immediate job is to restore confidence in Italy.
In another overture to Europe, the new government has named former Prime Minister Paolo Gentiloni as its candidate for Italy's European commissioner, according to two Italian officials. Il Sole 24 Ore reported that there's a "high probability" that Gentiloni will get the economic affairs portfolio.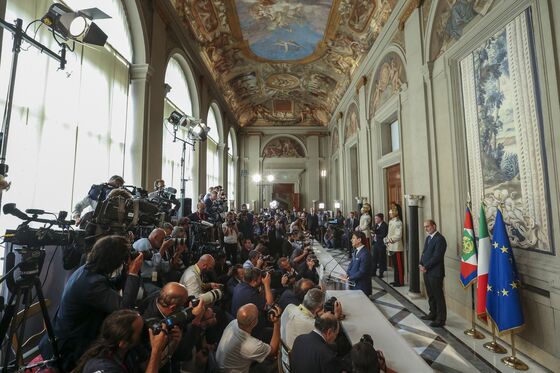 Salvini unnerved financial markets early last month with a mid-summer bid to force snap elections. As the de facto leader of the last government, Salvini thrived from challenging the EU and courting populist peers like France's Marine Le Pen and Hungary's Viktor Orban. Indeed, the League was ahead in the polls. But Conte asserted himself.
The choice of Gualtieri, a member of the European Parliament since 2009, shows what path Conte now wants to put Italy on. Under Tria, Italy twice narrowly avoided EU censure for failing to respect its budget commitments.
Gualtieri will be much better placed when it comes to negotiating with Brussels. He led the quarterly hearings of European Central Bank President Mario Draghi and other top officials. He was also part of the group of lawmakers who followed Brexit negotiations for the parliament.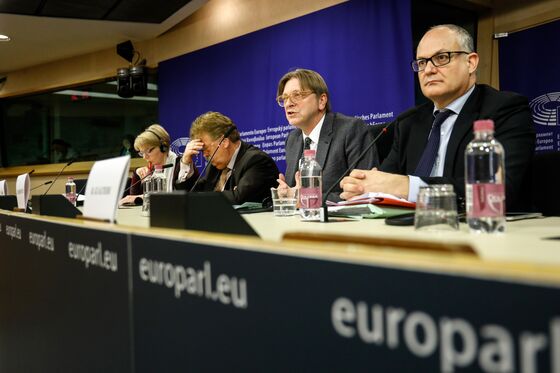 In a November 2018 interview, Gualtieri said one of the accomplishments he was most proud of was "concretely changing" the EU fiscal rules, "making them more flexible and going beyond a season of austerity."
Born in Rome and with a doctorate in contemporary history, Gualtieri has written books on topics including European integration. His political journey was fairly typical for Italy. He joined the communist youth league in his late teens and, like many of his contemporaries, followed its evolution into today's Democratic Party. He was one of the party's founding members.
From his post in Brussels, Gualtieri also worked to soften the impact of EU financial regulations on Italy's battered banks, while stressing the need for more regulation. Together with European Parliament President Antonio Tajani, Gualtieri criticized the ECB's push on banks to reduce their piles of nonperforming loans, saying the central bank was overstepping its powers.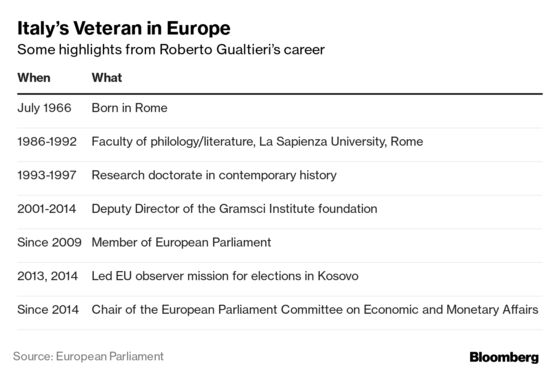 He's also had his less illustrious moments. Gualtieri was criticized last year for how he handled the hearings of candidates for the post of head of the European Central Bank's supervision arm.
In his letter summarizing the outcome of the behind-closed-doors meeting to the ECB's Governing Council, Gualtieri said lawmakers highlighted the female candidate for her gender and her male rival for his experience. The man, Italy's Andrea Enria, was eventually chosen by the ECB for the job.
He got flak for the episode, but it demonstrated again: In Brussels, his word carries weight.