Italy's League Surges in Regional Voting as Five Star Stumbles
(Bloomberg) -- Support for Italy's populist League party surged in regional voting in the small northern region of Trentino-Alto Adige, while their national-level coalition partner failed to make much headway among voters.
In the Bolzano area -- where the two parties competed head-to-head -- support for the League jumped to around 11 percent, initial results posted by La Repubblica newspaper showed. That's up from 2.5 percent in 2013, when the party ran in a coalition with Silvio Berlusconi's Forza Italia. The Five Star movement polled at less than 3 percent, Repubblica said. The pro-autonomy Sudtiroler Volkspartei remained the biggest vote-getter, topping 40 percent.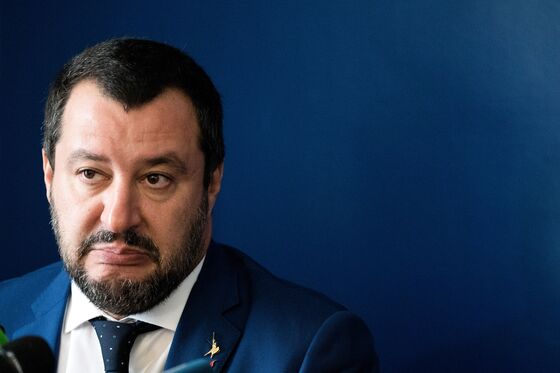 "The results in the province of Bolzano are incredible," League leader and Deputy Prime Minister Matteo Salvini said on Twitter. "Real voters, real citizens, Italians don't listen to the professors, journalists, whiny critics and European bureaucrats, but they ask the League to move ahead more forcefully."
The vote came as the anti-establishment Five Star Movement and the anti-immigration, pro-business League recover from the first serious rift of their five-month-old alliance, strong criticism of their budget from the European Union, and a downgrade by Moody's Investors Service. Salvini and Five Star leader Luigi Di Maio -- who is also co-deputy premier -- reached a deal Saturday over a tax amnesty, easing infighting that sparked rumors of a government crisis.
The semi-autonomous, largely German-speaking region of Trentino-Alto Adige was relatively fertile ground for the League, since its base is in nearby Lombardy. In Trento, the main town in the area, the League ran as part of a center-right slate with Forza Italia and the small far-right Brothers of Italy group.
While Five Star emerged as the biggest single party in the March general election that led to the Five Star-League coalition government, it has largely been eclipsed by Salvini's party in recent opinion polls.