Italy's League Floats Aiding Banks as Bond Spreads Rise
(Bloomberg) -- Italy's government is ready to intervene to help banks suffering from rising bond yields, said a top adviser to Deputy Prime Minister Matteo Salvini, in a warning to the European Union from the government whose spending plans have frightened investors.
Italian banks would need recapitalization if the gap between yields on the country's government debt and German bonds gets close to 400 basis points, said Cabinet Undersecretary Giancarlo Giorgetti on Italy national broadcaster RAI late Tuesday. He didn't elaborate on what any state intervention might entail. Salvini is head of the populist League, which has more support than any other party.
On Tuesday, the European Commission rejected the country's 2019 budget draft and demanded changes -- an unprecedented move. The rift between Rome and Brussels is driving up debt yields and widening spread between Italian government bonds and their German equivalents.
In the wake of the financial crisis, the EU demanded that bank creditors and investors share any rescue burden under so-called bail-in rules before allowing a state to inject any money into a bank. Giorgetti criticized the time it took the previous government to rescue Banca Monte dei Paschi di Siena last year under those rules, saying the current government would intervene immediately.
"The sentence is quite vague, so it could be a challenge to the EU or more likely it could mean that the state will act within European rules by using the existing instruments," said Carlo Alberto Carnevale Maffe, a professor of business strategy at Milan's Bocconi University. A state intervention would be more costly than reducing spending, since "that was the cause of the banks' malaise."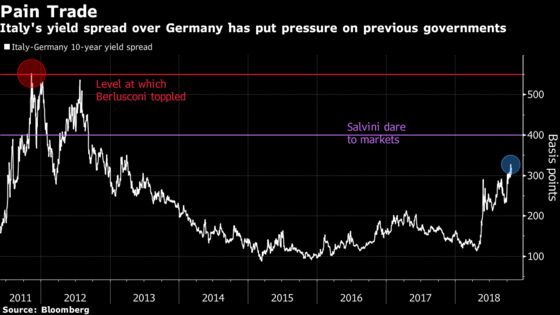 Earlier this month, Salvini said he was "absolutely sure" that the spread wouldn't reach 400 basis points in what was taken to be a dare to investors. The gap was 321 points at 5:55pm in Milan Wednesday.
"Most Italian banks will be able to handle these levels though some smaller banks' capital buffers might come under pressure," Fabio Fois, a senior European economist at Barclays Plc, wrote in a note on Wednesday. However, Giorgetti's comments "reinforce our view that the government remains sensitive to market conditions."
Italian Finance Minister Giovanni Tria said the current level of the spread isn't sustainable for long, news agency Radiocor reporting, citing comments during a taping of RAI TV's Porta a Porta program. He said higher yields didn't pose an immediate problem of higher borrowing costs given the average long maturity of Italian debt.
Italy's banks are reeling as soaring government bond yields, which touched a five-year high on Friday, hit their capital levels. Intesa Sanpaolo SpA and Mediobanca SpA were among financial companies to have their ratings cut by Moody's Investors Service after the firm downgraded Italy's sovereign debt to one level above junk. Moody's affirmed the Baa1 rating of UniCredit SpA, Italy's largest lender, while revising its outlook to stable from positive.
Moody's took the action on the banks despite saying credit conditions have "moderately improved following a material reduction in the level of problem loans in the Italian banking system over the last two years."
Lower ratings tend to result in higher financing costs as well as depressing the market value of the bonds that banks hold on their balance sheets. Italian banks are among the biggest holders of their government's bonds and the corporate debt that is typically priced off it. Thus they take a direct hit from their nation's woes.
Italian banks were among the worst performers on the 48-member STOXX Europe 600 Banks Index on Wednesday, with Banco BPM SpA, Bper Banca SpA and UBI Banca SpA down more than 2 percent as of 4:25 p.m. in Milan trading.